Thursday's UEFA Europa League Group H tie may have no bearing on West Ham United's UEFA Europa League destiny, but it is an important occasion for the Hammers' Nikola Vlašić.
West Ham's No11 kicked-off his career playing for our opponents Dinamo Zagreb's historic and greatest rivals Hajduk Split.
The two have battled for domination of the Croatian game since the country declared independence 30 years ago.
Hajduk initially took charge, winning three of the first four First League titles, and had another burst of three championships in five seasons between 2001-05.
Buy Thursday's Official UEFA Europa League Programme
Since then, however, Hajduk's successes have been limited to two Croatian Cup wins, while Dinamo Zagreb have become the south eastern European nation's undisputed top team, winning the First League title in 15 out of the last 16 seasons and nine Croatian Cups since 2007.
Despite playing the shadow of their rivals for the past decade and a half, Hajduk has at least continued to provide a steady stream of players for the Croatian national team – among them Vlašić.
A product of Hajduk's Academy, the attacking midfielder joined the club as a schoolboy, excelled for the youth team and made his first-team debut in a Europa League aged just 16 years and nine months, scoring in a victory over Irish side Dundalk in July 2014.
He had not turned 20 when he debuted for the Croatia national team against Mexico in 2017 – the same year he initially moved to English football with Everton.
Things did not work out in the Premier League for a number of reasons, so Vlašić moved to Russian club CSKA Moscow in August 2018.
The decision proved to be a good one as the youngster fulfilled his potential, scoring 33 goals and assisting 21 more in 108 appearances for CSKA and securing the Russian Premier League Footballer of the Year award in 2020.
After impressing for his country at the delayed UEFA Euro 2020 finals, Vlašić returned to England when he signed for West Ham in August.
Since then, his appearances have largely been limited to the cup competitions, but the 24-year-old's career history suggests he has the ability and character to make a success of himself in this country, second time around.
I got to Hajduk when I was eleven, which was every kid's dream where I grew up. 
All people from Split are crazy for Hajduk because for them it's the biggest club in the world. Especially in Croatia, there's a big rivalry between Hajduk and Dinamo Zagreb. 
For the last 15 years or so, Dinamo has been much better with results but historically there's still the feeling that Hajduk is a bigger club.
It's still a derby even if Hajduk aren't quite as good at the moment.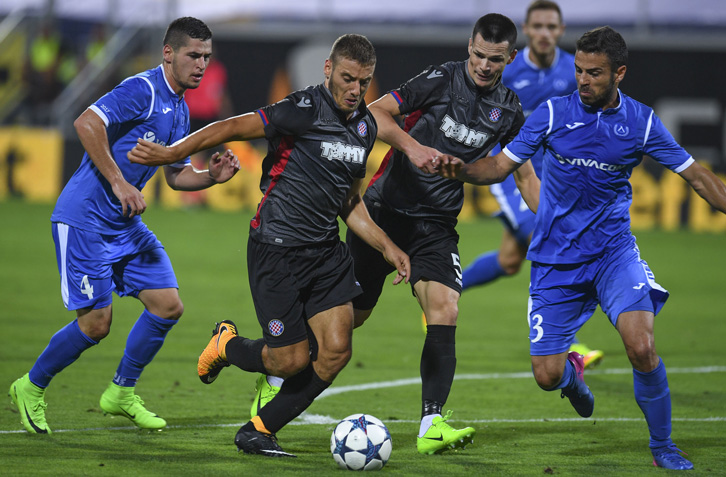 Hajduk Split's Academy is famous as a lot of very good players have come from there.
It's good because a lot of young players make their way into the first team, at 18 or 19.
I was lucky enough to do so myself, making my debut as a 16-year-old, so my memories of my time at Hajduk are positive.
It really is a beautiful club.
When I remember back to the games I played for Hajduk Split against Dinamo Zagreb, I know sometimes we lost 4-0 or 5-1…
They were derbies so we would try our best but they were so much better at the time, even now. I hate to recall it! It's like a pain in my heart!
It was a nice moment when I went there with West Ham and we won 2-0 in the Europa League earlier this season – but it's just one in 20 occasions!
I know we can knock Dinamo Zagreb out of the Europa League if we win and for everyone in Hajduk and for me, we would like that very much.
But to be honest, I'm more focused on West Ham, so I don't think too much about it – I just want to win our games.
While we have a rivalry between Hajduk Split and Dinamo Zagreb, we obviously play alongside one another for Croatia.
It's funny because, even though we come together for the national team, the fans of the two clubs still see the split between Hajduk and Dinamo.
To give you an idea, in the game we played against Slovenia in September, which we won 3-0 in Split, we had lots of players from Hajduk and Dinamo, but all our goals were scored by players wgi had come originally from Hajduk's Academy - Marko Livaja, Mario Pašalić and me!
So, after the game, people from Split were saying 'Hajduk bring the best players into the national team'!
When we're in the national team we don't argue too much about this, but when we're were up against each other, it's a different story!
I should say, when a Euro or World Cup comes, Croatians all tend to come together to support the national team.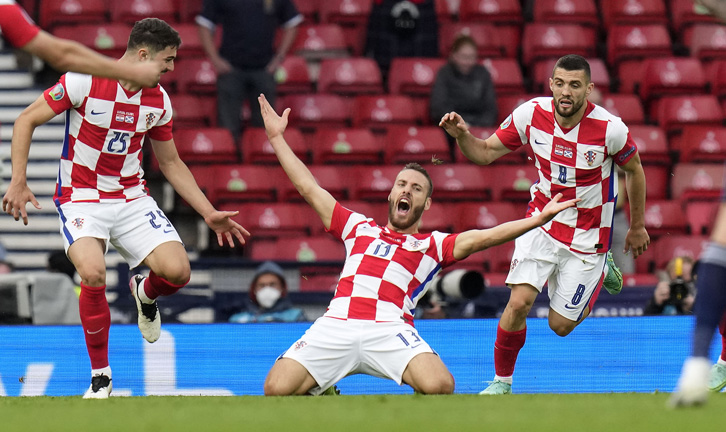 Croatian football is more technical than most: it's not so aggressive and hard like in England. Here, every tackle is like 100 per cent.
Players in Croatia are very talented but perhaps we miss the idea that every tackle should be 100 per cent.
Croatian footballers adapt well to playing in other countries because they are talented, but I think Croatian players are more technical than most.
There's a real focus on being able to cut in on both your left foot and right foot.
Overall, Croatia has many talented players. I feel they – even players from smaller Croatian clubs and not just Hajduk Split or Dinamo Zagreb – can play anywhere, they just need adaptation.
It was nice to get my first assist for West Ham United in our Europa League win in Rapid Vienna.
I need stuff like that, to do something that shows the manager what I can do.
There are many games now, especially this month, so hopefully I can take my opportunities and set up and score more goals.
Of course, I'm not too worried about it. You go through these periods and things can always change, so you just have to keep working and show what you can do on your opportunity.
Familiar foes
Nikola Vlašić will need no introduction to four members of the Dinamo Zagreb squad.
Goalkeeper Dominik Livaković, versatile attacking midfielder Luka Ivanušec and centre-forwards Bruno Petković and Mislav Oršić are all, like West Ham United's No11, regular members of the Croatia national team.
All five were part of Zlatko Dalić's squad for the delayed 2020 UEFA European Championship finals, where Croatia reached the round of 16, and recently helped their country qualify for the 2022 FIFA World Cup finals, courtesy of a dramatic 1-0 win over Russia.
Vlašić will team up with the Dinamo quartet in Qatar but, in the meantime, he will go head-to-head with his four fellow countrymen, who he introduces here:
Vlašić on Livaković…
"For me, he's an amazing goalkeeper. We were together in U21s and afterwards he came through to the first team. He got the opportunity and grabbed it with both hands and now he's the undisputed number one, with good reflexes, in one-on-ones, and from penalties also. I have the highest opinion of him."
Vlašić on Petkovic…
"He's a strong, big guy. He knows how to play. He plays more like a number ten, because he doesn't tend to run into space – he likes to come to the ball, receive, turn around and play with teammates. I think he's also a very good player."
Vlašić on Ivanusec…
"He's one year younger than me and we were together in U19s and U21s. We were also together in the European U21 championships. Then he didn't play but now, playing for Dinamo, he's able to play in five positions – on the right, number ten, left wing, so he's a very good player."
Vlašić on Oršić…
"Mislav is another player who can play in a number of positions, like so many Croatians. He started with Inter Zaprešić as a youngster and then went to South Korea and China for a few years. He returned to Croatia and has scored a lot of goals and got himself into the national team."