Former West Ham United midfielder and captain Steve Lomas, who joined the Club from Manchester City on 7 March 1997, remembers his standout moments in Claret and Blue...
Still the Maine man!
My first game was our FA Cup fourth-round tie against my old club Manchester City at Maine Road on 25 January 1998.
I'd spent six years at City between 1991 and 1997, my first club in English football, and made more than 100 league appearances, so it was a club I liked and respected.
West Ham United signed me in March 1997 for £2.5 million and we had collected eight points from our final five matches to stay up in the Premier League.
We were going well in the league when we went to City in the FA Cup, having beaten Barnsley 6-0 a couple of weeks before.
It was a good game. I remember playing against Georgi Kinkladze, who scored their equaliser after Eyal Berkovic had put us one-nil up.
The ball then fell to me at the edge of the box with about 15 minutes to go and I hit it on the half-volley and it went past the old Northern Ireland goalkeeper Tommy Wright.
Maine Road was a big old ground so to go back and do well against my old club was good, and to score the winner was the icing on the cake.
We had a pretty good run in the FA Cup that year, beating Blackburn away in the fifth round and then going out on to Arsenal on penalties in the quarter-finals.
I thought that was our year, I really did, but Alex Manninger saved a penalty from Eyal in the shootout and they went on to win the Double that year.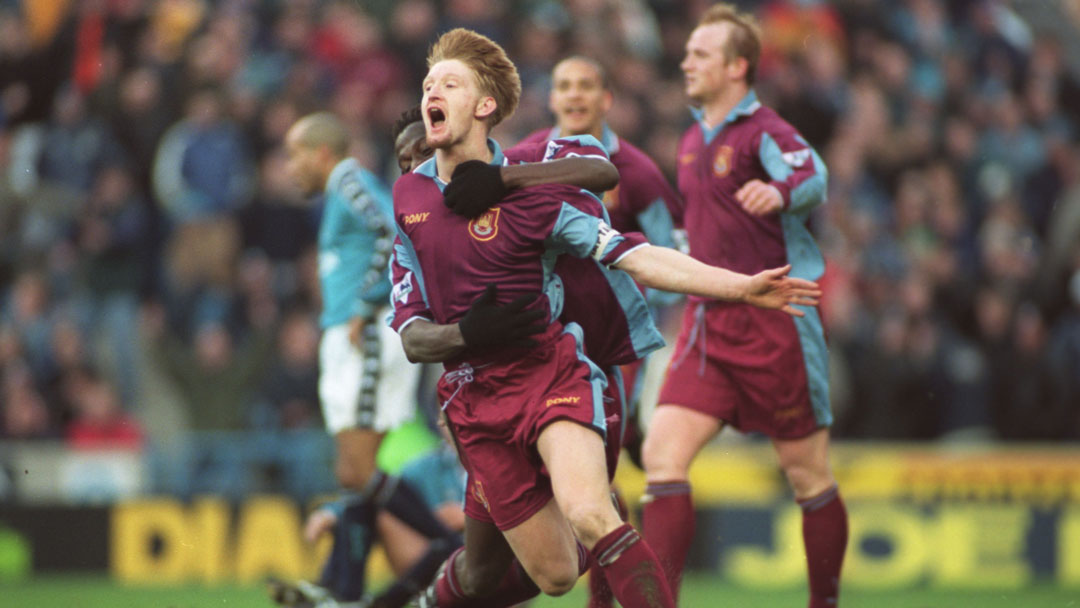 Showing Ginola I was worth it!
My second game was in November 1998, when we went to White Hart Lane and beat Tottenham 2-1 to go second in the Premier League.
Harry Redknapp asked me to do a man-marking job on David Ginola, and he scored that day, but we managed to win the game!
Ginola was not only skilful, but he was 6'2 and built like a tank. He could go inside and outside and, even though you knew what he was going to do, you couldn't stop it. It was difficult.
It was always a difficult place to go, but Trevor Sinclair was on fire for us that season and he scored both goals for us.
I could play in a few different positions and, at the end of the day, if you're in the team and you're captain, sometimes you have to do a job and the manager asked me to do it.
My versatility was to the detriment of my career at times, but I wanted the team to do well and if I had had to sacrifice sometimes, that was the way it had to be.
A memorable European adventure
We finished fifth in the Premier League in 1998/99, but we didn't qualify for Europe automatically, so we had to go the long way around through the Intertoto Cup.

Obviously the lads were a bit gutted because it meant cutting the break short, but once we got into it we went to some great places and beat Metz in France to qualify for the UEFA Cup.

If you ask the fans who went, I think they'd say going there and winning was one of their most enjoyable occasions. We had a short run in the UEFA Cup after that, which they also enjoyed. It might not have gone down too well at the start, but by the end of it the lads were also loving it.
We started the Premier League season really well, picking up 13 points out of a possible 15, so it certainly helped us with our fitness at the start of the season, too.
Captaining the side during that period was a source of real pride for me. I liked to lead and be vocal and be a winner. I think Harry realised I was a lad who wanted to train hard and wanted to win every week and he hoped the lads would respect that and he knew I also organised a good party or two! There have been some great people who've captained West Ham, like Bobby Moore and Billy Bonds, so for me to follow that is a great thing to be able to tell the grandchildren.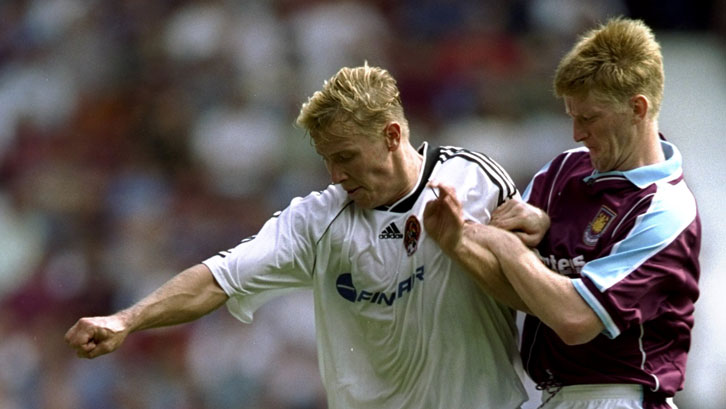 Happy Christmas!
We hosted Charlton Athletic, managed by former West Ham player and future boss Alan Curbishley, at the Boleyn Ground on Boxing Day 2000. Everything came together for us that day and we won 5-0!
Richard Rufus put us ahead with an unlucky 13th-minute own-goal, before Frédéric Kanouté doubled the lead five minutes later. I was booked - for a change! - before Frank Lampard, who will be back in east London with Everton on Saturday, made it 3-0 just before half-time.
Trevor Sinclair made it four, before Kanouté netted a fifth late on to complete a very happy Christmas in east London.
We had won five and lost only one of our last eight Premier League matches and were up to eighth in the table. We were in good form, full of confidence and the only disappointing thing was that we were meant to play Chelsea two days later, but the game was called off because of a frozen pitch.

I really enjoyed being part of that squad. Harry Redknapp had put together an exciting squad with a core of British players and a sprinkling of foreign guys coming in, the likes of Paolo Di Canio and Freddie, and it seemed to work all right.

Harry got us all playing together. We were a family, we trained hard and, on a Saturday, we produced good football and I think the fans enjoyed that time.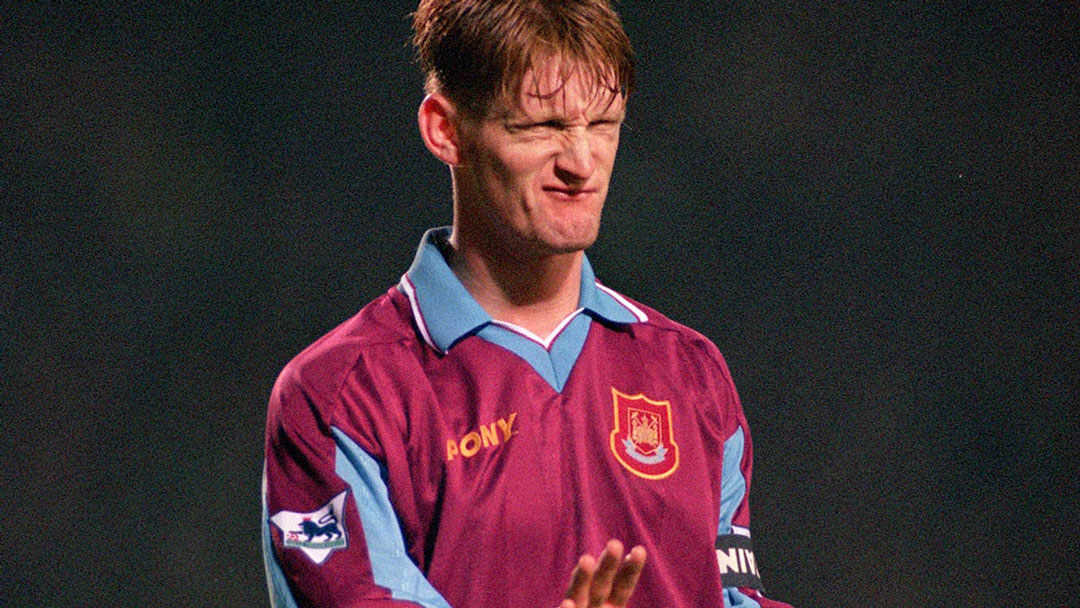 A tough time
I suffered a couple of long-term injuries during my time at West Ham - both in 2001.
First, I suffered a bad knee injury which ruled me out for the majority of the year, from January to November. Then, when I came back, I broke my toe in a challenge with Tottenham Hotspur's combative German midfielder Steffen Freund, which ruled me out for another two months.
To have to work my way back to fitness again, so soon after such a long period on the sidelines, was difficult mentally, more than physically.
Being honest, I was getting a bit desperate, but I knuckled down and got myself back in late January 2002 and then scored in a 5-3 defeat by Manchester United at Upton Park a couple of months later.

That Manchester United midfield, along with Arsenal's in the early 2000s, were up there with the best I ever played against. They had Beckham, Giggs, Keane and Scholes in their prime. I relished it because I wanted to play against the best and they were the best team around at the time.
I played 29 Premier League games the following season, 2002/03, and was so disappointed when we were relegated, despite a late-season surge under caretaker manager Sir Trevor Brooking.
I think in the last ten games of that season, I must have had at least ten injections in my ankle, which added injury to insult.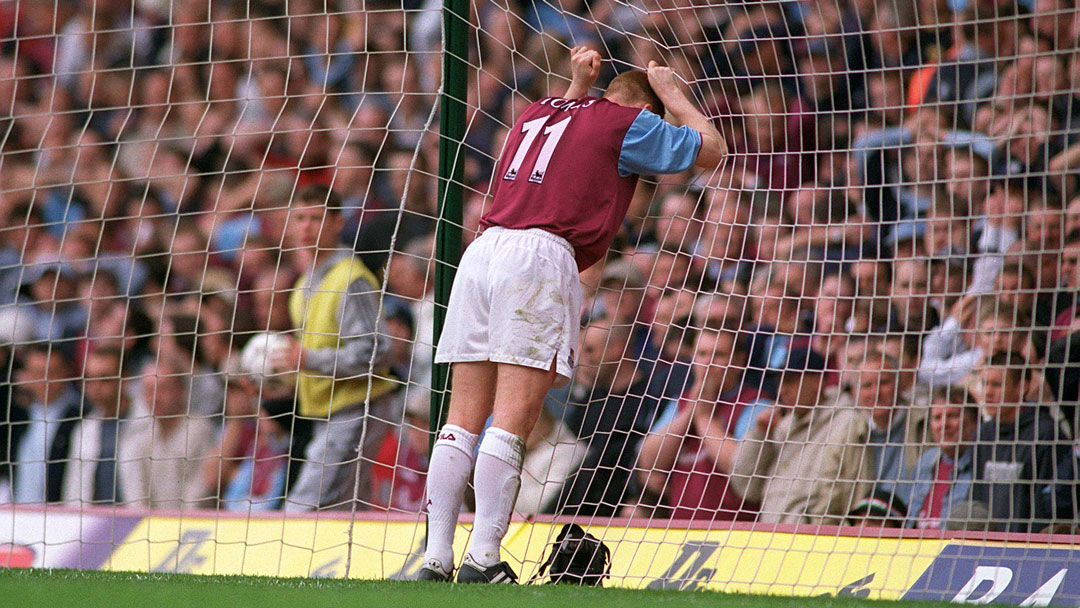 A tale of two finals
I stayed at the Club following relegation, but had ankle surgery in the summer and didn't play again until February 2004. I managed to get back in the team under the new manager Alan Pardew and started both legs of the Play-Off semi-finals against Ipswich Town.
Matty Etherington scored one of the best goals Upton Park had seen in many a year in the second leg. It was great. Under the lights it epitomised West Ham: high energy and on the attack. The crowd got behind us and spurred us on and we played some really good football that night.
I then started the final, but unfortunately we lost 1-0 to Crystal Palace at the Millennium Stadium and that meant we had to do it all again in the Championship in 2004/05.
Again, injuries hit and I missed the Play-Off final win over Preston North End in Cardiff, as I'd torn my calf about six games before the end of the season so I missed the run-in. I was delighted we'd won promotion, though.
Although we were back in the Premier League, I didn't want to stay and be just a squad player, I wanted to play. I'd had a lot of injuries and I was 32 then.
I could easily have stayed another year and in the back of my mind I was tempted as that would have taken me to ten years at the Club, but  I wanted to play football and I wanted to stay in London so that made the decision easier to go to Queens Park Rangers.
After two years at QPR and a short spell with Gillingham, I retired from playing professionally in 2008 and went into coaching at St Neots Town, a non-league club in Cambridgeshire.
In 2011, I got a call and returned to West Ham as reserve-team manager and really enjoyed that role for nine months before taking the job as first-team manager at Scottish Premier League club St Johnstone. We did well there, finishing in the top-six and qualifying for the UEFA Europa League in my two seasons. I then moved back to London to manage Millwall for six months in 2013.
In more recent years, I've enjoyed working the media, on the radio and on television, covering Football League and Northern Irish Premiership games, and as a matchday ambassador for West Ham at London Stadium, meeting the fans and my fellow former players.