As he celebrates his 36th birthday on 17 February, former West Ham United and Republic of Ireland international full-back Joey O'Brien picks out his favourite moments from his five seasons with West Ham United.
Now assistant coach to Damien Duff at League of Ireland club Shelbourne, O'Brien retired following an eventful 17-year playing career in the summer of 2021...
BACK IN BUSINESS
When Sam Allardyce brought me to the Club on trial in July 2011, I had only played four first-team matches in two years as I'd had a couple of bad knee injuries, so I had a lot to prove.
I had played a few games for Sheffield Wednesday on loan the previous season, but then I got released by Bolton Wanderers and I needed to find a new club.
I came down to London for pre-season and Sam and Neil McDonald, who I had played under at Bolton, took me away with the lads to Switzerland and I had to prove my fitness, and they wanted to see how my knee would react to regular training after such a long time out.
I had a massive motivation to do that and thankfully everything went well enough and I signed a contract on 30 July, which was only a week before our first game of the season.
We played Cardiff at the Boleyn Ground and absolutely battered them, but they managed to win 1-0 with a last-minute goal. For me, though, I was pleased to get through the 90 minutes.
I told Sam I wanted to get back to playing in the Premier League again and, after a long season, it ultimately worked out that way.
TAMING THE LIONS
I am sure Sam didn't expect me to play as many games as I did in my first season at West Ham – I played 33 – so we were both pleased with how things turned out that year.
One of my favourite games came early in the season when we played Watford at Vicarage Road. We won 4-0 and I even managed to score my first goal for the Club, which shows you how bad Watford must have been!
With the squad we had, full of quality and experienced players, we should have won the Championship title, but we had a bit of a sticky patch in March when we just drew too many games, so we had to go through the Play-Offs.
Before that run, we played Millwall at home and I must say I really enjoyed that game, not only because we won, but because I got my favourite assist! It's not in the record books, but I am claiming it, because it was my ball forward which dropped to Winston Reid for our winner.
My old pal Kevin Nolan didn't make it easy for us that day, getting sent-off early, but we managed to get the job done, and I'll always claim that assist.
BACK WHERE WE BELONGED
I unfortunately missed the Play-Off semi-finals and final through injury, but I was there at Wembley as part of the squad and it was an unforgettable day for everyone connected with the Club.
We were back where we belonged in the Premier League, and I had also fulfilled my personal ambition of getting back there after all my injury problems.
We played Aston Villa on the opening day and I got on for 20 minutes as a substitute. Kev and Joe Cole scored and we won 2-0.
My favourite games from that season, 2012/13, came either side of Christmas.
The first was at home to Stoke City in November, when I got my first Premier League goal. It was live on Monday Night Football, so all my friends and family back home in Ireland got to see it.
The second was also at home, against a Chelsea team who were the reigning Premier League champions, and we got battered in the first half, then came back to win 3-1. It was the night before our Christmas party and I can tell you the bus ride after that game was a good one!
The third was on New Year's Day, when I scored against Norwich at Upton Park. My two brothers were over and it was one of them's birthday, so that made it extra special.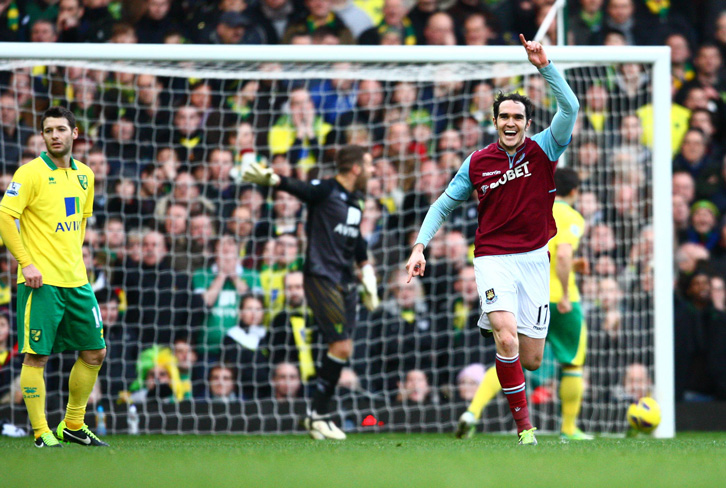 TON-UP!
The final season at Upton Park was an unforgettable one for everyone at the Club and, even though I didn't play any Premier League games that season, I will always remember it.
I did play in the UEFA Europa League qualifiers at the start of the year, though, and there was some atmosphere for the first one against Lusitans of Andorra.
It was the night that Slaven Bilic was unveiled as manager and we had a full-house at the start of July!
The atmosphere was fantastic and we won the game 3-0, then for the return leg, which was my 100th game for the Club, they made a presentation to me in the dressing room, which was a nice touch.
I might not have been the best player in West Ham history, but I always gave my all and did my best, which I think the supporters appreciated.
SIGNING OFF IN STYLE
Growing up in Dublin, I had always been a Liverpool fan and I always loved playing at Anfield.
I wasn't really in Slaven Bilic's plans when he took over from Sam as manager in the summer of 2015, plus I'd had some ankle problems.
I'd not played first-team football at all since the UEFA Europa League qualifiers the previous August, so it was a bit of a shock when I was named in the squad for the FA Cup tie there in January 2016.
I think it was a toss-up between me and Pete [Willliams] the Kit Man for the last place on the substitutes' bench and Pete must have done his back lifting all the kit bags, so I got the nod!
Then Tonks (James Tomkins) split his head open in the first half and I got on the pitch, which was great.
We played OK and Darren Randolph got us a replay with some good saves, then of course we managed to win that with Angelo Ogbonna's header right at the end. I even hit the post earlier in that game.
I might not have played too many games in my final season at the Club, but those two were nice memories to take with me.
Sine leaving West Ham, I've enjoyed life and moved back to Ireland with my family. I played for Shamrock Rovers for three seasons and we did great, winning two League of Ireland titles and an FAI Cup and playing in the UEFA Europa League.
I got a call from Damien Duff last year when he took over at Shelbourne, who had been promoted to the Premier Division and are based in Dublin, and I've gone in there as assistant coach, so let's see what we can do!