Divin Mubama and Ollie Scarles were, understandably, lost for words after Thursday night. 
The duo were given their respective first team debuts by manager David Moyes away to FCSB, with each man more than playing his part in the 3-0 win. 
Scarles played sensationally at left wing-back, whipping in cross after cross and causing havoc among the FCSB defence, eventually playing a pivotal role in the Hammers' third – Pablo Fornals' second. 
Mubama, meanwhile, led the line in attack with a maturity beyond his years, eventually getting his just reward when he headed Vladimír Coufal's cross towards goal. A deflection saw the shot head in for the Irons second. 
On an evening where four young Hammers got their senior debuts, nine Academy of Football graduates featured, and 13 were involved in the matchday squad, Mubama and Scarles could not contain their delight at their involvement…

Divin, how would you sum up your feelings after making your first start in tonight's win? 
"I can't describe it in words. Someone just told me my goal wasn't my goal but no one can take that moment away from me. I thought that was definitely my goal. 
"Sharing the pitch with a teammate and a friend of mine in Ollie was unbelievable. Having a performance like that with us two in it, I honestly just can't describe it."
Ollie, to put in performances like you two did as well must make it even more incredible? 
"It's an amazing feeling. From my angle, I saw it as Divin's goal so I'm going to give it to him even they don't! It was such a surreal experience. It's what every boy dreams of. I've done it now and I've made my debut. Hopefully there's more chances to come, with Divin too! 
"As Divin said, it was an amazing experience to share it with him. Honestly, words can't describe it. I've lost my voice because I was shouting so much! It just takes your breath away."
Have you guys felt the difficulty increase as you've moved through the levels, to the first team? 
Mubama: "Yes, 100 per cent. Ollie and me are still young and still developing, and we're trying to get to this level. We want to thank the gaffer and the first team coaching staff, because they've given us a chance to showcase what we can do. Hopefully, for me, us and the rest of the young boys, we just want to go upwards from here."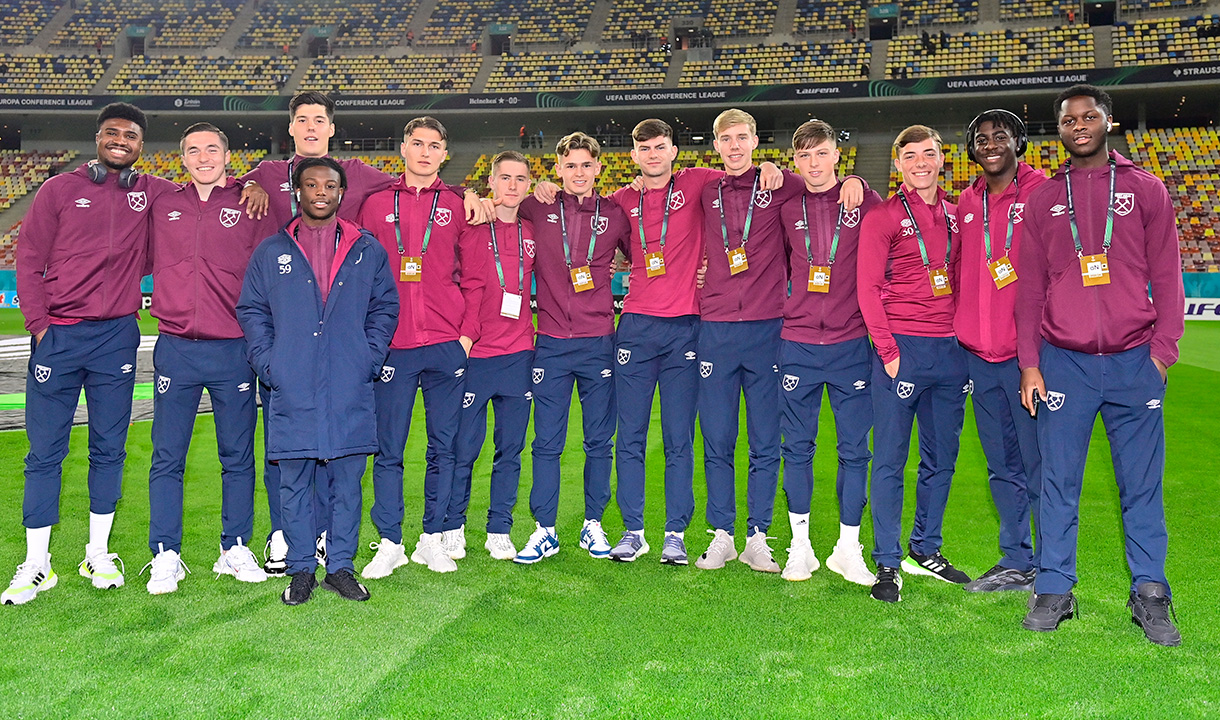 What have the last few days been like for you? 
Mubama: "It's been another good experience. We trained on Tuesday and Wednesday, we kind of knew what the team would be like. I couldn't sleep last night. I was actually playing as myself on FIFA, playing against FCSB, and I actually scored. [To play tonight] it's a dream come true. I honestly can't put it into words."
Nine Academy Of Football graduates played in this game against FCSB. How special is that? 
Scarles: "I think it shows how good this Academy really is and how, when given the chances, we can show what we can really do. Credit to all the lads that played and got on, and even the ones who didn't in how they conducted themselves and behaved." 
It's all about kicking on now? 
Scarles: "I think so. Hopefully more chances to come for both of us and you never know."
Divin, can you sum it all up in one word?
"Astonishing!"