David Moyes felt his much-changed team were worthy of more than a late 1-0 defeat for their battling display against Chelsea on Sunday.
Without three of their four recognised senior centre-backs due to injury, and with one eye on Thursday's UEFA Europa League semi-final against Eintracht Frankfurt, the West Ham United manager made six changes to his starting XI for the London derby at Stamford Bridge.
Despite the challenging conditions, the Hammers performed admirably in the west London sunshine, restricting their hosts largely to efforts from distance in the first half.
A more open second period ensued but the drama was largely contained to the final five minutes at Stamford Bridge, during which Craig Dawson was dismissed for denial of a clear goalscoring opportunity; Łukasz Fabiański saved Jorginho's subsequent penalty kick; and Christian Pulisic swept in a late Chelsea winner.
But despite the disappointing nature of the defeat, Moyes felt his players deserved great credit for the position in the game to which they fought. 

It was tough for us today.
We didn't really deserve to lose it in the end, but we did.
We didn't manage the last three or four minutes well enough with ten men, which is probably the reason why.
 
I thought a lot of the incoming players did very well today.
We've not got the biggest or strongest squad, but the boys who came in, I thought they did a really good job.
There was brilliant energy and effort from the players and they did fantastically well. The players who came into the team, and who haven't played recently, did really well, but it's just a little bit of learning about how to manage games. 
 
Craig Dawson's played really well for us so far this season.
I thought he should have done better in the incident – I thought he should have got to the ball first, and gave the referee a decision to make – but ultimately he's played so well for us.
It's another difficult one, because we're without another player [against Arsenal next weekend] because of the red card.
When the penalty was saved, I was thinking we had a real chance. We were down to ten men – could we see it out for the last few minutes? 
We did well enough, but not enough to warrant much more. Overall, a draw would have been a good result for us.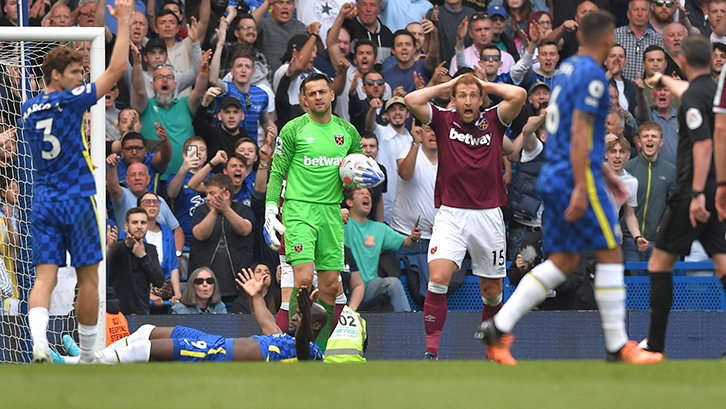 I thought in the main, the back line all did very well.
It's a difficult thing [being without three centre-backs], which maybe you can get for one game, but I don't know if you can get by for two or three or four. 
We did it today for one, and it's probably going to be harder as we go along.
 
The players were fantastic – their work rate, their effort, and how we organised to make sure we were always in the game.
We were always in the game and we just didn't have enough punch to maybe make the difference when it was required.
 
We'll get ready for Thursday. 
It's a great night for the Club and one we're all really looking forward to.
The way things have gone, today was the first day in the season we've really changed the team around in a Premier League game to try and prepare players and allow time for them to be ready for a Cup game.
It's one of the biggest games in the Club's history in a long, long time, so I want to give everybody the best chance to be as fit and as ready as we can be, which is difficult when you've got important Premier League games in the middle of it.