David Moyes felt his West Ham United team shot themselves in the foot in defeat to Brentford on Sunday.
The Hammers came out on the wrong end of a 2-0 scoreline at the Brentford Community Stadium, as Bryan Mbeumo and Ivan Toney took advantage of two moments of slack defending to give his side the points.
The first came from a throw-in that Toney headed into Mbeumo's path and the Frenchman ran through unchallenged to score on 48 minutes, then Toney was given time and space to return the favour and head in his teammate's cross 16 minutes later.
Overall, Moyes' team failed to hit the heights as they looked to make an impact going forward themselves, but it was those moments of laxity in their defensive work which frustrated the manager.
And his mood was not helped by the loss of Kurt Zouma to a twisted ankle suffered in a first-half challenge - an injury that will be scanned on Monday.
Still, despite those setbacks, the Scot says the Hammers would put this off day behind them swiftly as they look to bounce back in Thursday's UEFA Europa League quarter-final second leg at Olympique Lyonnais.
It wasn't very good and we didn't get an awful lot of intensity in the game.
We muddled through the first half, which I thought was the important bit to give ourselves a chance.
But half-time didn't go well in as much as we came out two minutes late and we gave a goal away.
The two goals were really poor goals to give away. There's a bit of fatigue from Thursday night, but overall that's no excuse for the two goals we gave away today.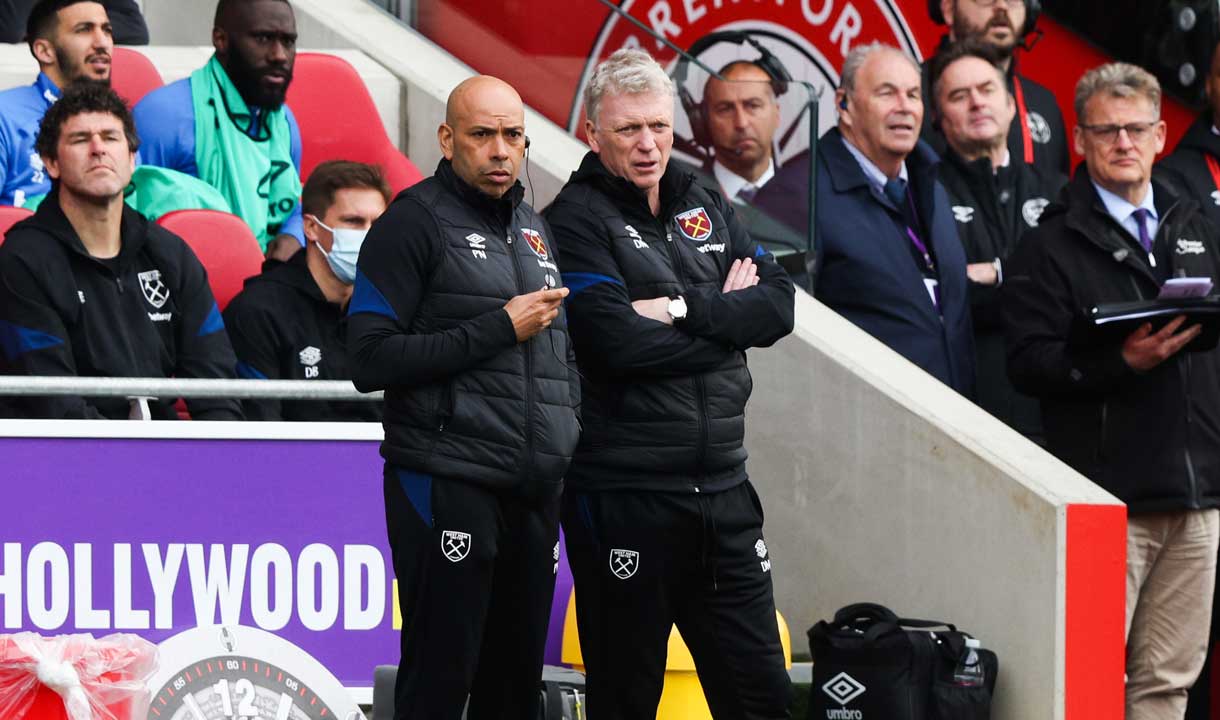 They've been brilliant over the season but today felt a little flat.
Obviously we had a big game in midweek and have got another one to come, and we're trying to win these games.
We don't want to give our league position up – we're trying to fight to either get fourth, fifth, sixth, seventh and be in Europe again, so we have to come here and try to win.
It's not easy to come to Brentford, they're in good form, but I thought it was a low-level game in the first half and we gave them a lift up by giving them the goal right at the start of the second half.
We've got a bundle of players who have done great for us and continue to do great for us.
Today we just fell a bit short in most things, whether it be desire, intensity, and certainly our quality today was poor.
We hardly gave their goalkeeper a save to make, which is not like us. Normally we've always got a chance of scoring but today we didn't look like it at all.
There's a bit of fatigue from Thursday night, but overall that's no excuse for the two goals we gavre away today
Kurt Zouma twisted his ankle, but we don't know how bad yet.
I've not had the chance to speak to the medical team yet, but it's always the thing when you play Thursday to Sunday. We've done really well with it for most of the season, but if you do it, it can catch up with you. Not just for us, but if you look at the clubs who tend to be in the European competitions the Thursday-Sunday games can become quite difficult. Today was difficult.
If we hadn't given away two really poor goals, who knows what might have happened?
Even at one goal [down] we were still in the game, but we get caught on the ball, they break down the pitch and they score from that. It was poor.
But we'll go again, we'll get ready for midweek and we'll try to get the players prepared and ready for such a big game.
I'm sure we'll get them up again.
We'll push them on and drive them on. We're not going to give up all the good work we've put in.
We've got the mentality that we have to try and win games like today's. We have to try and find extra resources to do it and I just didn't think we had that today.