In David Moyes' aspiration, a crunch UEFA Europa League tie with one of the competition's historical heavyweights would not just be a one-off, but a regular occurrence at London Stadium.
Arguably the Irons' grandest game in the last two decades is set to take place in east London on Thursday evening, a round of 16 second-leg tie against Spanish La Liga high-flyers Sevilla.
And whilst the manager understands the excitement surrounding the occasion, he is determined to make it simply the first of many to come.
West Ham will go into the second leg needing to overturn Munir's 60th-minute strike for Sevilla at the Ramón Sánchez-Pizjuán Stadium last week.
But roared on by another raucous atmosphere at a sold-out London Stadium - where the Hammers have already toppled numerous Premier League heavy-hitters this season - Moyes, speaking at his pre-match press conference, has called on his players to give everything they can to secure a place in the quarter-finals.
I've had one or two of these moments in my career, and I want to go further with it. 
I've been excited throughout the tournament for West Ham because it's been not completely new, but it's probably new in our recent history, that's for sure. 
Winning the group was really good for us, and getting to this position now, to give ourselves a chance against one of the teams classed as favourites for this tournament… and Sevilla would certainly be that.
I don't think we did too badly against them, but we're going to have to do much better if we're going to get through. 
We have a big game – but we're certainly all looking forward to it.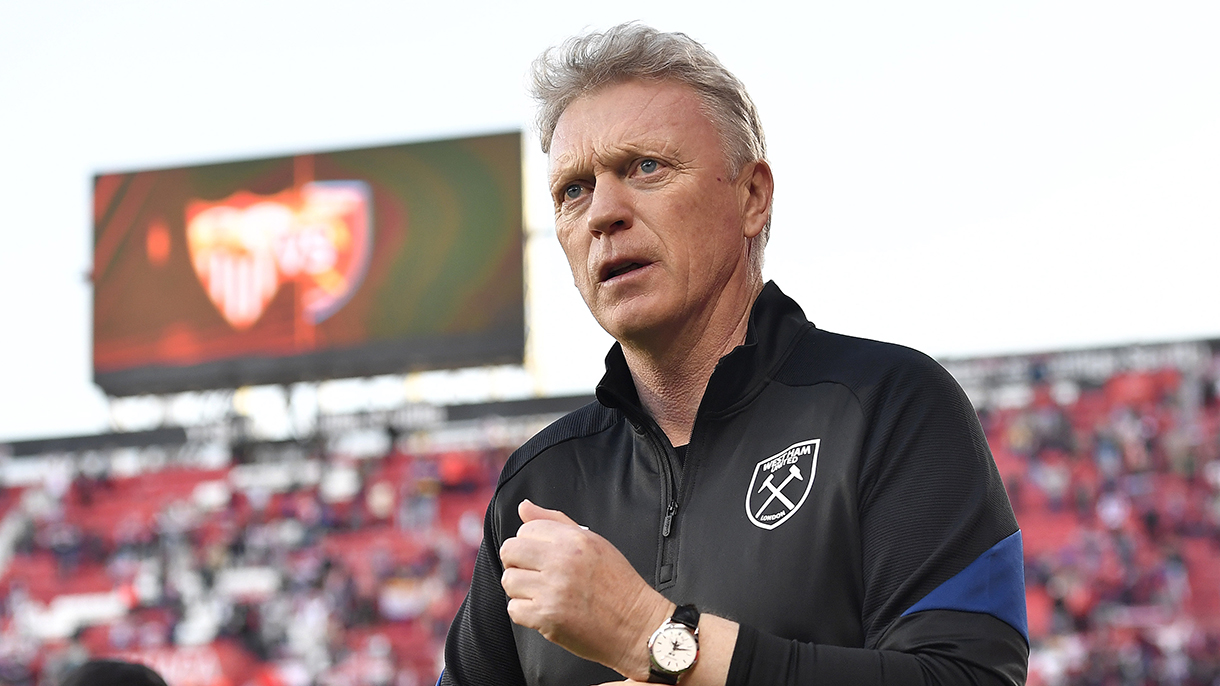 When we've played really special games, like Liverpool at home and Chelsea at home, we've had some fabulous atmospheres at London Stadium. 
I expect this one to be up there with them, but how you get a good atmosphere is obviously through a good team performance and how the team go about their job. 
We need to make sure that we don't allow Sevilla to kill that atmosphere, so we have to do a really good job on the pitch. I've got no doubt the West Ham supporters will be there in numbers and also there in noise.
The fans better get used to it because we're going to have a lot more of these types of games!
I hope there'll be more in this tournament and I want us to be challenging near the top of the league, so if that's the case, use this as a stepping stone.
We're new to this. I'm sure our players will be nervous tomorrow night as well, and I hope they are, because it also gives you the adrenaline rush to realise how important the game is.
We'll have to play with great maturity, understanding exactly different moments in the game – when we have to be careful, when we've got a chance to go for it – but I hope the supporters are right with us, which I'm sure they will be.
I've told the players about a couple of my own European experiences.
I was in the Champions League at Manchester United and 2-0 down at Olympiakos, and came back to win 3-2. At Everton, in the quarter-finals of this competition, we were 2-0 down to Fiorentina in Italy and came back and won 2-0 in the next game at Goodison Park. Unfortunately we lost on penalty kicks that night.
I've been here before. We have to be careful. You can't go gung-ho and think that you have to score a goal in the first two minutes. I hope we do, but I think ultimately, we know that the game lasts 90 minutes, and we have to make sure that, at the worst, we win the game by a goal because that at least gets us to extra time. 
Then, we'll try and get the home advantage with the atmosphere in the Stadium. If we have to go to 120 minutes tomorrow night, we need to be ready for that.
We have to play with maturity. We need to try and play with experience, and that's the bit which we don't really have in this competition. 
We probably had don't have any experience of playing a game over two legs, understanding how to play the second game, which is all new for us. 
We've done everything we can, giving little bits of experience from being in it. I would hope that we're going to show a mature performance throughout the game, being able to manage all situations.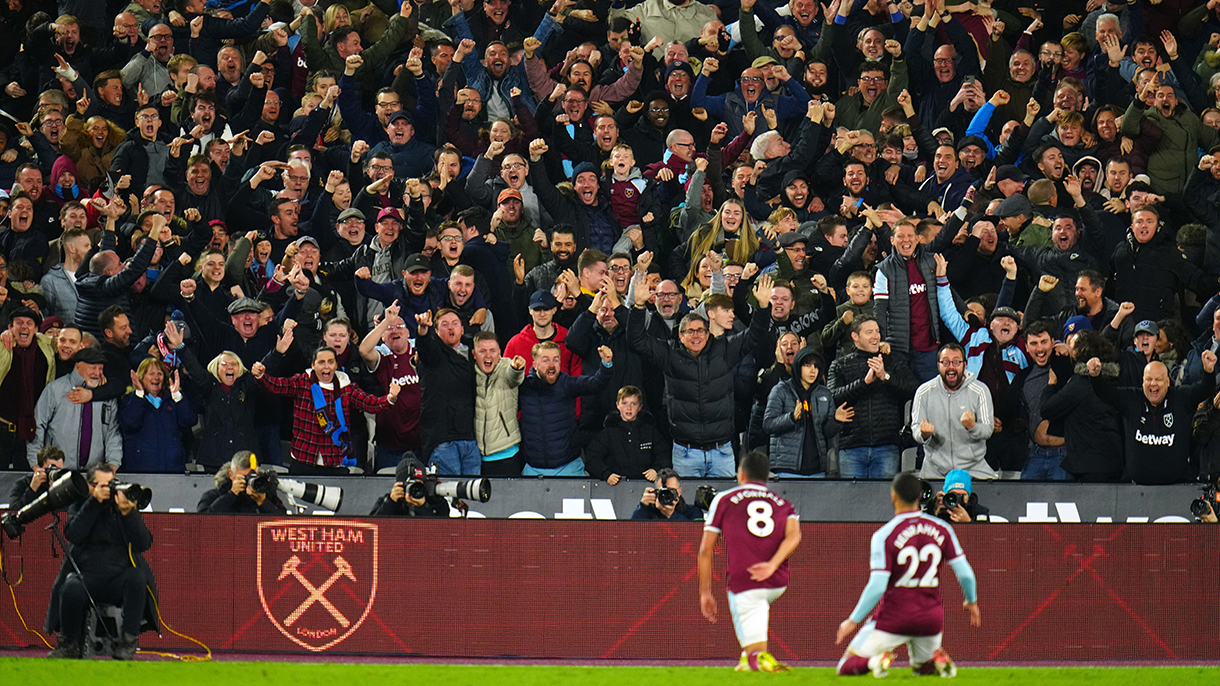 It's always about preparation.
I used to always, when I was younger manager, sit back and look at Sir Alex Ferguson and Arsène Wenger, who would sit back in the dugout and trust their players totally, stand back and very little was said. 
As a young manager, I was jumping up and down on the touchline and trying to get messages on and trying to have an impact on the game!
And then there's been a new breed of manager like Jürgen Klopp and Antonio Conte, who the media enjoy because they are actually out there jumping up and down – people want that. 
It's a very difficult thing as a manager. You can try and stand back and let the players get on with it, or you can be somebody who tries to help the best you can with your voice or your signals or your communication. 
You can manage in different ways, but I understand that it'll be very difficult for the players to hear me. They'd probably blank me anyway – they say: "I can't hear you boss"!
I'm a manager who always tries to help the players. I'll probably be on the touchline because my feeling's that if I could do one little bit which helps us, I think it's better than nothing.
I see it as an incredible achievement for West Ham to be in this position. 
For us to have European football in mid-March, from where we've been in the past… I think our league position is incredibly positive. I think our runs in the cup have been incredibly good.
I think we're in a great position and I think all season we've attempted to go and challenge and win while we're a team who's still growing to try and improve and become a better side.
I think the players are showing great resilience. Their character has been unquestionable in the games and I hope they remain that way between now and the end of the season.
If you're second in La Liga like Sevilla, you have to be some side. 
We talk an awful lot about our Premier League and how good we are, but don't be kidded: La Liga has great sides in it and top, top players. 
Sevilla are also a side who are experienced in winning this trophy, so a tough draw for us, but it's the way we wanted it: we wanted to challenge the best and I think Sevilla are up there with the best at the moment.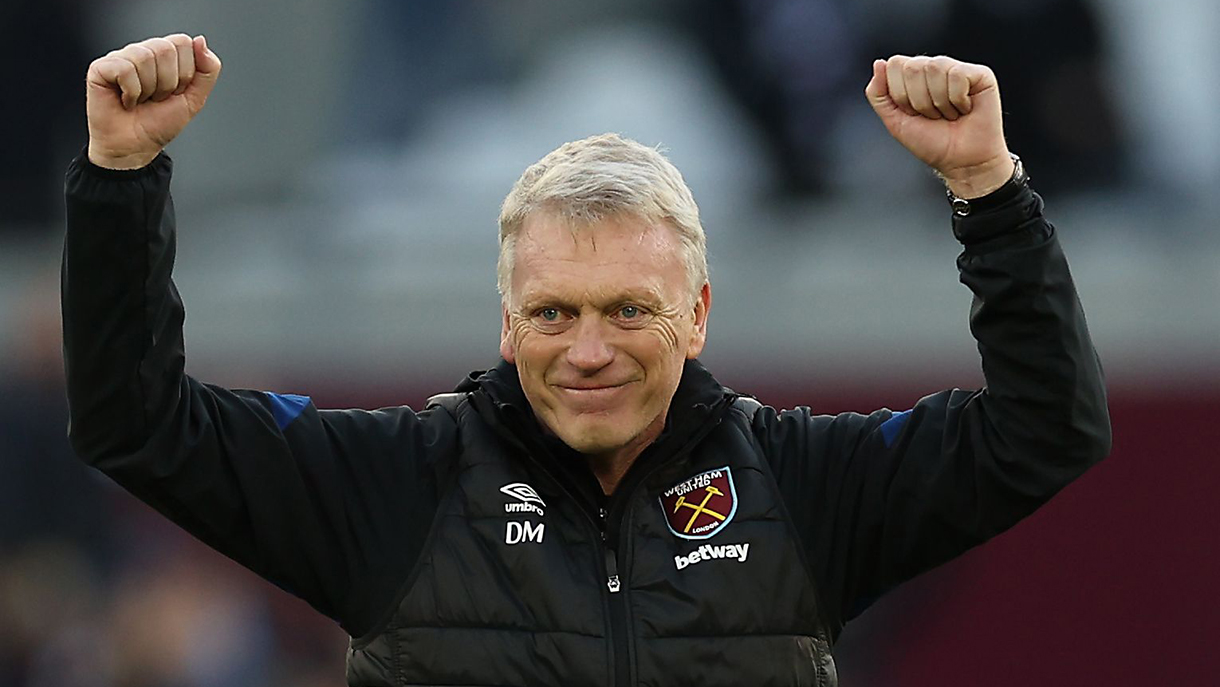 For me, I've only scratched the surface. I feel as if this is only the beginning. 
It can only be the beginning, and we have to build on it. 
I think in nearly all the games we've played, we've given all the teams a good run for their money. In the Premier League, we're challenging all the top teams, and if we can challenge the top teams in the Premier League, then we'll give ourselves a chance in the other games. 
I hope that we're turning the Stadium into one which, in the future, teams will look forward to coming to, but not look forward to the game.
I hope that the way we play gets the crowd up, but sometimes you need the crowd to lift the players as well. 
We're going to play against a side who's going to make it difficult. They'll probably disrupt the game at times and play in a different way, so we're going to need the crowd to see that as well.
Our mentality, knowing how to manage the game and knowing when we need to play at different speeds and how we need to do that… for us, I'm hoping that we can show some level of experience doing that, but it's still early for us.
We're here to win. We want to win.
It can be a great experience. We can enjoy it. We'll always remember it – but what would make us remember it even more comes from winning.
We have to play with that level of experience, which I hope we can do. We've had some really big games where we've beaten Liverpool at home, we've beaten Chelsea at home and we've beaten Tottenham at home. 
From that point of view, I think we can go into it with confidence and say that if we can beat those teams, we can give most teams a game. We'll enter it that way and hopefully we can come out as winners in the end.