David Moyes has been speaking to the media ahead of Sunday's Premier League fixture against Leeds United. 
Fresh from securing the Club's first European final in nearly 50 years in Alkmaar, the Hammers welcome former coach Sam Allardyce back to east London for their penultimate league fixture of the season and final game at home. 
Leeds United who, battling to persevere their Premier League status, sit three places and six points below the Irons in 18th place and will provide a stern test for Moyes' men. 
The Gaffer spoke about the challenge Leeds present, reaching the UEFA Conference League final, and his hopes of concluding the 2022/23 season in style.  
Over the last two years, I think everybody has given the supporters a lot to shout about!
We are feeling great because we have reached a European final. 

It is something we are all pleased about. We got back from Alkmaar, and we have had a bit of sleep and we are getting ready for what is coming next. That's the way football is. The games come thick and fast. And we have got to get ready for the next game.


[The events after the game] were disappointing because I felt it took a bit of the focus away from the team reaching the final.

But ultimately there was nothing we could do and nothing the Club could do. But like anybody if you saw any family members in trouble you would go and help out. And that was the situation.

Unfortunately, it has taken up a lot of news and a lot of time, but we are not getting are from the fact we have reached a final. It's a brilliant achievement. We had a semi-final last year and a final this year. And I I am really pleased but we have Leeds United coming up now and I need to be prepared for that.


Leeds United is an incredibly tough fixture but we still want to get more points.
We can still climb the table if we win games and that is what I am looking at. But we have to get ourselves ready again. And that is part and parcel of playing Thursday-Sunday football. But this is a great opportunity when you have reached the final and hopefully the atmosphere inside the stadium on Sunday will give us a real chance to play without as much pressure as we have been under for a long time. And maybe give the players the opportunity to show the levels they can reach. Leeds United are in a position where they need to try and win. And will try anything to do so.


As a manager, you can field whatever side feels right for a particular fixture.
We had to make a few decisions against Brentford last week. And we played the first leg of the semi-final, and it forced me to make a few decisions. And quite often when your decision doesn't go well you get mentions and we had to leave people out to get us to the final. And we did that. We have some decisions to make this week as well.
I am not wary about making changes for Leeds United.
Managers quite often will be criticised for whatever they do. Last week, we had play in a semi-final on Thursday and again on Sunday. And unfortunately, we have so many games and the Premier League continues to give us games thick and fast, which is part of being in it. We have got that again, with it being Thursday-Sunday this week so we will have a decision to make.


I hope we can have confidence from Thursday and the players feel good about themselves.
We have not been in this position all season and let's show supporters in the last home game of the season what we can do. 


Pablo is a player that we really like.
He is a great energetic player who does great work for the team, and he also has a knack for coming up with goals. There was the one at Bournemouth and in the semi-final. He has been a great team player over the last two years, and I have really enjoyed working with him. He is a great boy.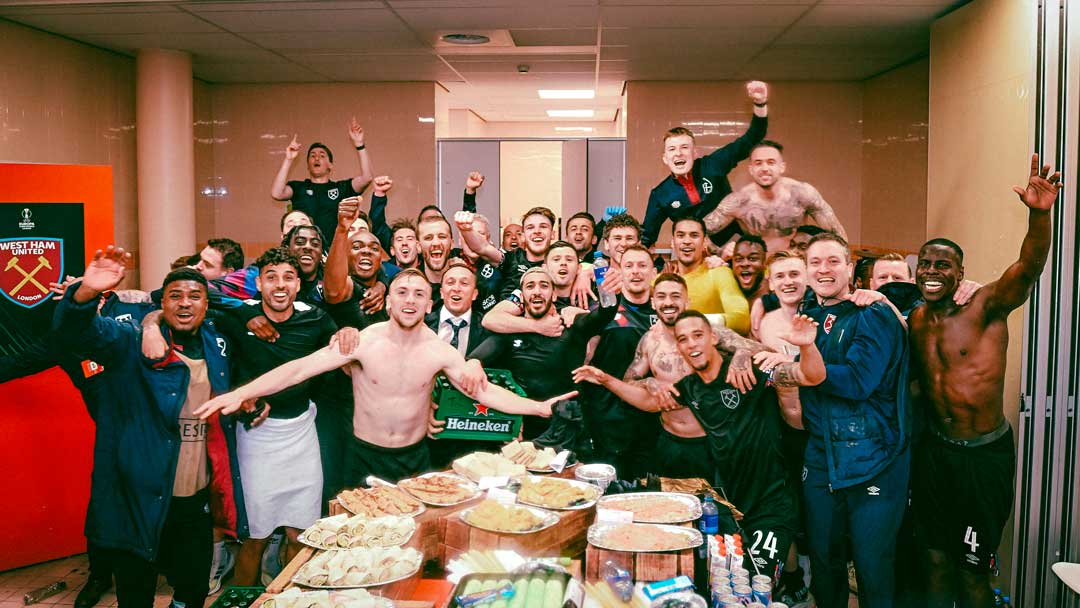 We always wanted to have a good run in one of the cup competitions and if chose one it would be in Europe.
I think we have adapted the best we can without Mark Noble. And we are seeing some players step up but there are also some who we think can do more. And we will look to improve it again next season and look to get those players to take another step, but it is very difficult to get a replacement for Noble. That is something which is very hard.


I think the supporters have a lot to look forward to in the future.
Our Under-18s did remarkably well and we are trying to promote as many as we can. We had Divin Mubama on the bench last week and he came on as well at Brentford. And we want more of them to step through and I do think there have been a lot of good things across the last two years.
 
In the main we have had more good times than bad times.

And at the moment, we have got a European final and if somebody had said when I came back to West Ham: that we are going to finish sixth, seventh, and then reach a semi-final and then a final. I would have said not a chance. So over that time, I think everybody has given the supporters a chance to shout about.