David Moyes is excited by the prospect of yet another different type of European challenge when his West Ham United side tackle Silkeborg IF on Thursday evening.
The Hammers will be facing Danish opposition for the second round in succession in the UEFA Europa Conference League, having overcome Silkeborg's local rivals Viborg FF 6-1 on aggregate in the play-off round.
However, Kent Nielsen's side finished third in the Superliga last season and play on an artificial surface at their neat, tidy 10,000-capacity JYSK Park stadium on the outskirts of the picturesque town in central Jutland.
With that in mind, Moyes knows his players, who trained in Denmark on Wednesday evening, will have to adapt quickly to the unfamiliar conditions and produce a good level of performance to overcome a technically proficient and confident Silkeborg side.
The manager also reflected on last Thursday's 3-1 home win over Romanian side FCSB in the Hammers' opening Group B fixture, and the admirable way the Club paid tribute to Her Majesty Queen Elizabeth II just minutes after her passing had been announced by Buckingham Palace.
We didn't really enjoy how we were in the first half at all, but we picked up in the second.
But we watched it back and we missed a lot of chances in the first half which could have made it all look a lot different.
We conceded a goal in around about the 30th minute and it looked as if maybe we weren't as good as we thought, but watching it back we had actually played some good stuff and made some chances, but we just didn't take them.
For the second half, we changed it up and I think that's what we've got now, we've probably got a stronger group of players, and talking about the squad I've probably got a bigger choice now than I've probably ever had. But also partly because we didn't have a game at the weekend means that I could quite easily play any one of the players tomorrow night.
I thought it was a really difficult night [following the announcement of The Queen's passing] and it probably showed up a little bit because the atmosphere was subdued.
The Cub did a brilliant job in getting things correct and doing everything at the last minute, so it showed a lot.
West Ham is a very British Club and because of that we supported our Queen and I thought they did a really good job.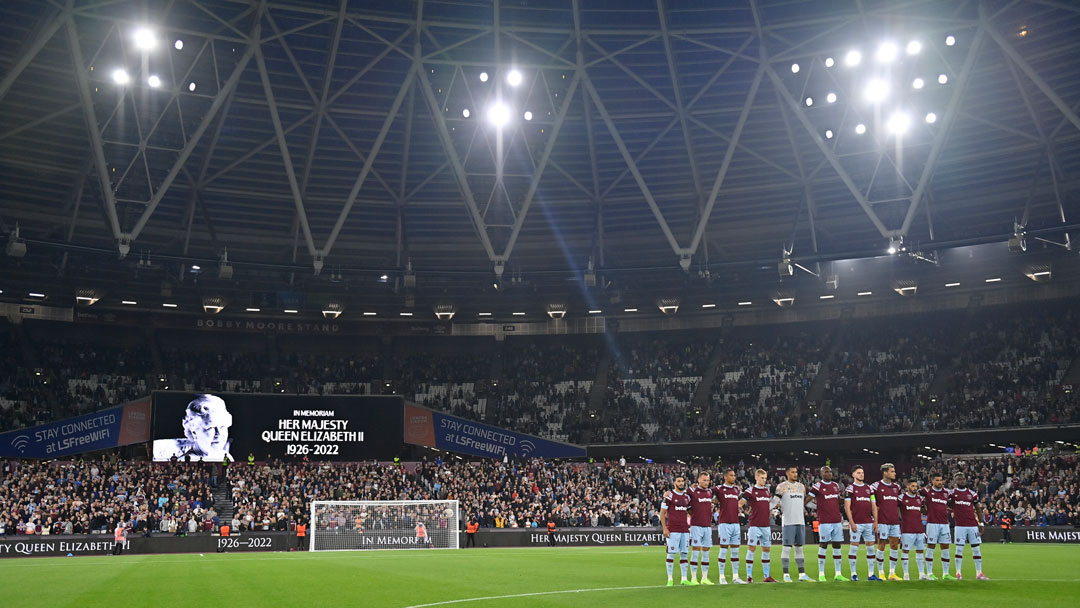 I made three changes at half-time against FCSB and sometimes you can do that and get it right, then equally you can do that and get it wrong.
But we felt that what we'd done, we weren't quite getting there, so we needed to up the ante again and go again. Look, we're going to do it a lot more now, with the with the chance to play five subs, and having 12 players on the bench.
It gives you a big chance to make a lot of changes as well and I think certainly these games at the moment, we'd like to give players who we want opportunities to play, but we're also in the process of trying to find a bit of our own form and get into the rhythm and try and be playing in a good fashion.
So, all that comes into just thinking on how you're trying to get a win, but obviously trying to give people minutes as well.
Undoubtedly, this is a competition you have to take very seriously if you don't want to slip up.
If you actually looked through all the results from the competition last week, I think there was only Basel and us who won their games 3-1, then all the others were either draws or won by a single goal. The games were incredibly tight, so I think, as I said last year when I went to Europe, it's okay when you look back and you say 'yeah, you've done that quite simply', but all the games for us had a real level of difficulty.
Now, we took some risks last year and strangely enough, we will have to continue probably at different times taking some risks in the competition to see if we can do it because of the level of the Premier League and what's required at the weekend.
But, we learned a lot from last year and learned that if you're not correct then you'll easily get turned over by the other teams.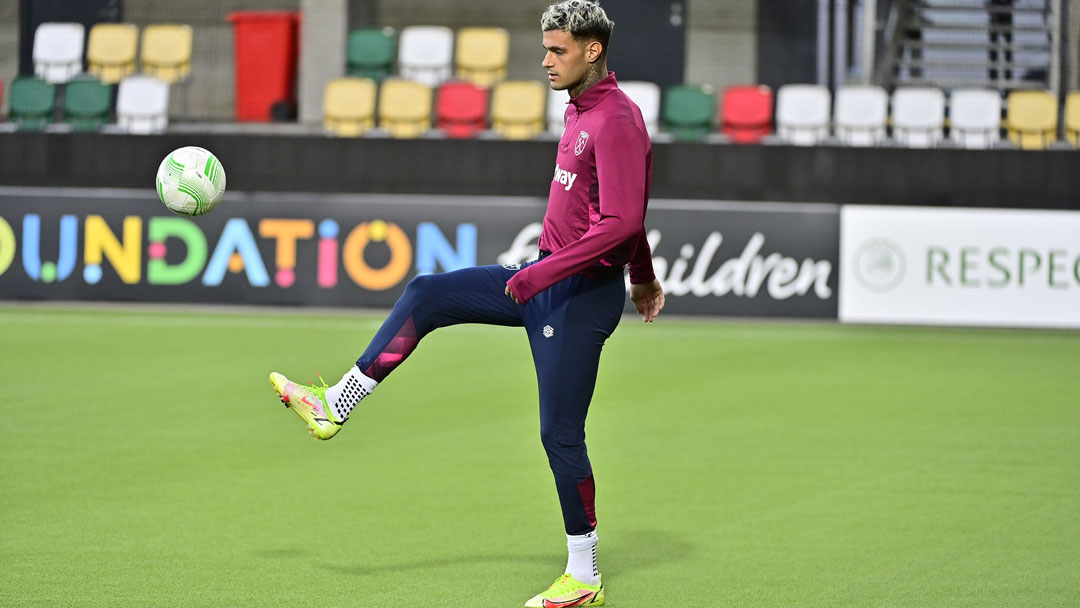 There are a lot of different ways to look at playing on an artificial surface.
As a player, I played in a plastic pitch for about three years, so I've got a good idea of what and how you can play and there are different ways and different philosophies of how it should be done and how you look at it.
But I have to say I think in modern football nowadays, I don't see the top level players really want to play on artificial pitches. I totally respect it because I think for young players, for development, for younger age groups, with the weather conditions which we have [in northern countries], and I'm from Scotland, so I know very well which how much artificial pitches are so important, but I actually think when you get to top level football, we're used to natural and we know that this will be different for us and we have to take this into consideration.
We're familiar with the surroundings because we stayed close by for our game with Viborg, so that's made it a little bit easier.
In truth, the travel to here has been very easy from London with a short flight, so all those things play a part, and you hope that you get good draws as far as travel goes as well.
Last year, we had games [in Europe] which mainly kicked-off at six o'clock and now most of our games kick-off at eight o'clock, which is not good for us because it means our travel is affected differently and return times are different.
But I think if you're going to be a European team, you have to start getting used to it. We have to start finding out more about how we handle it.
Last year, I talked about learning more and dealing with the referees and how we handle that and the different styles of play.
I actually think Silkeborg play a really good style of football and I thought Viborg did as well, so there's different ways to go about it.
Normally, we come up against teams in different countries who play differently, but that's why you want to be in Europe because you're coming up against different situations.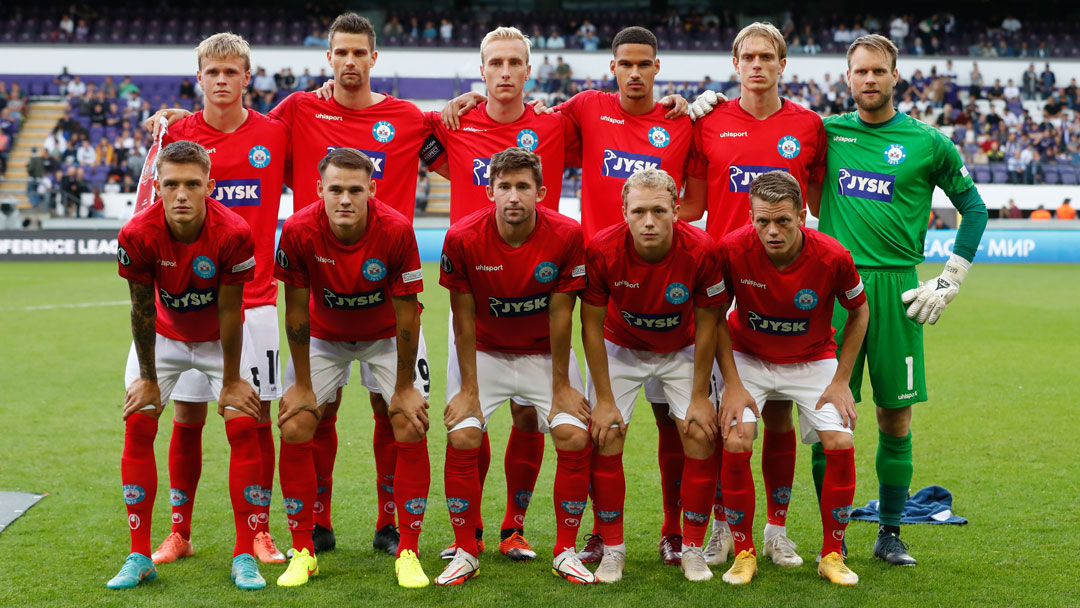 Silkeborg are a really good passing team.
I've actually seen it in a lot of Danish football at the moment, I have to say, I think Denmark is showing lots of traits very similar to maybe Holland in how they play.
I think that the teams are all technically trying to do the right things to try and play in a good fashion, so we know that what we're up against.
The Premier League is at a huge technical level, but it's also a very high level of tactical situations. Obviously, the Premier League is so tight, you might not get the chance to play so easily from the back so it'll be different, it'll be interesting and I think Silkeborg on their home pitch will be a test for us.
I've not been to visit clubs in Denmark as a coach, but I've got a good friend here from Iceland and I used to go to Iceland every year, so I'm very aware of what I'm going to call this part of the world.
I've been to Copenhagen. I used to go regularly to watch games in Copenhagen and always enjoyed a beer in Copenhagen. It was always very nice, so I've really enjoyed it!
I've got to say, we were here a few weeks ago and this is a lovely part of the world where we are just now and it feels really peaceful and it looks a really nice place to live!