David Moyes has reaffirmed that this West Ham United team has everything it takes to reach a major European final.
The Irons stand on the brink of a first major continental final since the 1975/76 season - a campaign in which they, fittingly, overcame Thursday night's opponents, Eintracht Frankfurt, in the European Cup Winners' Cup semi-finals.
To reach the final hurdle, the Hammers will have to do it the hard way; the Irons trail 2-1 after the first leg at London Stadium, with a trip to Frankfurt Stadion still to come.
But after a remarkable journey from relegation battlers to European contenders over the last two seasons, Moyes reiterated at his pre-match press conference that he feels nothing is beyond this special group of players in West Ham United's history.
I think character and resilience are two of our traits, but I don't think they're all of them. 
I think we've got other parts to our game as well. We've shown them in abundance over the last two seasons and we've also shown some other really good aspects of our game. 
We'll need to show them all of them – not just one of them. All of them will need to come to the fore on Thursday night.
 
I actually think one of the things we've enjoyed more the anything has been the atmospheres in the stadiums. 
We had an incredible atmosphere in Seville. Their support was fantastic. 
I've been at this stadium several times. I've watched some games and the national team play here, I've seen Frankfurt play here in the past. Throughout a lot of the games in Europe, the atmospheres in a lot of the stadiums have been great.
This is what the players want and what we want. For two years we've been watching, in Germany and in the UK, and we've had no fans in the stadiums. 
Football is for supporters. We want supporters there and we want them to make a great atmosphere. Even though we're the away team, we're really looking forward to seeing what Eintracht Frankfurt are going to show us inside their stadium.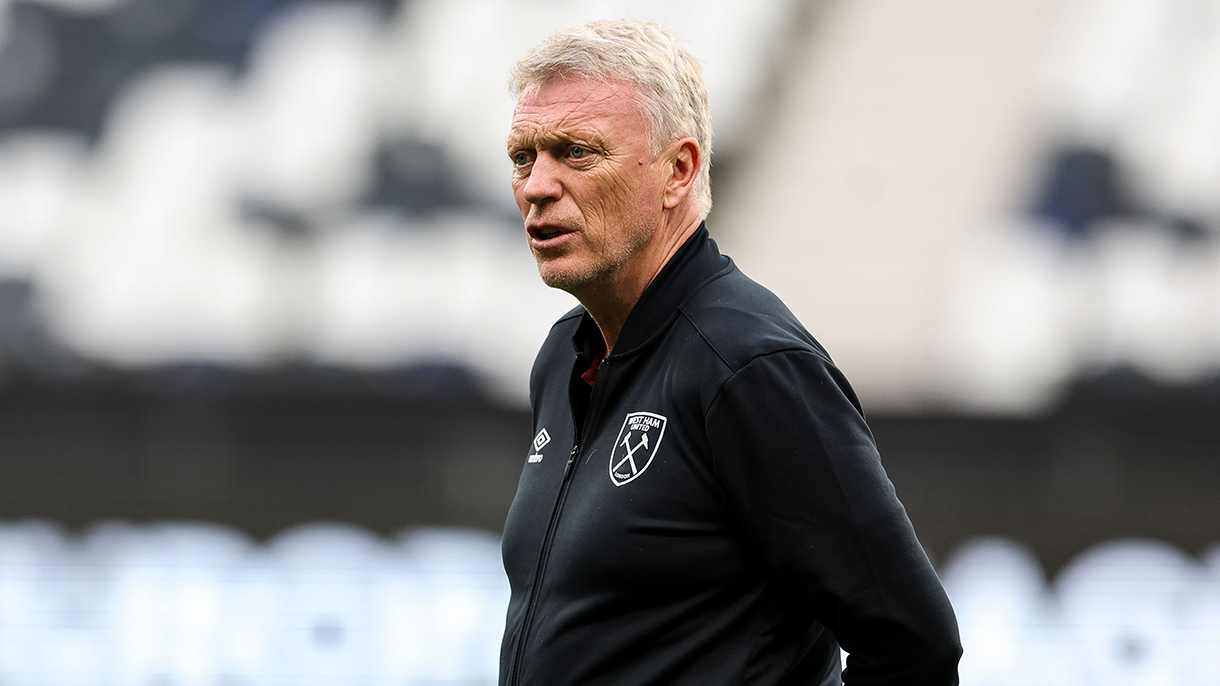 It's a big game for me as well, and it's a big game for the players.
Any player, anybody who's played football will tell you that getting to the semi-final of any competition… if you get to the semi-final of a European competition it's huge for anybody. 
It's big for me as well. I want to take the team to the final. I'm preparing the team to go to the final. We believe that if we get it right we can do so, so we have to manage that. The players are in the same place as I am.
We know Frankfurt are in front and we've got a bit to do.
 
I don't think I learnt anything new about Frankfurt [in the first leg] because I knew about their counter-attacking speed, their ability and the style they play in. 
We've got a few people in Germany we speak to regularly as well who told me plenty about Frankfurt, so it wasn't as if we were going into a game we didn't know much about.
I thought the two teams were quite even on the night. I didn't think there was a great difference between the two sides. We may see something different tomorrow night, but we think we've got as good an opportunity as Frankfurt.
We have to chase the game because we're a goal down, but in the same breath, Frankfurt are one up and they're the ones who have to protect it.
 
We've worked on things already. We've been doing lots of things to try and keep the players ready and make them think really positively about how they've played.
They've played against Sevilla and played against Lyon. They were big games for us. This is an even bigger game, of a bigger magnitude.
Sometimes you don't need too much. Sometimes as players you just need to say "come on, let's get our job done and go and do things directly", other times players do need a little bit more motivation, so you just really have to try and pick up on the mood and find out what one of those is best to use.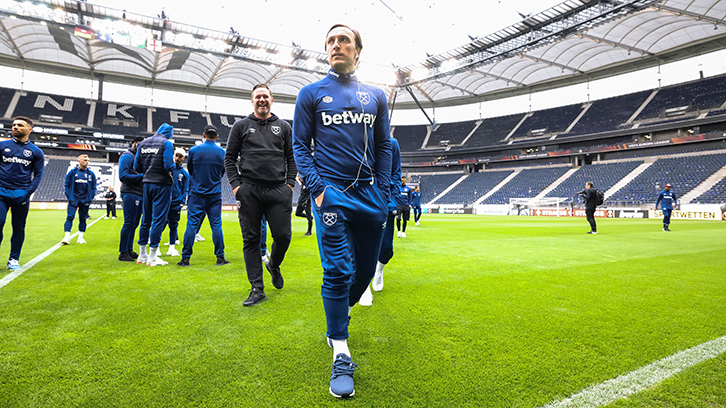 I think sometimes when you see a team for the first time, you're not quite sure, but we missed six or seven key passes which could have led to really big opportunities, and we didn't make them.
That was where I said I thought we were short of quality in the final third – we didn't make those key passes or those opportunities. Frankfurt had one or two chances as well but you would expect that. 
We need it to work. We needed to make those things happen. When you get the opportunities. We get two games, two chances to do it, and we have to try and make it work in this game.
 
I do feel that when you come back into the business you've been out of for a while, and things haven't always gone well for you, you have to show you can get back on the horse and do it as well as you can.
Prior to it, at most of the clubs I've been with, I've been in and around European positions for longer periods than I've been at the bottom of the league, that's for sure.
Getting to the semi-final of a cup competition like this is really important. I've been to two quarter-finals: a Champions League quarter-final with Manchester United and a quarter-final with Everton in this competition.
To be in a semi-final here with West Ham is huge for West Ham as a Football Club. I'm thrilled I'm taking the team,
I've got a great group of players with resilience, character, all those things that go with it. It wasn't too long ago we were fighting relegation. It's been a great climb and I see no reason why it shouldn't continue.
I don't want to go back. I'm trying to give it a 'new West Ham' because I want people to see a new, young team. For example, Jarrod Bowen and Declan Rice are new, up-and-coming players who are huge players, who the new young supporters we've got at West Ham can get a jersey, support them, and they're the future for West Ham at the moment.
In the past there were greats who all the older generation talk about, so I'm really hoping that, in the future, this new generation of supporters, in a bigger Stadium with more people coming, will be talking about the likes of Declan Rice and Jarrod Bowen, hopefully for a game like tomorrow, and maybe a game in Seville in a few weeks time.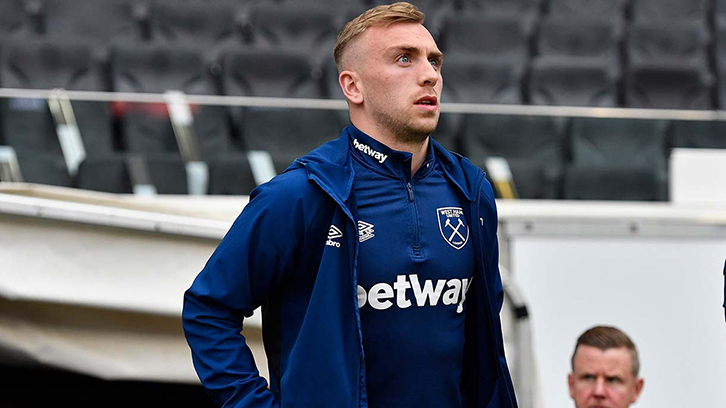 I've got to say when you get that more experience, you start to see it differently and you start to look at things. 
Sometimes you're calmer, sometimes you realise you have to get your players straightened out a little bit more. Our players have needed both.
We need to keep our performances high and we need to be very good at all the simple things in football, but then we also need to show that little bit of flair, that little bit of individual talent. 
For example, Michy Antonio needs to start showing us his finishing, and what's he about and what we know he's capable of. If ever there were a stage to do it, it's the semi-final. Let's hope that all our big players come to the table tomorrow night.
You mustn't forget we're also playing a really good team in Eintracht Frankfurt, who are trying to do the same. It's a huge game for Eintracht Frankfurt, not just for West Ham – for both teams it is.
 
Our climb over the last two years has probably been faster [than we'd expect] and sometimes you have to come down a little bit to go again – but hopefully, we continue to build and grow, and that's what I'm trying to drive home.
The biggest thing I've seen is the mentality change in the players here. It's incredible. I say to Declan Rice every week 'you have to drive them on, every day in training – the levels and standards have to be taken higher.'
Every day you have to drive them on, the levels. He has the chance to work with some of the best players in the country when he goes away with England – Harry Kane, Harry Maguire, you name it – and he has to bring that back to our camp and demand it from the other boys.
The demand really is that we try and improve and I put it on them. They need to be the ones who do it as well. The manager is always the one who gets found out if it happens or not, but sometimes the players need to be the ones who roll their sleeves up and not accept anything other than the best.
We also mustn't put too much on Dec's shoulders! I'm the one who's said it because he's such a quality player and he's got tremendous abilities. 
I challenge him a lot, but we need to get a whole team performance and everybody needs to perform well. We're playing a good side who have different attributes than maybe some of the teams we've played before – they're very strong on the counter-attack, very quick, with a very high intensity, energetic team – so that in itself brings different considerations of how you play.
We need Dec to drive us on but we need him to play with a really steady, experienced head for somebody who's young.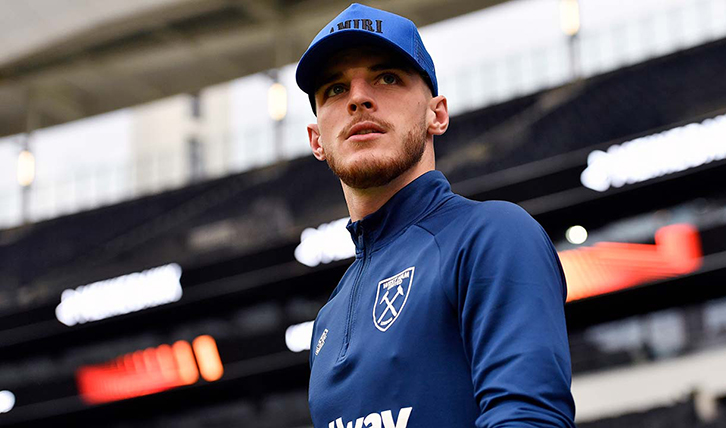 My Dad's coming tomorrow and I keep saying I hope my son takes me to the football when I'm 86 as well, because what else would you want to do?
You want to go to big games and you want to get the chance to go away, so that's it. Luckily my brother's bringing my Dad tomorrow night and great, isn't it, when you get the chance to see you at these stages. I'm hoping I can give them a night to remember.
It would be special. It would be even better if it were the final! He wants it to be the final, so do I, and having him here's great, and as we all know when we get to 86 or 87, we're all hoping somebody takes us to the football.
The biggest thing is that he enjoys it, and the biggest thing for me is that we get to the final.
 
We have to chase the game because we're a goal down, but it doesn't mean we necessarily need to go chasing from minute one to do that.
We need to manage the game correctly. Frankfurt are a goal up and they need to manage it correctly - sometimes that's a worry as well.
 
As a manager I've had loads of other big games. 
In the early part of my career, I had a game at Preston North End to get me to the play-off final – I remember beating Birmingham City to get to the final, before losing to Bolton Wanderers, Big Sam's team, in the final in Cardiff.
Every time you get to a big one, you think this is the biggest one, but all through your career you have lots and lots of big games.
All the boys will tell you in your career you have lots of ups and downs, probably more downs because it's very hard to be winning the top games all the time because everybody's fighting for that prize. 
You have to sometimes accept that as part of being a footballer or a manager, but I think when you get so close, you're saying: "Come on. Is this my turn? Is this my chance?" I've got to hope that it is my turn.