The countdown to Wednesday's UEFA Europa Conference League final continued on Friday morning when West Ham United manager David Moyes faced the media in his first pre-match press conference.
The Hammers take on Fiorentina at the Eden Arena in Prague as they aim to lift the Club's second European trophy on their first appearance on this lofty stage in 47 years.
With so much on the line, Moyes is looking forward to the challenge and is sure his team can rise to the occasion.
Here's what he told the press...
I've had a lot of big games, this is another big one and I'm really looking forward to it.
I'm not sure if you had told anybody that in the last three years we'd have finished sixth and seventh in the Premier League, we'd have got to the semi-final of a European competition and then the year after you'd get to the final of a European competition [they'd have believed you].
So there are a lot of good things going on. We've given lots of West Ham supporters lots of good times and long may it continue.
We want to grow and keep these sorts of moments happening and I think to be in a final is special, certainly for West Ham as it's been a while since we've been there.
It would be hugely important to myself [to join the Scottish managers to have won European honours].
My home is in Scotland and it's where I was brought up.
I think the names you mentioned were names which were around Europe in a different era when Scotland had a host of top managers and managers competing in the best leagues, for European competitions.
I've been told about it and Sir Alex was the last one to win as a Scottish manager – not only that but as a British manager as well – so it would be a big thrill for me if I could get my name alongside theirs.
But obviously many of those names are greats in football, not just at their clubs but in the world wherever people go.
The only focus I've got at the moment is to play the game, try to win the game and perform as best as we can.
I'm not thinking any further ahead than that, we've still got a few days before the game so it's a case of preparing the players and getting them ready.
Fiorentina play this weekend in their league and we don't, but I don't think there's one reason to see one is better than the other.
What I do think is that Fiorentina have a big squad and have been able to change their players in many games.
It may be a help for us, or it may be a hindrance, we don't know what the outcome will be, but for all football clubs, whether in Italy or England, the season has been long due to the World Cup and games being pushed in.
I faced Fiorentina when I was at Everton and obviously we lost 2-0 in Florence and we won 2-0 at Goodison.
It went to penalty kicks and it was a great opportunity because I think Rangers then beat Fiorentina in the semi-final. One of my good friends was Walter Smith, who was manager of Rangers and unfortunately died not too long ago. They went on to play in the final at Manchester City's stadium so it would have been a great achievement if we had got to the final, but it was a good game against Fiorentina.
Both games were tight and unfortunately it happens in football that sometimes it goes to penalty kicks. Hopefully it doesn't happen like that and it goes our way this time.
The supporters have been unbelievable here, really supportive of me and the team.
I think if you'd said we've had two very good years, sixth and seventh in the Premier League, now a semi-final and final in Europe, you'd have to go a long way back in West Ham's history to see that matched,
I feel sorry that we can't have more people in the stadium, I watched Fiorentina-Inter Milan last week, Fiorentina had an incredible support too.
I hope in the future maybe the stadiums can be bigger to host it, but I understand that for different reasons we are in a slightly smaller stadium, but I have to say it shows how seriously all the teams in the Conference League are taking the competition.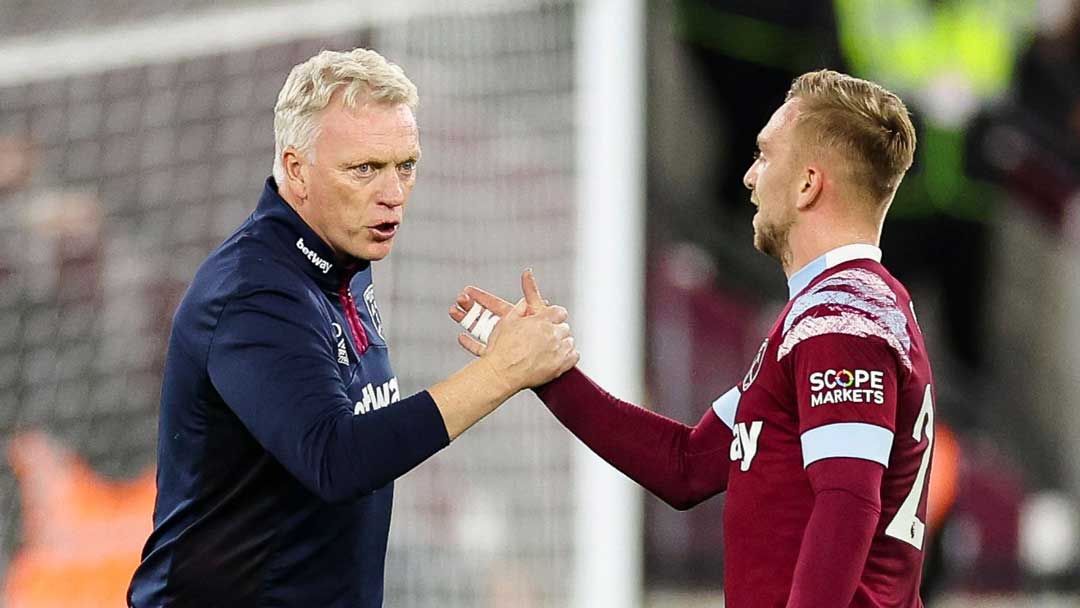 There are a lot of really good young managers out there, and it's great to watch.
I've been around a long time now and they're all challenging us. Longevity, being in the game for a long time – coming in for a short period, I'm not saying is easy, but it's easier than doing it for a long period. I agree though, there are some very good young managers out there, young coaches.
Football has been around for a long time, it won't change greatly. Italian football has it's own DNA, but also the Italian national team won the Euros just over a year ago. Italian football has teams in all the finals this year, it says a lot about the game in Italy. I think they've got good players and they always have done.
Hopefully everybody will look back and say that what was said has been delivered.
I don't know if we'll ever get a statue because we're talking about three English legends as well as West Ham legends [already honoured], because of what they achieved with England in the World Cup, but I do believe that the players have got a good opportunity to be remembered by everybody at this Club. 
There is a new generation of young supporters developing in the east end of London; lots of young West Ham supporters. The Club have moved to a 62,500-seater Stadium which is filled in the Premier League, which just shows you the depths of the feelings for this Club in this part of London.
If we can give those young supporters the belief that this Club can reach finals and win finals, then I think it will be nothing but positive. I believe the players we've got give ourselves a really good chance of doing so.
We had ten days until we played the game [the final] so I felt it was important we got the players away from the training ground for a few days to Portugal.
We went into a new environment and it gave us a chance to have a bit of time together. I'm a big believer in having a great team spirit behind the scenes and we've certainly got that. We won't be found wanting for that.
It was great. Some of the boys had some time in the water, and some had a game of golf, but overall we had a couple of days which allowed us to change our scenery a bit.
The supporters have been unbelievable here, really supportive of me and the team
You always want to be well-disciplined in finals, and in any game you play.
But I didn't know that stat [about having the fewest yellow and red cards in the Premier League], but it's a good stat and hopefully that's the way it remains. You also hope the referees are looking at that and seeing that we're a well-disciplined side who go about their job correctly.
It's been a long time since my last final.
But, in football, there are more managers who don't get to finals than those who do. You always appreciate and respect every single one you get. 
Each one is different and your domestic final preparation could be different to a European final. This is the first time we've done a European final and it feels special. It feels like a really big occasion. We want to make sure we've covered everything and we go into the game in the best possible condition.
I don't think we're necessarily doing anything different because this is the first one we've done, but I do feel that our experience in the semi-final last year will give us an indication of what to expect. 
Overall, I think the players are in a really good place and are getting ready. Mentally, I see them in a good place and I hope that proves to be the case.