Michail Antonio has revealed his new greens-based diet has been key to his outstanding form in Claret and Blue.
West Ham United's No9 has looked fitter and stronger than ever in recent months, helping the Hammers start the new season the same way they finished the last.
With 12 wins and just three defeats in 19 matches in all competitions, the Irons are fighting strongly on three fronts, having reached the UEFA Europa League round of 16 and EFL Cup quarter-finals and go into Sunday's Premier League fixture at Manchester City sitting fourth in the table.
Antonio has been central to that impressive record, scoring seven goals and assisting four more in his 14 appearances, and the 31-year-old has revealed that, after looking into the benefits of veganism and adopting a new diet, his physical condition has improved.
What I've found in my research is that this is to do with the alkaline in the veg, and obviously vegans have more of that in their diet

Michail Antonio
He said: "I did some studying and realised a lot of people are becoming vegans because they believe it keeps them clear of injury.
"What I've found in my research is that this is to do with the alkaline in the veg, and obviously vegans have more of that in their diet.
"I've not become completely vegan – I still have my chicken and my fish – but I eat a lot more greens and get a lot more alkaline in my meals, which helps to heal the muscles after games."
With ten games to play between now and 2022, Antonio will be crucial to the Hammers' hopes of maintaining their lofty league position and reaching the EFL Cup semi-finals.
With that in mind, the centre-forward was rested and remained in London when David Moyes' squad travelled to Austria to defeat Rapid Vienna in the Europa League on Thursday evening.
Having kept himself fit and fresh, Antonio is now ready to lead the line in Sunday's clash at Etihad Stadium.
Some might buckle under the pressure, but Antonio thrives on the responsibility and relishes the challenge of playing an influential role for his side. 
"Right now, we're in a Champions League position – all we need to do now is keep being consistent, keep pushing and keep believing that anything is possible," he observed.
"I'm the most comfortable as a striker now but I'd also say it's the toughest position. Being the No9, being the focal point, means you've got to get goals, and scoring goals is the hardest thing to do in football."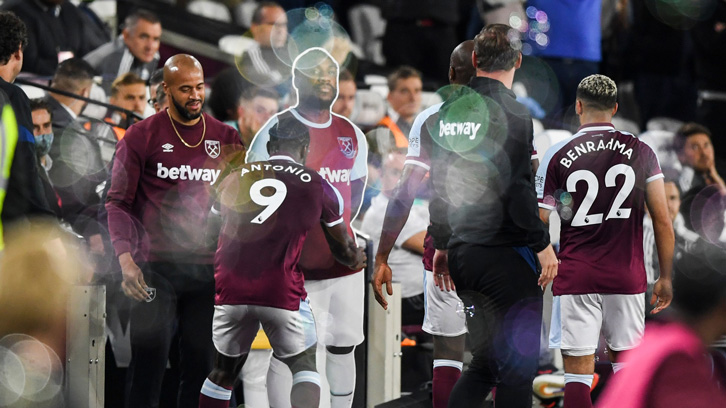 Hard it may be, but Antonio has made scoring goals look seemingly easy for the Hammers in recent seasons. 
He eclipsed Paolo Di Canio to become West Ham's all-time Premier League goal scorer against Leicester City in August, which triggered an unforgettable celebration. 
Antonio lifted, kissed and danced with a cardboard cut-out of himself, much to the enjoyment of the fans and his teammates alike. 
And according to the Jamaican, he has another memorable moment in mind if he can find the net against Pep Guardiola's side.  
He revealed: "I've got some good ones in mind, but only for the big occasions!"