West Ham United legend Mark Noble has been awarded the Freedom of the City of London.
The 35-year-old, who retired from playing earlier this year after a magnificent 18-year first-team career in Claret and Blue and will take up his new role at the Club as Sporting Director in January, was presented with the prestigious title at a special ceremony at London's Guildhall, in a tradition dating back almost 800 years.
Noble was nominated for the City's award by Caroline Haines, Common Councilman and Master Educator, and her husband Gordon Haines, Past Alderman and Past Master Horner and Painter Stainer. Two nominations for the Freedom are needed from individuals who are Liverymen of the City of London.
The award, which was agreed by the City Corporation's elected Court of Common Council, has been made in recognition of his outstanding contribution to sport and community in London.
Noble said: "I am extremely proud to have been awarded the Freedom of the City of London. It is a wonderful honour for myself and my family, and a real privilege to follow so many great figures and names in history.
"I feel very fortunate to have been born and grown up in London – a city I consider to be the greatest in the world – and to have spent my entire professional football career with West Ham United, a club in the heart of London.
"It is such an honour to be recognised by my home city and it was a fantastic experience to visit the Guildhall with my wife Carly and our children for the ceremony, something very special that will stay in our family name forever."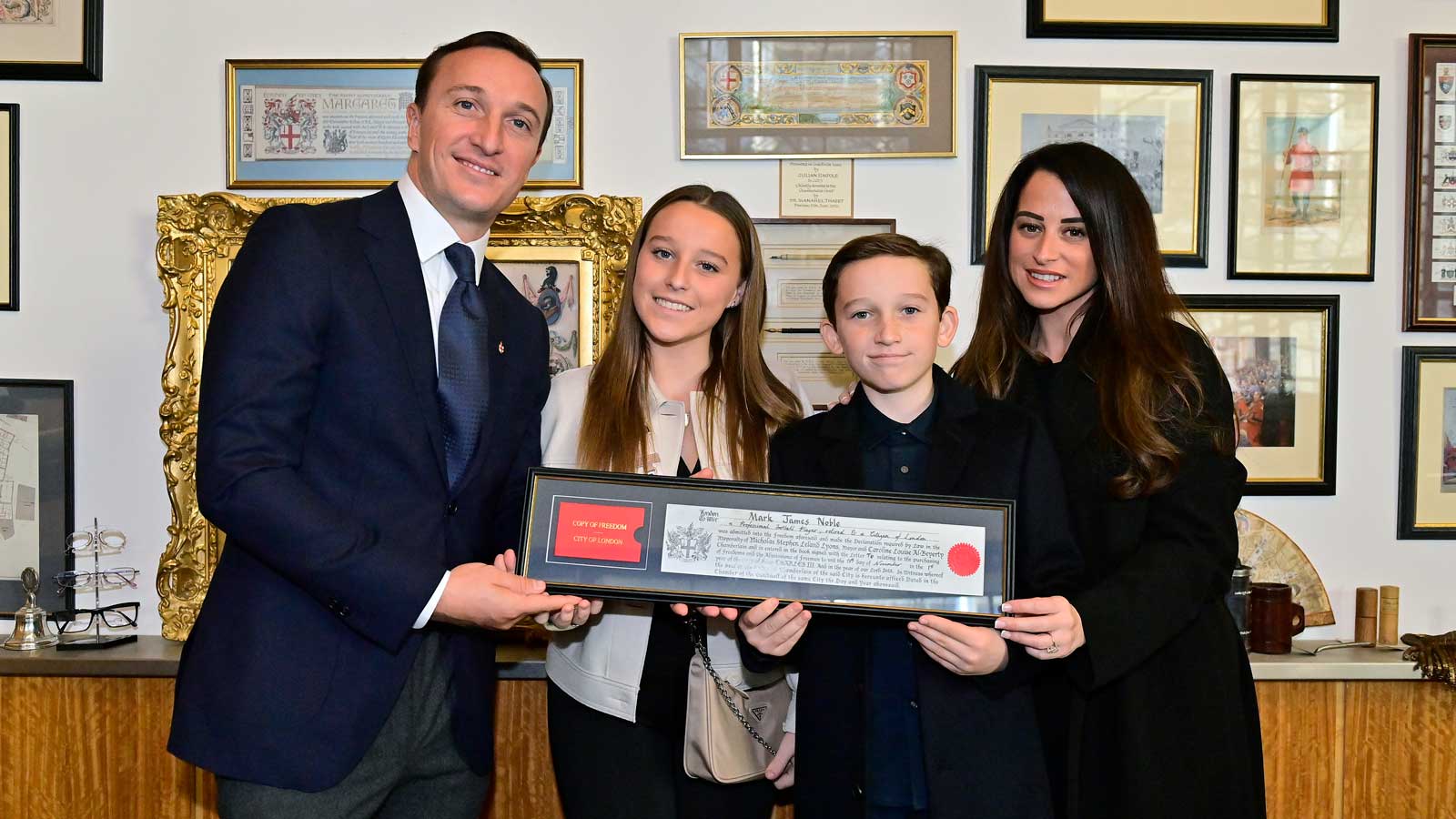 City of London Corporation elected Member Caroline Haines said: "I am delighted to nominate Mark Noble to receive the Freedom of the City, not only because I am a lifelong West Ham United supporter, but also because Mark has exemplified true leadership and sportsmanship over the 18 years that he spent with the club as a first-team player.
"Mark's long service as 'Mr West Ham' is matched by his commitment to the east London community, using his sporting platform to help others less fortunate, donating considerable sums during the COVID pandemic to help vulnerable and isolated individuals, and fronting West Ham United's NHS charity campaign.
"Many City workers have their roots in east London and Essex, and the award of Mark's Freedom today is recognition of his long years of service to sport and the community."
In being awarded the Freedom of the City of London, Noble joins a notable list that includes the likes of Dame Vera Lynn, scientist and black holes pioneer Sir Roger Penrose, former England cricketers, Roland Butcher and Ebony Rainford-Brent, actors Sir Ian McKellen, Sir Michael Caine and Dame Barbara Windsor, BBC World Affairs Editor John Simpson and singer-songwriter Ed Sheeran.
He also becomes part of a small and illustrious group of former West Ham United players to have received the honour, including 1966 World Cup hero Martin Peters, 1965 European Cup Winners' Cup hero Brian Dear, Sir Trevor Brooking and Harry Redknapp.
Born in Canning Town, in the heart of east London, in May 1987, Noble grew up a Hammers fan and joined the Club as an 11-year-old in 1998, progressing through the Academy ranks before making his senior debut in August 2004 at the age of 17. He went on to become one of the most popular and respected players of his generation, making a total of 550 appearances for the Club, placing him sixth in the all-time list of West Ham United players.
Appointed club captain in 2015, he led out the Hammers for the final game at the Boleyn Ground in May 2016 and then into a brand new era at London Stadium a few months later, always representing his club on and off the pitch with the values and attributes held dear in east London – loyalty, honesty and determination.
In January, Noble will return to the Club in his new role, working closely in support of manager David Moyes, as well as with the Board of Directors, providing input, advice, and assistance across all aspects of the football operation. This will include Academy development, player recruitment, and player and staff wellbeing – with a particular focus on ensuring players both progressing through the ranks and new to the Club are nurtured in the West Ham United football philosophy and values.
The Freedom of the City of London started around 1237 as the status of a 'free man' or 'citizen', protected by the charter of the City of London and not under the jurisdiction of a feudal lord. In the Middle Ages, this developed into a freedom or right to trade, becoming closely linked to the medieval guilds, the livery companies.
Today, most of the practical reasons for obtaining the Freedom of the City have disappeared, along with many traditional privileges – including the right to take a herd of sheep across London Bridge! It nevertheless remains as a unique part of London's history to which many people who have lived or worked in the City have been proud to be admitted.
To find out more about the Freedom of the City of London award, please click here.