Kate Longhurst was just your regular fan on Sunday evening. 
The West Ham United Women's midfielder was cheering on the names of players that she faces off against on a weekly basis in the Barclays Women's Super League
England brought it home, and with it, sparked a change in attitude towards women's football that has been slowly moving in the right direction over the last couple of years.
Longhurst, at 33 is reaching the climax of her career, but as she looks back on Sunday night, the celebrations and the legacy that England's UEFA Women's Euro 2022 win will leave, she also can't believe how far the game has come in such a short space of time. 
She looks back on a special night and the legacy that it will leave for the next generation. 
 
What was it like being there on Sunday night? 

Yeah, it was great, the atmosphere was just incredible. I hadn't seen a women's game in person like that before. There were lots of kids, adults and families in the crowd, but the atmosphere was just like a men's game.

Everyone was singing songs and it was just incredible!

When Ella Toone scored, it was such a good goal and everyone just jumped off of their seat. Chloe Kelly's goal was also just so dramatic, and then her goal celebration just cracked me up! After the game was great too as everyone stayed in the stadium to sing, cheer and clap along, it was an amazing atmosphere. 
When you look back on what it was like when you first started your career, can you believe the growth of the women's game and how far it's come?
In all honesty, no. Of course, I always hoped that it would get bigger and better.
The women's game has only really had a fully professional league for the last four years, but women's football has always been there - it just hasn't had the media attention. I think that now the media are starting to push it, you can see that people are getting involved.
I think at the beginning of the Euros, people probably heard about it and knew that it was going on but then as they see the atmospheres and the way the players are playing, they think 'I want to be part of that', which is great.
And then people buy more and more tickets, which is why it was a sellout - even the away crowds were amazing! I could never have expected it to be like this, but I hope that it continues. 

It's a lot harder and more competitive in the league now, especially with a lot of overseas players coming in. It's great because it means that we're attracting bigger crowds and more money is being put into the game. It's also good because it means that players are able to have a professional career from the beginning.
For example, when I played for Chelsea, I was basically out of pocket just travelling there, and that was only ten years ago. Of course, I would have loved to have been professional from the start but I'm also really happy that I've got to experience the evolution of the women's game and I'm proud to have had to fight and work for everything that I've got.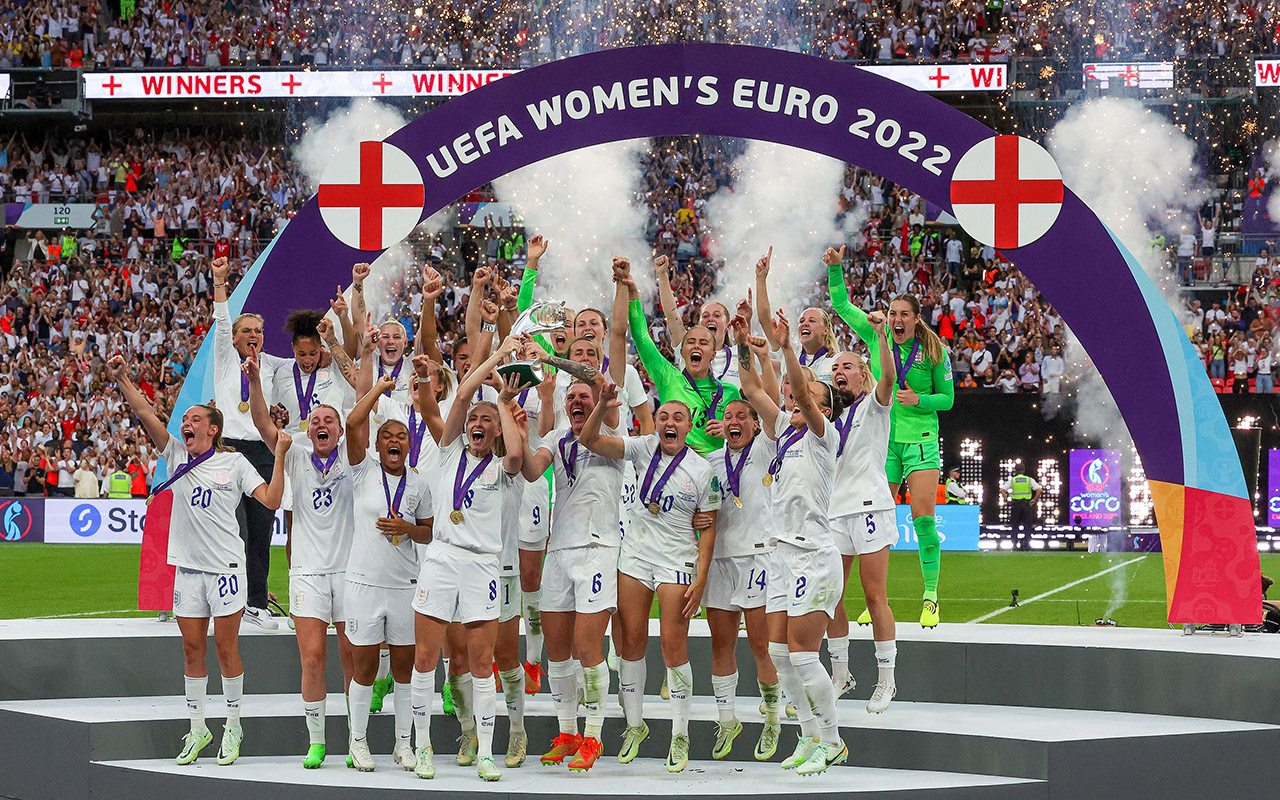 What do you think the women's game will be like in years to come off the back of this Euros? 
Firstly, I think we have to realise that we're not going to get the same sized crowds in league games that England did in the Euros straightaway, because obviously everyone was supporting one nation and rooting for the same team. But I think it's really important to keep that steady growth going.
In ten years' time, I hope that we can get consistent crowds of six or seven thousand, I think that would be a realistic target. I hope that it reaches a point where fans know more about the players, the teams and about the systems that they play, and hopefully, we get fans that just keep coming back and not just come to one off games, but actually want to regularly come and watch us play.
I saw so many young boys and young girls at the Euros games; I saw one young boy and he stood up in his seat at Wembley and he said 'Wow, this is amazing.' I heard him say that and it was fantastic to see a little boy watching women play football and he didn't care whether it was men or women on the pitch in the way that adults sometimes do.
Hopefully now that it's coming through to younger generations, maybe they'll stick to watching women as well as men. It's got to be a gradual progression but I'm very hopeful! 
And surely the way to inspire the next generation is with a massive tournament win like that?

I think that all of the girls on that team have done an incredible thing for the country, and for football in general. Look at the fans too, I think that the overall attendance total for all the games was around 574,000 but that's also coming from the players encouraging fans by putting in a good performance, and the media giving it recognition.
That's what's made people want to keep coming back. They've inspired me too. I'm 33 and I'm inspired by the players, and some of them are ten years younger than me. They've done an incredible job and hopefully we can continue that here as well.
 
Interested in watching West Ham United Women this season? Sign up to our mailing list or click on the graphic below to purchase a season ticket for the 2022/23 Barclays Women's Super League season now!