Mark Warburton is not your average Premier League coach.
The newest member of David Moyes' backroom staff has taken a unique route to West Ham United via non-league football, the trading floors of the City of London, a school, Academy, EFL League One, the Scottish Championship and EFL Championship.
The 59-year-old has worked as an Academy manager, sporting director, first-team coach and, most famously, as a successful manager at Brentford, Rangers, Nottingham Forest and Queens Park Rangers.
A widely respected, widely liked figure in the game, Warburton was widely expected to take on another management role after leaving Loftus Road, but instead opted to join Moyes' experienced coaching team and bring his knowledge, expertise and philosophy to the Premier League for the first time.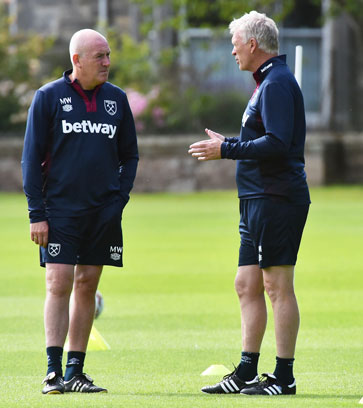 Watching West Ham's training sessions at the Club's pre-season camp in the French town of Évian-les-Bains, it is evident Warburton has taken to his new role like a duck landing on nearby Lake Geneva.
"It's obviously a testament to the quality of the coaching staff here and the staff in general, how they make you feel welcome," he began, speaking with the same calm, cool authority that have seen him thrive in such a wide variety of environments and settings.
"It's all about football, so having a manager like such that we have in David Moyes with his vast experience, he brings people in for a reason and you have to contribute and have to add value to the great job they're already doing.
"So, it's been nice to come in, to be introduced immediately and get involved immediately because you don't come to stand and watch, you want to come in and be involved and try and contribute where you can."
Warburton and Moyes have a mutual friendship dating back over a decade and it was that relationship that led the Scot to call and ask him if he would like to bolster his backroom staff.
"The manager and I go back a few years away from football. We used to play a bit of golf – very rarely, unfortunately – and we got on well, and it's important to get on well and have a chemistry in whatever you do, otherwise it doesn't work.
"The manager has developed a chemistry in his staff here and I have been looking around and there are some very good people here, so I think he must be very pleased with the quality of the environment he has created here."
I've always been learning all my life in terms of working in the City and coming to football later, and you've got to keep on learning and challenging yourself and pushing the boundaries
West Ham's coaching setup is different to many Premier League clubs, with manager Moyes assisted by four experienced assistant coaches, three of whom have managed EFL clubs in their own right and the fourth of whom is also part of the England coaching staff, rather than an assistant manager and more junior first-team coaches.
It is a democratic environment in which those four – Warburton, Billy McKinlay, Kevin Nolan and Paul Nevin – are encouraged to share their own views on everything from set plays to training drills, with the final decision resting with the vastly experienced Moyes.
That approach, with Stuart Pearce filling the position held by Warburton prior to the former England defender's departure in the summer, held the Hammers in superb stead in the previous two seasons, as the east Londoners finished sixth and seventh in the Premier League, beating some of the best clubs in the land, and reached the semi-finals of the UEFA Europa League, beating the competition favourites along the way.
Warburton is feeling his way into his new role, working out how best to use his considerable talents to make West Ham even better, on and off the pitch.
"The better the people, they want to work and want to contribute and want to play their part, so therefore for me in the first week or so, I've got to see how it works here," he observed, shrewdly.
"People have their roles and what they do and the simple fact is that West Ham have had two excellent seasons, so my job isn't to come in and rock the boat; my job is to come in and hopefully have a look and, with the manager and the staff here, hopefully add a bit of value and a bit of quality to allow us to move forward in the right direction."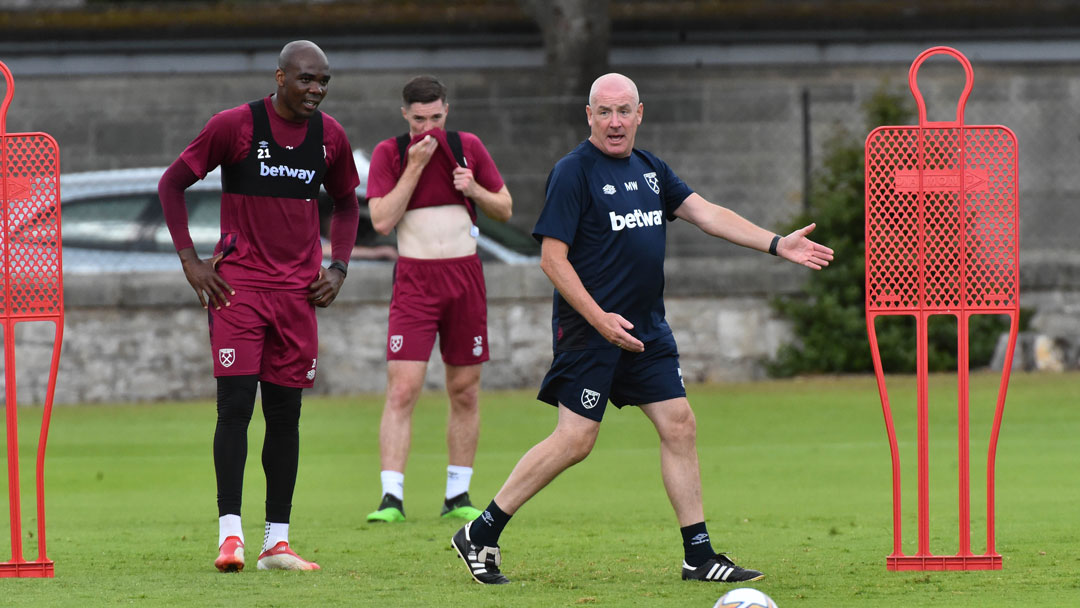 Each of Moyes' coaches have different strengths, whether it be Nevin's coaching acumen, Nolan's man-management and set-piece nous or McKinlay's analytical and tactical brain.
Warburton's skillset is evidently well-rounded, seeing as he has managed so successfully, but what does the man himself see as the outstanding quality he will bring to the West Ham party?
"That's a good question," he mused. "but I've only been here two weeks in the bigger picture, so I'll have a look and see how the Club operates and what does the manager want in terms of the style of play.
"There's going to be certain prerequisites that he must have and that he wants to put into place and the coaching staff here implement and support, and I've got to make sure I pick up on all of that.
"But, as I say, at the same time, I haven't come just to sit here and do nothing. I've got to make sure that I've come into senior position and make sure I add something. So, that's got to be my role.
"I've been very fortunate to manage some very good clubs and I've got to see how best can I help the manager here help to drive the Club forward
"West Ham finished sixth the previous season and seventh last year, so the aim has got to be to keep moving the Club forward, keep developing the squad, keep helping create the right environment for these players to keep on getting better, and keep on developing, and I've got to make sure I contribute in the right way."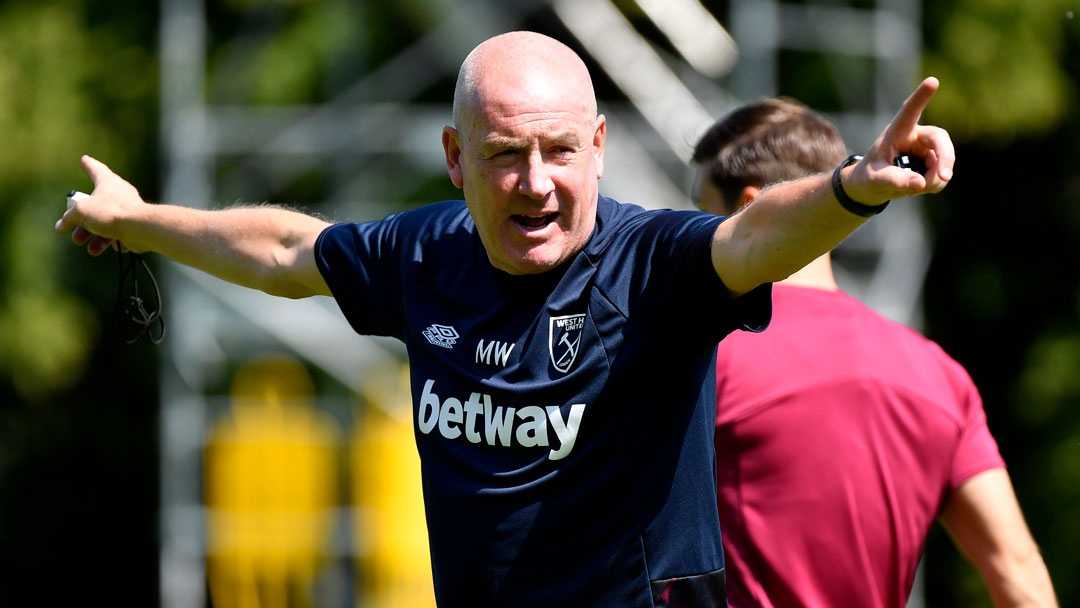 While he may not know exactly how he will fit into Moyes' coaching setup just yet, one thing Warburton is sure of is his football philosophy – a philosophy inspired as a 14-year-old schoolboy player at QPR watching the likes of Frank McLintock, Stan Bowles and Gerry Francis and manager (and Academy of Football graduate) Dave Sexton in action.
Wherever he has been, Warburton wants his teams to play with an attacking style, on the front foot, prepared to take advantage of opposition weaknesses by scoring goals. At the same time, he is astute enough to know that you cannot attack with abandon, and that you must, to use the old adage, 'earn the right to play'.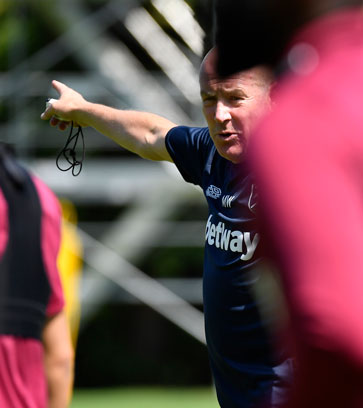 "I think I'm more of an attacking style, to be honest, and that's in very basic terms," he confirmed, before explaining his approach in detail.
"When you look at it, there are certain levels below which players can't do certain things. So, if you're working with Premier League players at certain clubs on six figures a week, for example, they can do A, B, C, D and E, then you go down the scale certain players can do A, B, C and D, but not E, then it keeps on doing down the leagues and that's how it works.
"So, if you're looking to buy someone for a million pounds, and you look at the spend five grand a week, they'll be to do certain things for you. They won't be the full package, but they're going to cost you £50million and X a week, so that's a big thing.
"So, I recognised working with and developing really good young players at Brentford, Forest and QPR and said: 'How best can we maximise the attributes of these players?', be it the likes of Andre Gray, Jota, Alex Pritchard and Alan Judge at Brentford, Ben Brereton and Britt Assombalonga at Forest or the really great attacking talents we had at QPR like Eberechi Eze and Elias Chair. In my mind it was to be on the front foot and take games to teams.
"In terms of West Ham, which is a top-ten Premier League team pushing hard for top-six, you have to say: "Right, what do West Ham do really well? Would it in any way be negatively impacted, but at the same time can I add something to the attacking side of the play because the quality of players we have here?'.
"Look at the quality of players in the squad and the manager is keen to add to that as well, so I've got to add something to that with my attacking philosophy, but make sure it's never to the detriment of what has been done already."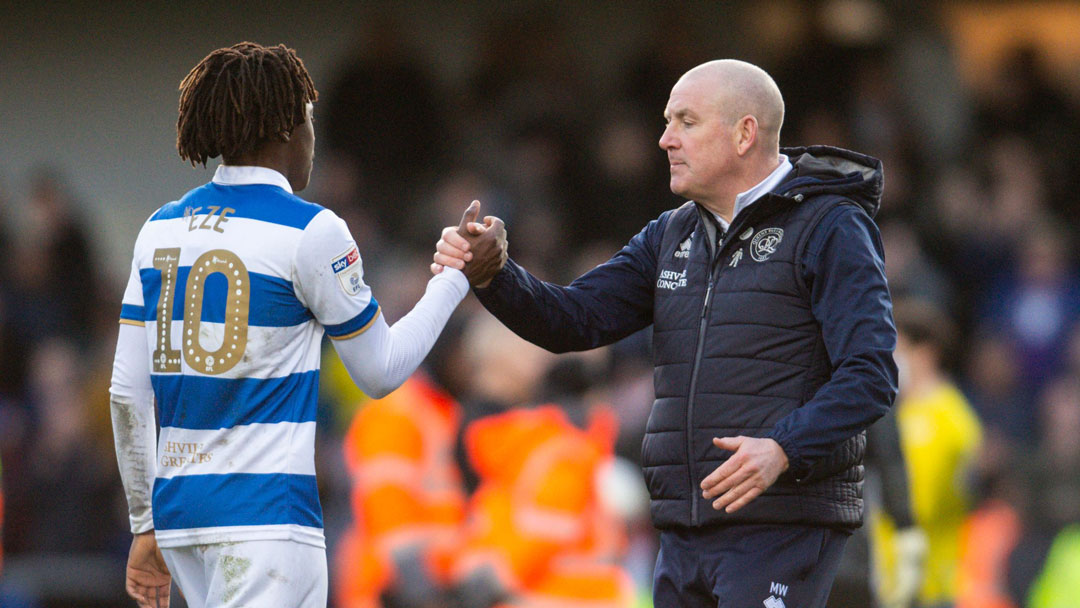 Of course, being 'more attacking' does not mean you will see West Ham throwing men forward at every opportunity or lining up in a 4-2-4 formation next season.
Instead, Warburton points out, it can be merely a subtle change in thinking on the pitch at certain stages of the game when the opportunity presents itself to take control, take a few more chances and, if all goes to plan, reap the rewards.
"That's the key, you want to make sure you complement it, and if it's being more on the front foot, is it psychological more than tactical? Is it the players having more belief to go and attack another top-six team away from home, for example, or is our mindset to sit in and hang in there and try and nick a set-piece goal?" he asked, rhetorically.
"A lot of is in the psychological aspect and the players having confidence in their own ability and the ability of their teammates to go and attack, and that's a big step.
"It's about maximising your opportunities and defending well, not giving away cheap free-kicks, for example, so I think the key thing is recognising what West Ham have done well under the manager, what their strengths are making sure we add to that but, at the same time, if we can look to add that attacking intent and impetus and give the players a belief to go on in certain moments of the game and take on board, then hopefully we move in the right direction."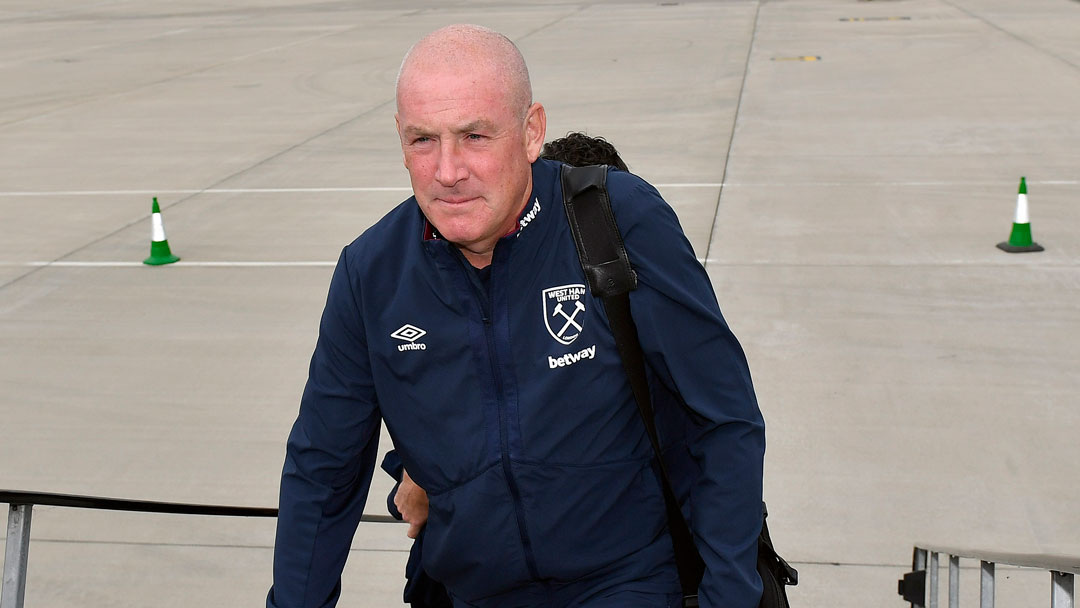 For Warburton, joining West Ham United means he can not only work in the Premier League, but do so in his home city.
While football brings with it many rewards, it is also an all-encompassing career, with time at home with family and friends at a premium, long, unsociable hours and, when managing big clubs, huge psychological pressure and stress.
And so, for Londoner Warburton, the decision to take on a new role at a new club in a new league was one he was ready to take, particularly at a West Ham that is moving in a positive direction.
"It is an exciting time to be part of West Ham and I've got to be honest, it was a big decision, but I'm very fortunate to be in position to make a decision like that," he explained.
"But I think you've got to keep challenging yourself and I know what I can do in managing and I know what I can do in the Championship and, touch wood, I have got a decent CV and track record, but you've got to challenge yourself and the chance to work in the Premier League with outstanding players and an outstanding manager and staff and understand everything about the Premier League is a big learning curve.
"I've always been learning all my life in terms of working in the City and coming to football later, and you've got to keep on learning and challenging yourself and pushing the boundaries."