Izzy Atkinson has always dreamed big. 
The 22-year-old has just come back from living the dream of every little Irish boy and girl – representing her country at their first ever World Cup. 
Atkinson was born in the town of Rush, a small seaside town on the Irish Sea, home to just over 11,000 people – and though she came from humble beginnings, Atkinson has always imagined herself wearing the Green of her country on the biggest stage. 
"As a kid, I always dreamed really big, sometimes unrealistically big," the midfielder laughed. "When I was really young, I used to think I'd be able to play alongside Cristiano Ronaldo at Manchester United with their men's team. 
"I'm someone that's always aimed high, so to be honest with you, I would say that I did think that one day, I'd get the chance to represent Ireland at a World Cup."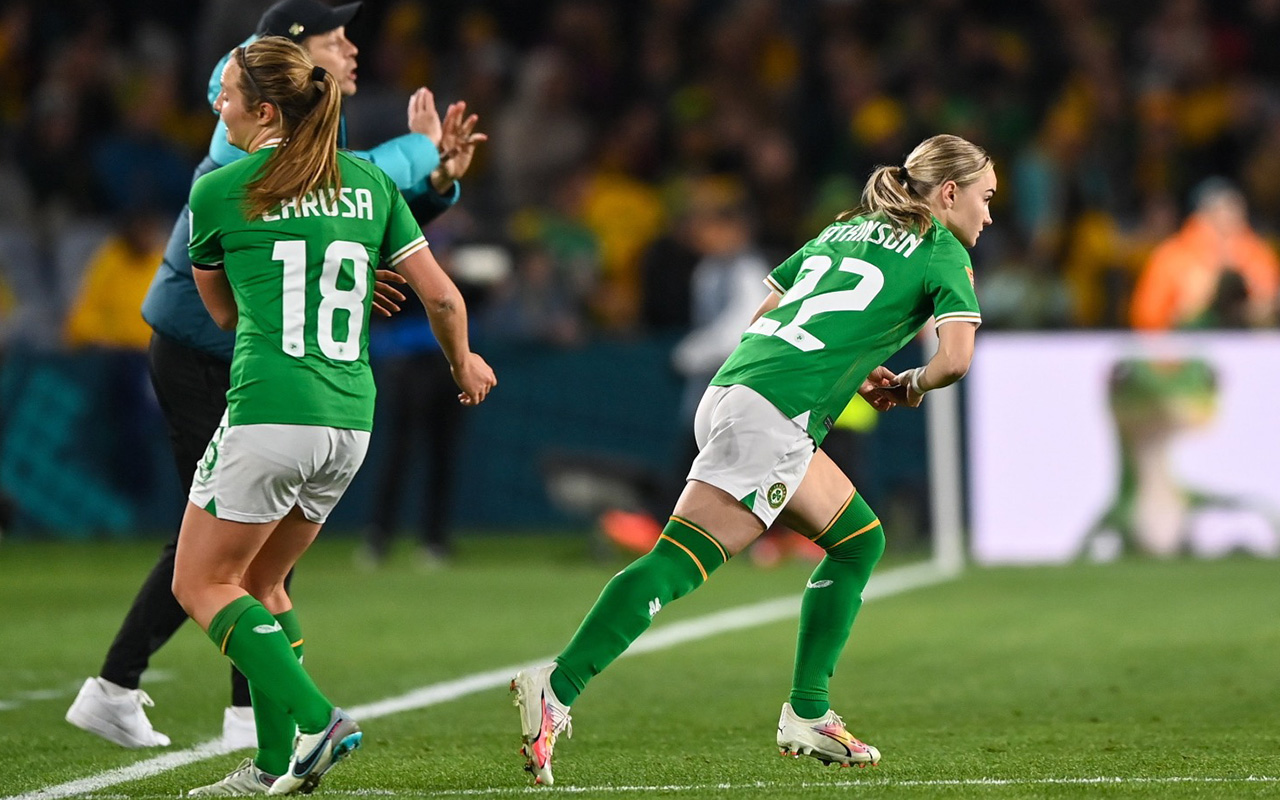 Atkinson's rise to this summer's monumental moment in Australia has seen her grow and develop throughout a Club career that has seen her move from Shelbourne in her native country, to the green and white hoops of giants Celtic – before eventually arriving in east London last summer, ready to establish herself in the top-flight of English football. 
And after settling in alongside her compatriot, Jess Ziu – Atkinson went on to feature 21 times during the 2022/23 campaign, scoring a memorable winner against Leicester City in November. 
Her first season in Claret & Blue was one of adaptation – overcoming the challenges of moving to a new country and getting to grips with the ferocity of the Barclays Women's Super League. 
Atkinson had to show that mental strength again when she was named initially as just a training player when then-Republic of Ireland boss Vera Pauw named her 31-player provisional squad ahead of the World Cup. 
It was my dad's dream as much as mine for me to play at a World Cup – my whole family were just over the moon
"I was called in as a training player to make up the numbers in training. I wasn't in the provisional squad at that point, but I came into training with a no fear attitude as I had absolutely nothing to lose. 
"Every day I just kept telling myself that I had nothing to lose, so I gave 110% in every single training session and in everything that I possibly could. 
"I think that no fear attitude really helped me and as I started doing well in training, I started to feel my confidence growing and growing, and so every time we trained again - I was doing better and better and getting more feedback from the staff in Ireland. 
"I trained with the team for two weeks, did really well and somehow, I got on the plane to Australia. 
"My dad always says that life is a rollercoaster, and that's exactly how it was. I went from the lowest low of not being named in the squad for our first ever World Cup when I had dreams of playing it. It really did go from the lowest possible low to the highest possible high."
And then the moment came, with the Girls in Green taking on co-hosts Australia in their first ever World Cup fixture – and Atkinson got the call to head on for the closing moments. 
In front of what felt like a home crowd, the girl from Rush achieved her dream…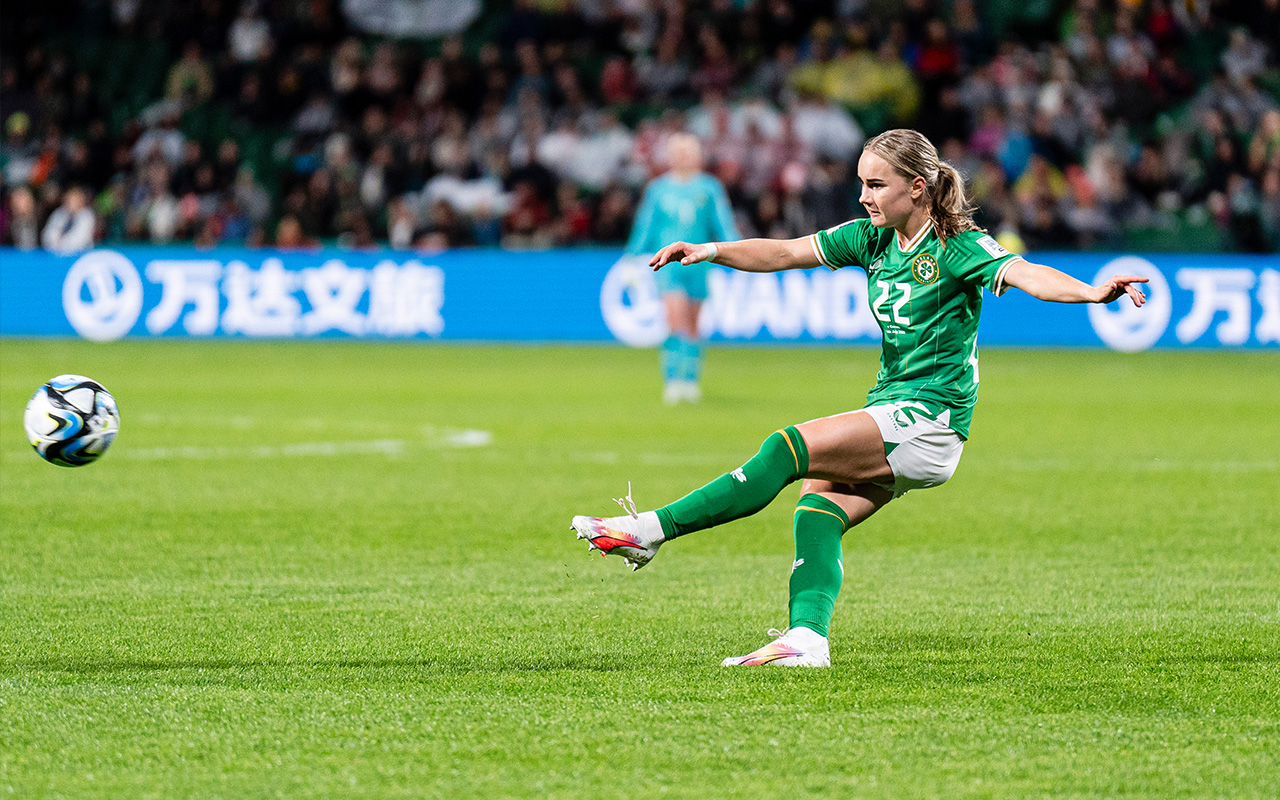 "To say that I came on and made my debut during my country's World Cup debut is very special," she explained. "I'm very sentimental with dates, and the 20 July 2023 is one that I'll never forget. 
"It was my dad's dream as much as mine for me to play at a World Cup – my whole family were just over the moon. 
"There was just such a buzz in the stadium, there were so many Irish supporters in the stadiums, and it felt incredible to have their support behind us. That's something that will always stay with me.
"As a squad, we were all gutted that we didn't make it out of the group, but on a personal level, going to a World Cup is the ultimate motivator. It's an experience that's really pushed me coming back to West Ham and I'm hoping that I'll be a better player heading into this season because of the summer that I've had."
It fair to say that Atkinson and her teammates did their country proud at the tournament, pushing Australia all the way in a tight opener, before narrowly losing to Canada and claiming their first ever World Cup point in a 0-0 draw with Nigeria in their final match of Group B. 
And the midfielder is hoping that it won't be the last time that her country are battling it out with the best on the big stage. 
"For the team I think we just need to qualify for another World Cup and Euros. We've got those tournaments to look forward to again and after playing in the World Cup we know that anything's possible and that we can achieve what we set our minds to. 
"For me personally, I just want to make sure I stay in the international setup and strive for a starting place and keep getting minutes for my country in every game that I can. I need to be performing well here at West Ham to do that, and I want to help us as a Club move forward as well."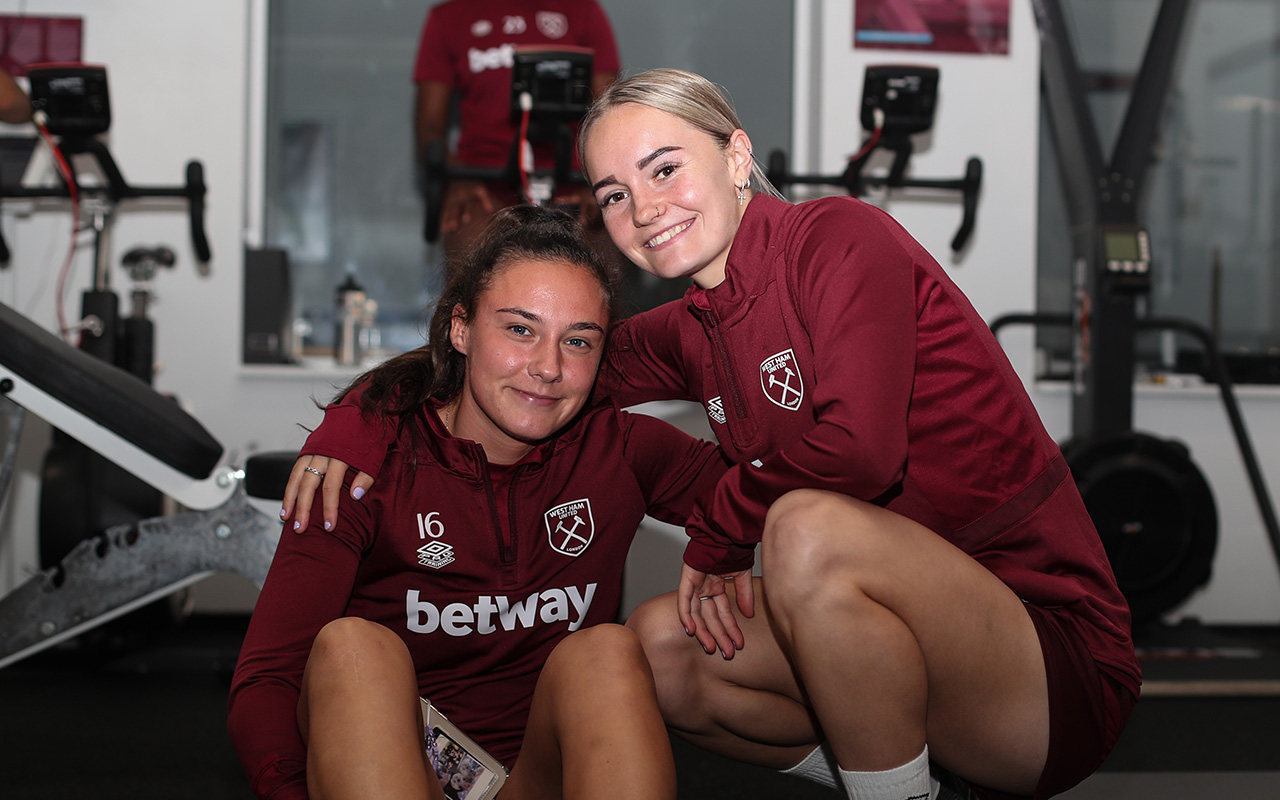 Atkinson returned to Chadwell Heath in mid-August and immediately got to work under new manager, Rehanne Skinner – who herself took charge of training at a similar time having also spent time out in Australia completing pre-agreed media commitments. 
In the short time that Atkinson has been working under the tutelage of Skinner, she has already noticed the small details that she hopes will make a difference this term. 
"I think Rehanne is very interested in the small details and the technical side of the game. She's always there in training encouraging us as players, but she's also there to tell us if we're not doing something the right way. 
"She's positive in the way that she's delivering sessions and I think it's very positive to have a manager that has an eye for the smaller details. 
"The whole team can see that she has a lot of experience within the women's game. She's somebody that knows a lot about the WSL, which I think is helpful for someone like me that is still relatively new to playing here. 
"We're building up to the start of the season and I think we're in a good place. For me personally, I've had a couple of bumps in the road over the last couple of weeks, picking up a couple of little knocks, but I'm back out on the grass now and putting in the work ready for the season to begin on 1 October!"
Watch Atkinson and her West Ham United teammates in action against Manchester City in the women's team's opening Barclays Women's Super League match of the season! Purchase your ticket by clicking on the graphic below!