Keenan Appiah-Forson is relishing his role in the West Ham United U23s side and is optimistic the team can keep pace at the top of Premier League 2 Division 1. 
Appiah-Forson signed a new deal with the Club last week, keeping him at the Hammers until the summer of 2023, with the option of a further year.
Joining the Irons as a 14-year-old, the midfielder has worked his way through the age groups and is eager to keep progressing, noting how the squad is constantly pushing each other to get even better.
When I broke into the U23s team, I wanted to do my best to make sure I stayed in it. I've loved every minute of it.

Keenan Appiah-Forson
"I'm enjoying playing in this team," Appiah-Forson told whufc.com. "Robbo has brought something different to the team and all the boys are great. I get along with everyone in the side and we're doing well in the league. Hopefully we can keep getting wins.
"Over the years, as you move up the age groups, the game gets harder. It becomes more physical and the game is more technical. When I broke into the U23s team, I wanted to do my best to make sure I stayed in it. I've loved every minute of it.
'Everyone in the team is always pushing each other. Whether it's before training or after training. Even at lunchtime, there's a competitive atmosphere. We'll even do things like play 'rock, paper, scissors' to decide who is cleaning up the plates after lunch. It's competitive but fun, and we're pushing each other to be better."
Appiah-Forson's form has earned him opportunities to work with the first team under David Moyes, and the 20-year-old is looking to make the most of those chances, recognising the immense increase in quality at Premier League level.
"Working with the first team has been so good," he continued.  "The training is really competitive in the senior side; it's like a whole other level. It's actually mad, but I really enjoy it.
"When you're over that side, you notice things like how well the players keep the ball and how tough it is to win the ball back when you're out of possession. Then, when you've got it, you're being pressed hard and being forced to really think about your options. It's tough, but it's good as well. "
The youngster also revealed how Pablo Fornals has taken an interest in his development, offering advice to him during training sessions and camps throughout the season.
The Spain international has been noted by several Academy prospects as imparting words of wisdom to them.
"Pablo Fornals, at the start of the season, offered me some advice. I was talking to him on the trip to Scotland in pre-season and he was saying to me to be confident in everything I do and show my ability. 
"Pablo likes to make us young players feel comfortable. He likes talking to us and telling us not to worry about anything. He's been really supportive when I've gone over to first team training."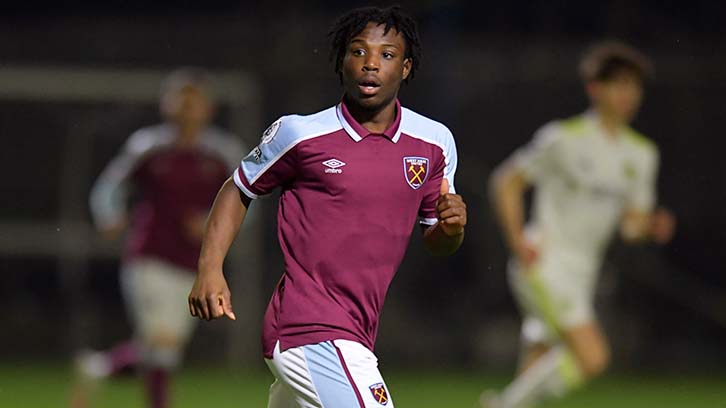 Appiah-Forson's efforts have clearly had the desired impact, with the U23s midfielder earning his first senior appearance as a substitute in West Ham's home Europa League match with Dinamo Zagreb in December.
Coming on for the closing minutes of that fixture, Appiah-Forson says that moment will live with him forever.
Reflecting on the match, he said: "I absolutely loved every single minute of that moment. It was like a dream come true. I've really wanted that opportunity for so long so, when it finally came along, I had butterflies in my stomach before I came on. 
"I was looking around at the Stadium before I came on, at all the fans, and just thought 'this is for me. I want more of this'. I hope I can earn more moments like that. 
"It was a special moment, especially getting to share it with so many other Academy players. I've known a lot of these players ever since I've joined the Club, so to do it together was an amazing feeling."