West Ham United U23s playmaker Kamarai Swyer hopes his side can maintain their outstanding home form against Blackburn Rovers U23s on Friday.
The Academy of Football's development squad have won all eight of their competitive home fixtures so far this year, also registering a further two wins from three pre-season games.
Included in that run have been home triumphs over the likes of Arsenal, Chelsea and – in their last three home games – Manchester United, Liverpool and Manchester City.
The Hammers have also kept three home clean sheets – a relative rarity in Academy football – on the bounce at Rush Green, whilst scoring 25 goals in those eight competitive home fixtures.
It is the home form of Premier League 2 title challengers, a status which Swyer and U23s lead coach Mark Robson's squad reaffirmed with a 1-0 win over reigning champions Manchester City last time out.
And Swyer believes that, if they are to continue to challenge at the top end of the table – West Ham sit second going into Friday's game, a single point behind Arsenal – it is form they must maintain heading into the game versus Rovers.
"We just have to keep that home form going," Swyer told whufc.com. "If this is our strong spot, we have to keep it that way.
"Against Manchester City, I think literally everything we'd been doing in training, and that we'd talked about before the game, we executed so well, so all of the boys can be happy with that.
"We just knew that any time we made any silly mistakes, or any errors, they could capitalise, so we had to just be on top of everything – every little touch and every little pass.
"We showed that we can go toe to toe with the best in the league. We had a lot of quality on the day."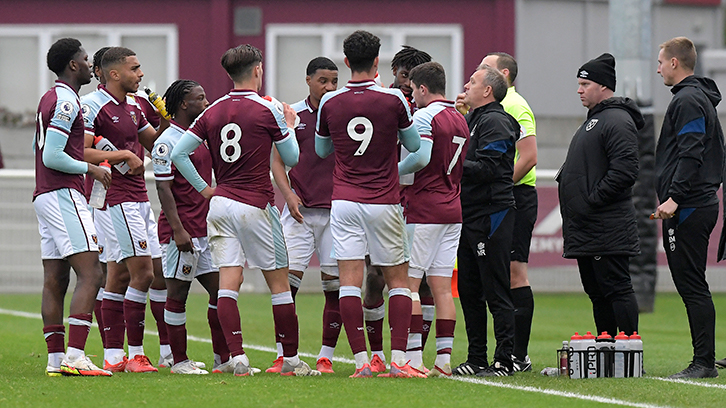 A tight and tense match against Manchester City was settled early on by Sonny Perkins' second-minute strike – set up following an interchange of passes in a tight bit of space with No10 Swyer.
The attacking midfielder has established himself as a valuable option in unlocking tight defences this season, making nine Premier League 2 appearances – including six starts – so far under Dmitri Halajko and new U23s coach Robson.
Swyer's assist against Manchester City was his third of the season and, with Blackburn set to visit Rush Green just over a year and a month since the playmaker made his U23s debut in the same fixture, demonstrated the teenager's progress at this level. 
Going up against 13th-placed Rovers – who have won just two of their 12 league games this far – on Friday, Swyer, Robson and the Academy of Football will be hoping for another positive performance and result.
"I think it's been brilliant working with the new coach," Swyer explained. 
"All of the boys have taken to him really well and training's been really competitive, so it's been good.
"This time last year, I made my U23s debut against Blackburn and I think I've learned so much as a player and improved a lot since then.
"All of the boys will be confident going into the game, but we'll know that we can't afford to take our foot off the pedal. We've just got to keep going."