Ben Johnson admitted that, while West Ham United were disappointed to lose the first leg of their UEFA Europa League round of 16 game in Seville, the mood in the dressing room was one of defiance rather than defeat.
The Irons had several presentable opportunities against Sevilla at the Ramón Sánchez-Pizjuán Stadium but were undone by a clever set-piece early in the second half, dispatched on the volley by Munir.
Nevertheless, a 1-0 loss at the home of the Europa League's six-time winners – and of the tournament favourites this season – is far from a lost cause going into the second leg at home.
Indeed, backed by the Claret & Blue Army – outstanding once more on the road in Andalusia, and sure to be strong in voice and number at London Stadium next Thursday – Johnson feels his team have earned a decent platform going into the second leg.

It's the first leg, it's done, and it's a bit disappointing, because we had chances. 
That's the way it's been for a few games now. We're just looking forward to the next leg. It's only seven days away until we can get out there and hopefully put it right. 
It was our first away trip in the last 16. Everyone did really well, and we played really well, so it's something to build on.

You know what you're going to get from our fans [in these kind of games]. 
I've played a few away games and the support we get every week is fantastic. You see the games we had away in the group stage, in terms of Zagreb and Genk… you can see the support we have and it really spurs us on. 
It's going to be a great atmosphere in the home leg, knowing that we need to score and we need to win, and I'm sure they'll do a great job really supporting us.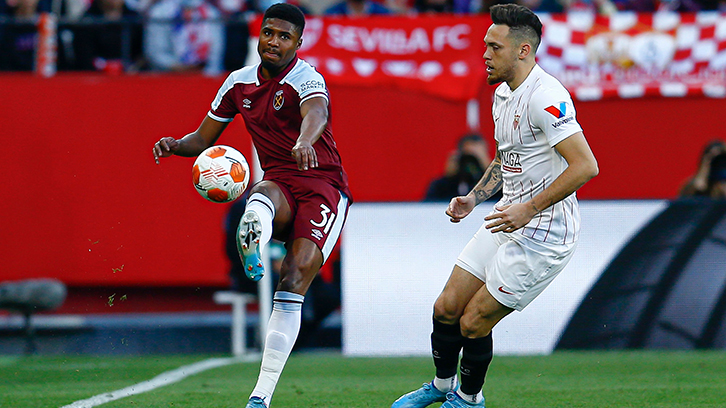 We've watched Sevilla for quite a bit now and of course we know the calibre of team they are, winning this competition six times and playing in the Champions League.
They've got a lot of top players, internationals. 
We tried to play our game tonight. Of course ,we had to be conservative with the way we played, especially in defence, but I thought we did well. We were brave on the ball. 
We know what we're going to get from them in the second leg, so there are some things we can alter a bit maybe, watching the game back and seeing things that we can improve.

It was a great experience to play in the Europa League round of 16. 
For me, this season, I didn't expect to actually start games in the Europa League. I played my first Europa League game in September and it was fantastic to play against Rapid Vienna, one of my first games in the side.
Now it was another huge step playing in the last 16 against Sevilla, champions of this competition six times. It's a great experience for me and something I looked forward to before the game, and it'll be another great experience if I get to play next Thursday.

The chances we missed tonight we want to rectify, and that was probably the only thing that was missing tonight. 
We had some clear-cut chances and if you don't take them, Sevilla being a good side, they're possession based and they're going to be a threat.
The goal they created was fantastic and the set-piece was well-worked and something that we can work on for the second leg to try and rectify that.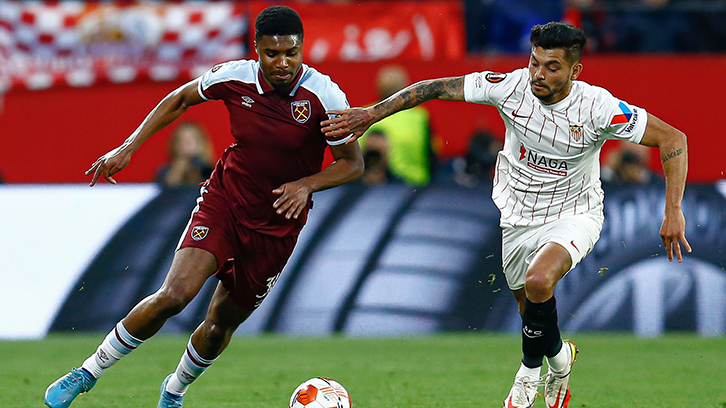 Dec has played in a European final, so for him and for the team, you don't expect anything less from him. 
You've seen him play at the top level for however many years now, and he's a top, top player, someone that we're always fortunate to have.
 
Sometimes there are chances that, from the outside, look like a nailed-on goal, but they're not. 
Of course, Niko [Vlašić] had a chance and Manu [Lanzini] had a chance and there were plenty of other opportunities and openings that didn't just quite come off for us tonight.
It's unfortunate, but at least we have another opportunity in the second leg to put it right. Our fans will be behind us and hopefully we can get an early goal and see what we can do.
Of course, the away goal isn't part of it now, but we would have liked to have got a goal.
I think we're a good threat, so hopefully that will stand us in good stead.