Writing in the Official Programme for Sunday's Premier League fixture with Manchester City, Mark Noble's long-time Evening Standard ghostwriter Ken Dyer pays tribute to the retiring West Ham United captain...
It is normal to write some sort of review in this, the last West Ham matchday programme of the season – but that can wait until later in this column.
Club captain Mark Noble takes precedence instead, on a day which sees him involved for the final competitive time as a player in front of his many thousands of fans at London Stadium.
Knowing Mark as I do, he may not like the running order of him first, followed by a review of the team – but that's the way it has to be this time.
You see, it has always been about the team for Mark Noble – not himself.
If he has an ego, I've never witnessed it. Pride in performance, self-critical, demanding yes – but arrogant? Never.
As a young West Ham fan, I was privileged to watch a great Club captain in Bobby Moore and then later, as a sports journalist, it was an honour to get to know another fantastic skipper in Billy Bonds.
There have been other superb captains of this football club – but Mark is right up there with Bobby and Bonzo.
Try telling Mark that a football team captain just tosses the coin – and that's it.
Try telling him that when he had to help calm the storm which followed the Club's move from Upton Park to Stratford.
Try telling him that when he and other Premier League club captains met frequently – and virtually – to help minimise the severe financial consequences of COVID for club and NHS staff.
And try telling him that when David Moyes sought him out for information and advice when he returned for his second spell as manager.
UNDER-RATED
As a player, in the Hammers' midfield engine room, he was often under-rated. His few critics have sporadically questioned his place in the team, but it may be significant that every one of the eight managers under which he has played at West Ham has always picked him.
Mark played international football for England in every age group except senior level. Some six years ago, in a West Ham team which included the breathtaking talent of Dimitri Payet, there were many including me, who campaigned strongly for his inclusion in the senior squad – but it didn't happen.
There is no bitterness from Mark about that omission in his CV, just gratitude that, for a West Ham-mad boy from Canning Town, the dream came true.
Off the pitch, Mark remains a credit to himself and his family.
There is always a greeting handshake when paths cross down at the Club's Rush Green training complex and for football journalists he has been invariably helpful and courteous.
If the questions were fair and reasonable, he would always provide a substantive answer rather than a platitude.
I was lucky enough to 'ghost' his Evening Standard column for several years and I was sorry to see it end – even if he wasn't!
One of the best things I can say about Mark Noble is that he never took any of it for granted. He may have become a temporary recluse following a disappointing defeat; one or two of his tackles may have upset the opposition – but you always felt he just relished being out there, wearing the Claret and Blue of his Club and listening to Bubbles as he led out the team.
Probably the compliment he will most value is that, as far as I am aware, there is no-one from within the game who has a bad word to say about Mark Noble.
No-one.
Son Lenny is already learning the ropes in the Club's Academy programme and there may well be, one day, another Noble in the West Ham team which plays Manchester City in London Stadium.
In the meantime, though, thanks Mark for all the interviews, your time – and most importantly the pleasure you gave me and many thousands of others.
As he said in an emotional speech at the Club's Awards event earlier this week: "I'm probably living everyone's dream here."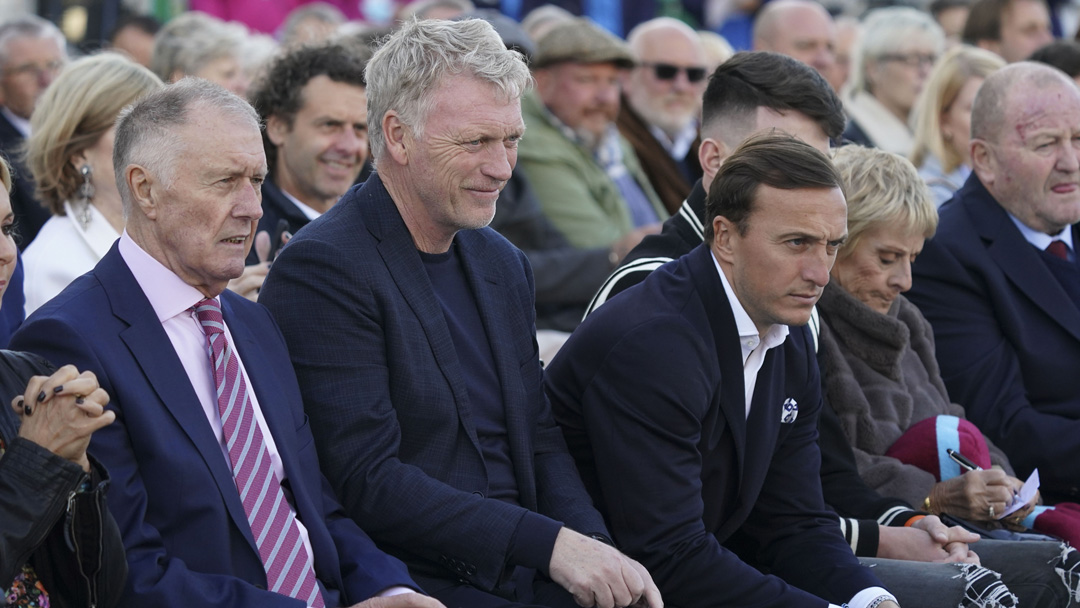 A PROUD SEASON
That appreciation of a special one-club man leaves me with little space to sum up the season except to say congratulations to David Moyes, his staff and the players for another fantastic rollercoaster.
At the start of this season most pundits, looking at what lay ahead for West Ham, said that a good cup run and a top-half finish would be considered a success.
This squad though, set themselves higher standards, with spectacular success.
Going into the final two Premier League matches of the season, there is realistic hope of once again qualifying for Europe and although the disappointment of not reaching the Europa League final remains acute, the team should be so proud of their efforts.
Having come so close, I know there is a hunger for more next season.
It's been special – but this is only the start!