West Ham United were delighted to participate in the 'Player Development Day' as part of the Professional Footballers' Associations' Asian Inclusion Mentoring Scheme (AIMS).
The Professional Footballers' Association (PFA) welcomed Academy coaches, scholars, and professional players to St Georges Park for AIMS last week, with part-time Academy coach Liton Zaman representing the Hammers.
AIMS was created to enhance the experience of British Asian footballers on the elite pathway by creating a structured network of support that allows them to thrive. Danny Batth (Sunderland), Neil Taylor (Middlesbrough), Otis Khan (Leyton Orient) and Malvind Benning (Port Vale) are among the senior footballers mentoring scholars and emerging pros, with those players, in turn, sharing their academy experiences with their younger peers.
Following on from the previous AIMS 'Player Development Day' events during 2021, there has been an appetite from players and families on the programme to connect and network more regularly. These face-to-face events have proved a real highlight giving players the opportunity to connect with peers from different clubs, partake in a coaching session as well as network and learn from professional player experiences.
PFA's Player Inclusion Executive Riz Rehman said: "The momentum behind the PFA's 5-year strategy to increase Asian representation in the game is very strong and thanks must go to all the clubs who have fully supported and backed the scheme by connecting us with their players and families.
"Over the last 24 months we have laid some solid foundations upon which to build, and we will continue to work with our networks of clubs to provide additional wrap around support for players and families. We've had unbelievable buy in from our nationwide network of clubs and this was demonstrated in the attendance on the day with many allowing their players and staff to miss weekend fixtures and training schedules to attend the 'Player Development Day'."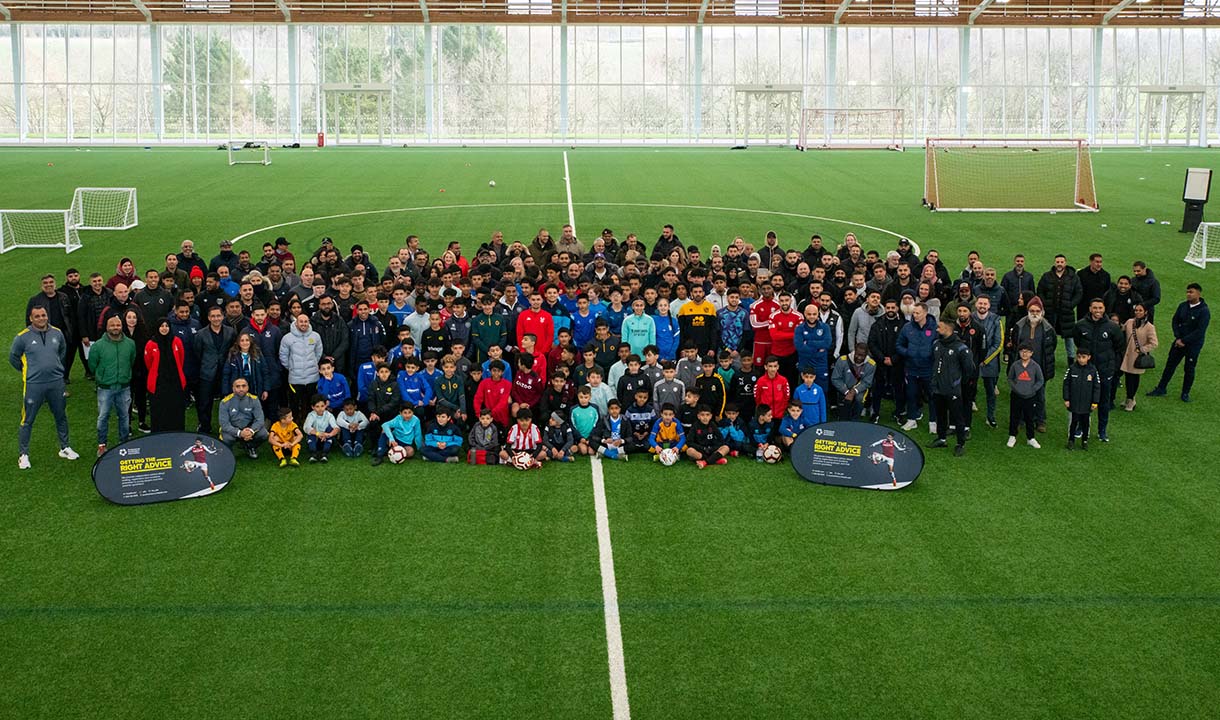 Over 90 players from academy level to professionals, were accompanied by parents, coaches, practitioners, club staff and stakeholders at St Georges Park. The full day included educational presentations, parent workshops and coaching sessions for the players led by England U17 Head Coach Tom Curtis. The turnout illustrates the success of the scheme which has allowed players to connect, parents and practitioners to network and bring together communities that all have the aim to progress along the elite pathway.
Academy coach Zaman has been at West Ham for eight years and has worked in the foundation phase as well as the YDP phases. 
"I've been involved with Riz for about ten years now," Zaman started. "That's how long it has taken to get AIMS to where it is today. The programme aims to highlight South Asian players, coaches, and practitioners in the game, and we want to mentor them through their journeys into football."
Zaman delivered a session at St George's Park with the U11s and U12s with a number of English clubs represented. 
"It was a celebration of being at St George's Park with people of a similar background," Zaman explained. "I think that it is important to acknowledge players that are less represented in the game. It was great for the boys so see so many other players from similar backgrounds playing football. I think that it was also important for the parents to see other players from other clubs too. 
"I think they will find it a bit more comfortable being in an environment like that because elsewhere, they're probably less represented."