Aaron Cresswell and David Martin encourage students to 'Never give up' as April marks Stress Awareness Month...
During life, we all face highs and lows and in these moments resilience is crucial. Across the community, we can all relate to encountering difficulties and dealing with daily pressures.
Stress Awareness Month runs through April, encouraging people to be more aware of the importance of offering and gaining support. 
Here, we take a look at two recent Players' Project activities involving Aaron Cresswell and David Martin, themed around resilience...   
University of East London  
Students on West Ham United Foundation's Sports Coaching and Performance degree at University of East London (UEL) were given exclusive insight from Aaron Cresswell, who spoke to them about setbacks and success in his career.    
Recalling being released by Liverpool at 15-years-old and having to fight to gain a professional contract as 'kind of the best thing for me', the left-back stressed the importance of being resilient when challenges occur, counting them as 'moments that define you'.  
On the three-year degree, launched in 2019, students gain unique learnings through theory and practical experience across grassroots squads as well as West Ham United's Academy of Football.  
The young people asked Cresswell for his thoughts on what makes a good coach and he commented: "There's a lot of aspects to that role. The attention to detail about how deep they [coaches] go into certain situations and analyse games. For example, you could be coming up against one of the best wingers in the world, and all that week leading up to it the coach will pull you aside and show you everything that they've done during the game, the weak points, the strong points, and that really helps going into a weekend."   
The 32-year-old emphasised the importance of the students' impact, imploring them to never give up on themselves or on any players they work with – as he and others such as Declan Rice are examples of players who have been released before going on to find success.  
For those students interested in pursuing other careers within a performance environment, such as Player Care or Analysis, Cresswell offered further encouragement: "There are so many different job roles behind the gates that people don't realise and, as I said, they're a part of our team... they're what makes a good football club."  
For more information about WHU Foundation's Sports Coaching and Performance degree at UEL, contact [email protected]  
Bower Park Academy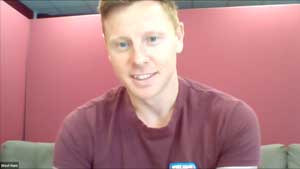 David Martin connected with Bower Park Academy to discuss their 'Bower Boys Brave It' campaign to raise awareness around mental health among young men.   
With suicide being a leading cause of death among men under the age of 45, the school wanted to show support and take steps towards a better future for their students.   
The majority of pupils referenced sport and exercise as a way that they dealt with stress and so it was great for them to have David Martin, an ambassador for the Health and Wellbeing strand of West Ham United's Players' Project, join them and talk openly about his emotions and experiences.  
When asked about how he has overcome challenges, Martin stated: "In your lowest moment, you can find out about yourself, what you can actually achieve - when you are feeling low and that mental stress is so high. But sometimes you don't have a choice; you have just got to keep moving forward."  
Regarding the two most important qualities, the Hammers' player had a simple answer - "belief and hard work." He added: "Every day I walk out my front door I think 'I'm going to provide for my family' and 'I'm going to give it everything I've got'. Those are the two things I always think as I walk out of my front door and go to training."   
As part of the campaign, the boys were encouraged to speak about their emotions and how they deal with negative feelings, with Martin continuing to promote the power of speaking to friends, family or professionals about any concerns. The teachers noted that the students involved established a strengthened bond and increased confidence because they were able to be vulnerable and talk about their worries.    
"You've just got to try and remember the positive things that you've done in the past and also positive things that you can visualise that you would do in the future," the goalkeeper expressed.  
To conclude the video call, Martin praised the school on their work in the campaign and helping to break the stigma around men's mental health.   
For more information, please email [email protected]