Bill Shankly, Johan Cruyff, Gary Lineker and Ron Greenwood are all quoted claiming 'football is a simple game', but Robert Green would beg to differ.
The former West Ham United and England goalkeeper recently returned to east London, spending an afternoon discussing the intricacies of the sport with Hammers goalkeeper coach Xavi Valero and first-team stopper Łukasz Fabiański for a Premier League Productions feature, which you can watch here.
The trio share a love for the science of football and the study of the details that can help an individual player and, consequently, his or her team, perform to a higher level - what former British Cycling performance director David Brailsford would call 'marginal gains'.
By taking each player and identifying their strengths and weaknesses - physiological and mental - coaches like Valero can help goalkeepers like Green vastly improve their levels of performance, both in training and, more importantly, in matches.
Green, who made 241 appearances for West Ham between 2006-12, visited the Club's Rush Green training ground with a Premier League Productions film crew recently to discuss Valero's innovative approach to coaching his goalkeepers, and find out how it has directly helped the likes of Fabiański, Darren Randolph, David Martin and Alphonse Areola hone their abilities and maximise their talents.
After completing his filming, the 41-year-old, who also enjoyed spells with Norwich City, Queens Park Rangers and Leeds United, and earned 12 caps for England, delayed his drive home to North Yorkshire, where he relocated after retiring in 2019, to chat to whufc.com about goalkeeping, the ups and downs during his six seasons in Claret and Blue and his impressions of the present-day West Ham.
Rob, welcome back! Is this your first visit since you departed in 2012?
"I've never been here to Rush Green! I knew this as Ford Motors ground and now it's West Ham's new training ground. I recognised all the roads driving in, though, the A12 and around there, so it brought back nice memories.
"I have watched the lads play a couple of times this season, doing the commentaries, and it feels like a club in a good place, competing in every game. Maybe they're not winning every game, but it's exciting times and there is a feelgood around the club that's really welcome."
Looking back on your own West Ham career, there were some proper ups and downs, weren't there - the Great Escape, managerial changes, relegation and then, in your final game, a Play-Off final win at Wembley!
"I was pleased to leave on that moment, even though at that exact time I didn't know I'd be leaving, but it was one that signed it off quite nicely.
"I can't remember exactly how many games I played at Wembley - I played there a couple of years later for another Play-Off final with QPR and numerous times for England - but I won every single game I played there and that Play-Off final was up there for me.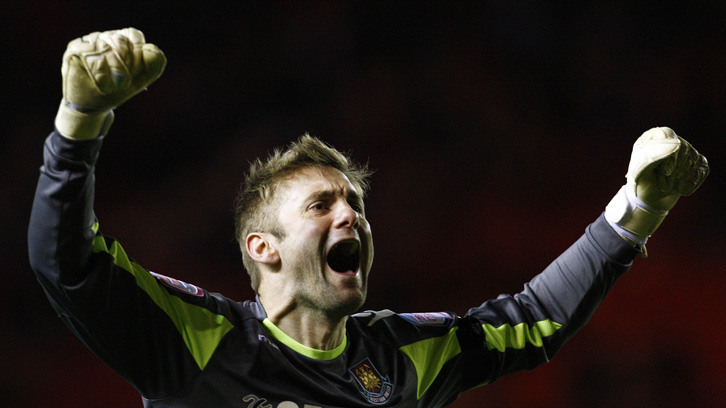 "Obviously the relegation was a real disappointment and the other one that rankles with me from my time at West Ham was not getting to Wembley in the League Cup final [in the same 2010/11 season]. Losing to Birmingham in the semi-final was really heartbreaking.
"So, I felt the Play-Off final righted a lot of wrongs from the season before, which was a season that was difficult to take because there was so much wrong with it.
"You felt the team could have crumpled after that relegation, so to bounce back in true Alan Partridge style was something that was really important for this club, so that was pleasing."
And of course two members of that Play-Off winning side are still heavily involved at West Ham, Mark Noble on the pitch and Kevin Nolan on the coaching staff...
"Nobes has been incredible and you can't really add too much to what everyone else has said. He's probably one of the best English midfielders to have never played for England. It's something that's incredible in a way.
"The way he has carried the can for the club for so many years for however many years, he has been a real medium and focal point during tough times for fans to latch onto. That has brought something far more than any other single person has brought in decades. To have a constant through tumultuous times has been huge.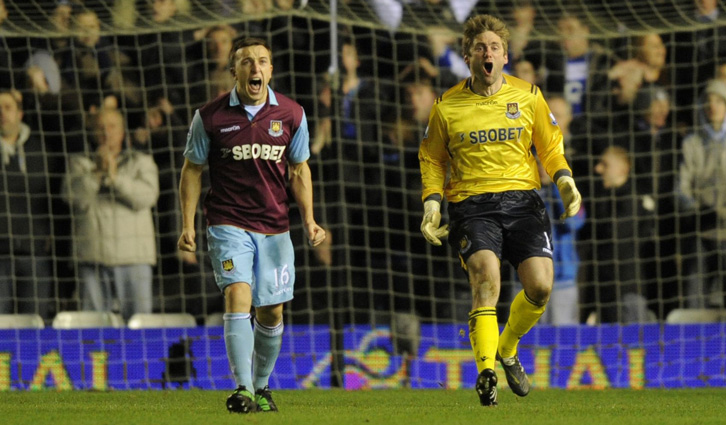 "Then, having someone like Kevin Nolan in the dugout is invaluable. I was at the Leeds game and he was up with his arms flailing around, getting in people's faces - it was like he was on the pitch, but without the badly-timed challenge!
"He's a fantastic person to have around the training ground. He's a brilliant go-between between players and the manager and he's got a long time on his side and he's learning from one of the best, historically, in the Premier League.
"Statistically, David Moyes is greater in terms of numbers than almost all Premier League managers, so I think it's a really good balance and something that is quite special for the club to have right now, because you feel there's a good chemistry."
You worked under lots of different managers - Alan Curblishley, Gianfranco Zola, Avram Grant and Sam Allardyce at West Ham United, Fabio Capello, Roy Hodgson and Sven-Göran Eriksson with England, Nigel Worthington at Norwich City and Harry Redknapp at Queens Park Rangers among them - so what does your experience tell you about David Moyes, looking from the outside?
"There was a saying when you played against his Everton that they had 'ten dogs and a goalscorer' and it was probably eleven dogs and one of them happened to be a goalscorer, and at the moment [at West Ham] you've got eleven guys who go out on the pitch and in Michail Antonio they have got someone who is going to lead the line and take a chance.
"That's not by chance. That's a manager who knows what he's about, knows the identity of his team and what it needs and he's created that. For a club like this, that's critical."
You met with Xavi Valero, our goalkeeper coach, and you can tell by spending time with him that our goalkeepers are in good hands, no pun intended!
"You got there quicker than me! No, it was brilliant and really interesting.
"He's a student of goalkeeping and one I could sit there and chat to for hours about goalkeeping, as much as that might bore everyone else! I could talk to him all day long and watch goalkeepers and have an appreciation of what he brings, the goalkeepers he has worked with and the club's he's been at, so I loved listening.
"As a coach, you only get a certain amount of time with your goalkeepers and it's not as much as everyone thinks, as there is only so much you can do in a day. They get a small window of opportunity to use to effect and bring in performances.
"He's also got four really good guys working under him and it's a credit to Xavi that he has got one position and four senior professionals who are happy to fight for those roles and are in those roles."
You mentioned our four senior goalkeepers and we're in good shape with them, aren't we?
"Łukasz is brilliant. He's been in the Premier League for 15 years and has been a picture of consistency for West Ham.
"The one thing I like about goalkeepers is you reach a stage where you learn about your game and Łukasz has done that and he knows what the team is about and he brings what he brings to the team.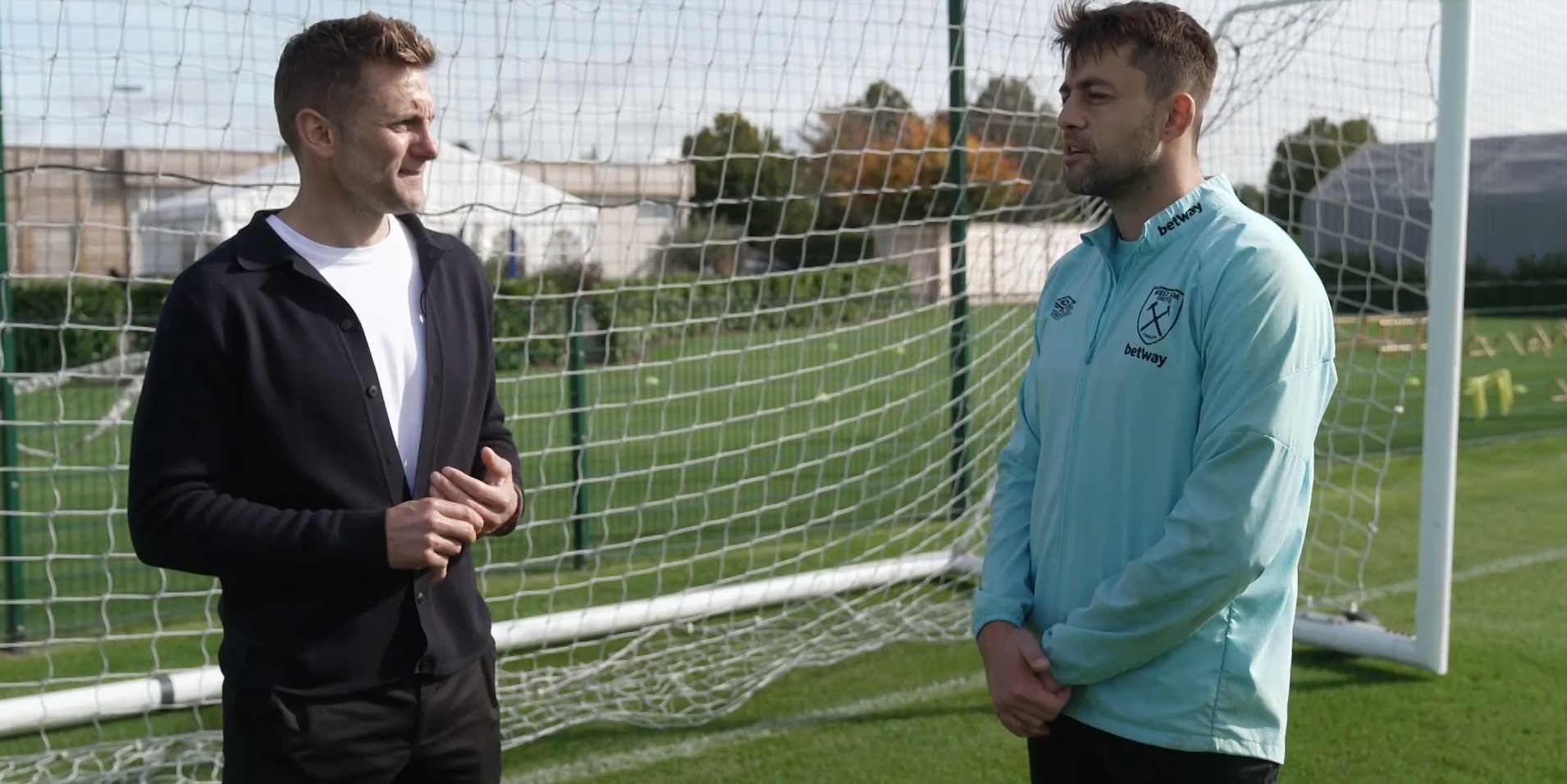 "The fans probably haven't seen too much of Alphonse as the likes of myself, who watched him a lot at Fulham, but he's a top goalkeeper. He's a guy of real stature, but with real agility and athleticism and with that a really sound and solid technique. From that, you can create a really good profile of a goalkeeper.
"The amount of games coming around this season, it's key to having more than one top goalkeeper and West Ham have them.
"For a manager like David Moyes, he has enough things to worry about, but he doesn't have to worry about his goalkeepers because he has a coach and goalkeepers he can rely on."
Where do you see West Ham at this time?
"In a really good place. Looking at it, that first season in the Europa League is really tough, with game after game, and it becomes a real challenge in different senses, which I didn't really appreciate until I went to Chelsea in my final season and saw how it affects guys.
"Last season was amazing and it went from strength to strength and this season may not be quite so amazing, but West Ham have got a side that will be in every game. At the moment, the players are giving West Ham more chance of winning than losing and I think, competing on all those levels, it's really tempting to want more but where I think West Ham are, to keep on going and picking up results on different fronts, would be brilliant for this season.
"When you look at it now and ask: 'Has the club come on during David Moyes' tenure?' and I'd say 'Well, you're not looking over your shoulder at the bottom three any more', which is huge. I think that's a massive change and a massive step for West Ham."
Finally, what about you? We see you on the television and hear you on the radio, so is a media career your future in the game?
"I enjoy that side of it, the co-commentaries and going to games. I get to spend time with my family, which I've missed out on through football, so whether I come back to football in a more full-time capacity, time will tell.
"I've always enjoyed the dynamics of a club and how it runs and how it's built and the business side of things, which I did my degree in at Open University.
"I'm also selling art to players, which I'm really enjoying and I'm told I've got a good eye for. They are pieces that are investments which we know will make money for players and we've had real joy with it.
"Thankfully I work with a guy who has got a gallery and we sell pieces and that's another passion, so it's finding stuff to do, finding stuff to enjoy and never saying 'No' to anything, because you never know where it's going to go!"