With two Gameweeks in quick succession, here is your preview ahead of numbers 33 and 34...
Double deadlines!
With eight Hammers involved in goals against AFC Bournemouth – the first time West Ham United had achieved the feat in a Premier League fixture – it is a difficult week to pick a player with plenty of Irons in form.
Luckily, a congested fixture list means there are two deadlines to note this week, so ample opportunity to sneak a Hammer or two into your line-up, with fixtures against Liverpool (Wednesday) and Crystal Palace (Saturday) to come.
Of note is that the Gameweek 33 deadline is at 6pm on Tuesday 25 April, while the Gameweek 34 deadline is 11am Saturday 29 April.
Two deadlines to be aware of then, but which Hammer should get your pick?
Antonio!!!
With Gianluca Scamacca sidelined due to a knee injury, Michail Antonio's importance for the Club has been clear.
The £7.0m-priced forward has a reputation for finding his form in the business end of the season. And 2022/23 looks set to be a case of rinse and repeat.
On Sunday, Antonio's fifth-minute header was West Ham's earliest goal in a Premier League game since Tomáš Souček opened the scoring at home to Brighton & Hove Albion in the same minute in December 2021 – a strike that continued a welcome run of goals for the forward and also set the tone for a 4-0 win away to AFC Bournemouth.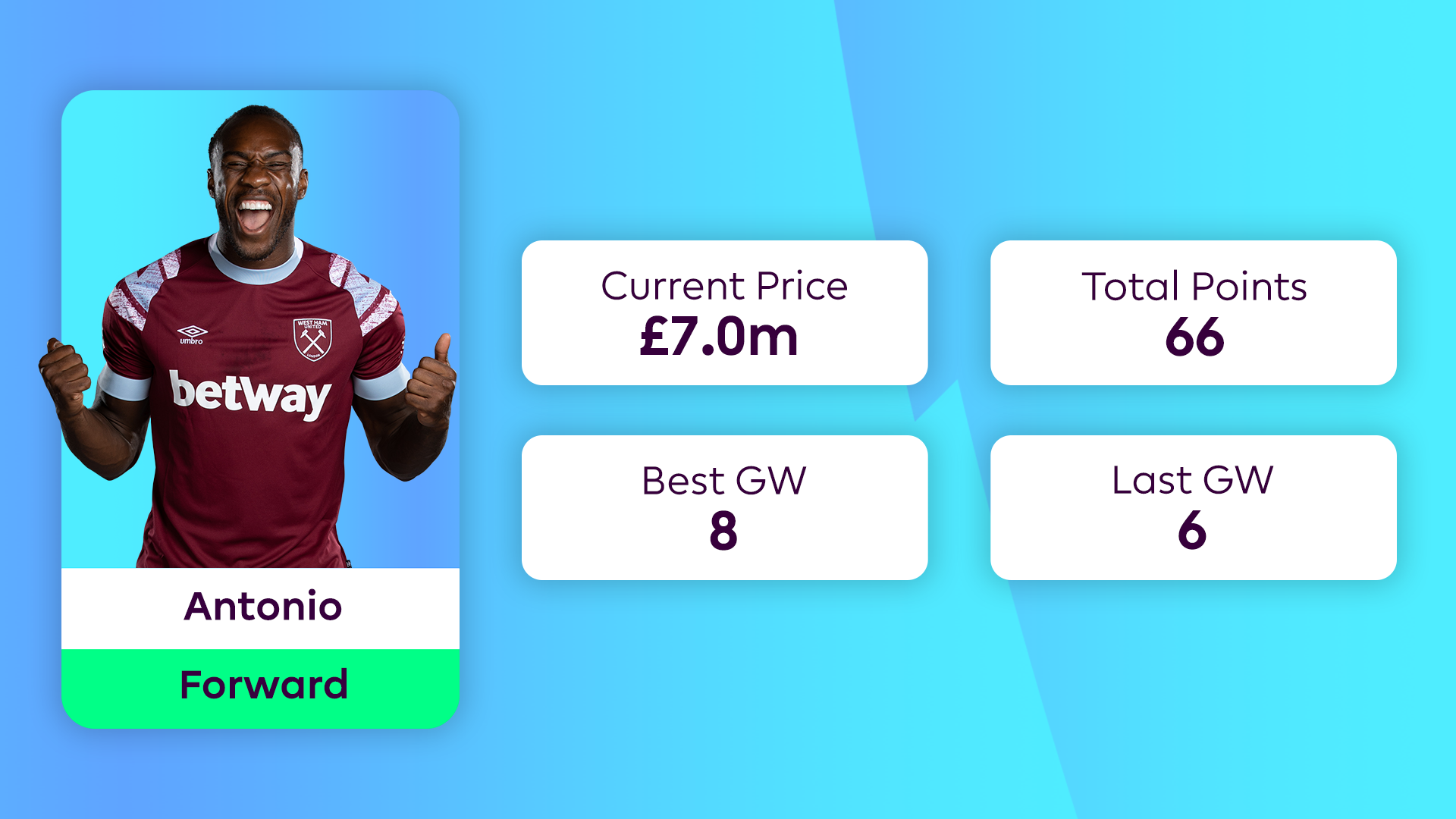 Now unbeaten in three Premier League fixtures, and with one defeat in their last eleven in all competitions, Antonio has been part of a rejuvenated West Ham, who look to have hit their form.
While recent weeks have seen the No9 star in Europe, with braces against both AEK Larnaca and KAA Gent to send the Hammers into the last four of the UEFA Europa Conference League, Antonio has also been entrusted to lead the line against Arsenal and Bournemouth.
Against the latter, West Ham's all-time Premier League top-scorer returned six points to take his 2022/23 season total to 66. A quiet season by his standards yes, but the No9 could be set to add more goals and therefore points between now and the end of the season.
This week, Antonio has two chances with West Ham up against Liverpool and Crystal Palace.
Against the Reds, the No9 has struck five goals across his career, while three goals and eight assists across the career against Palace shows that Antonio should be confident heading into the next two Gameweeks.
Liverpool One to Watch: Mohamed Salah
Who else could it be?
Mohamed Salah may have had a quiet season by his impeccable standards, but the Egyptian has already registered an impressive 187-point total at this stage.
Liverpool's No11 has found his form in recent weeks too - and heads to east London with four goals in his last three Premier League fixtures.
From three successful outings, Salah's best showing came against Leeds United, where he recorded 14 points. It was the sixth time the No11 has seen a double-figure points haul in a single Gameweek in 2022/23.
Salah's best showing came in Liverpool's 7-0 win over Manchester United, where he recorded 21 points after two goals, two assists, three bonuses, minutes and a clean sheet.
He has nine goals in 11 games against West Ham, so David Moyes' men will be wary of his threat on Wednesday night.
Crystal Palace One to Watch: Eberechi Eze
A player to have really hit the ground running under Roy Hodgson has been Eberechi Eze.
The skilful winger has recorded 31 points in Hodgson's first four games in charge, with Palace taking ten points from 12 available to all but confirm their Premier League status.
Of note was Eze's showing in his side's 2-0 win over Southampton. The £5.6m-priced midfielder struck twice, as a bonus point, minutes and a clean sheet took his total to 16 points.
Eze recorded an assist in the reverse fixture at London Stadium, which Palace won 2-1.
The 24-year-old seeks his eleventh goal contribution of the 2022/23 Premier League campaign this week.