1. A special night
Over an hour after the final whistle was blown at Parc Olympique Lyonnais, West Ham United's peerless fans were singing and celebrating high in the stands.
The sound of the Claret and Blue chorus reverberated around the otherwise empty stadium – the sound of supporters enjoying the best West Ham team in a generation.
And the players who were giving them that enjoyment were there with them, conducting the choir from the pitch, joining in with 'Bubbles', 'West Ham are Massive' and other cockney chart-toppers.
But the loudest tune of all was saved for manager David Moyes, who has lifted their team – our team – out of the doldrums and given us real reason to dream.
The Scot smiled as he marched across the pitch towards the fans – his fans – and applauded and clenched his fists above his head in celebration.
As the travelling army serenaded him with 'We've got Super David Moyes!', the man himself stood still and looked up, taking it all in on a special night he and they will surely never forget.
2. Ballon D'Orson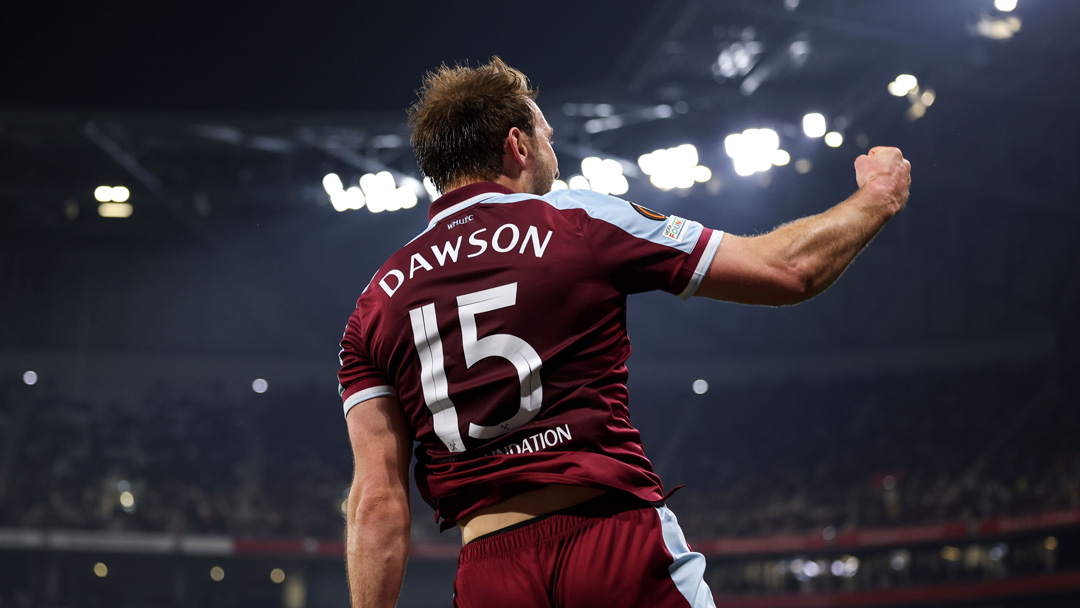 Craig Dawson's cult hero status among West Ham United fans rose another level on a famous night in France.
The No15 put in arguably one of the best centre-back performances of the modern era to help his team secure a stunning 3-0 UEFA Europa League quarter-final second-leg win over Olympique Lyonnais.
Playing through the pain of a recently broken nose, Dawson put his body on the line for the Claret and Blue cause, blocking an incredible six shots as the Hammers kept a very hard-earned clean sheet.
And, of course, it was Daws who set the Irons on their way to an unforgettable win, timing his run and jump perfectly and showing more desire than any other player in the Lyon penalty area to head in Pablo Fornals' near-post corner and give West Ham a lead they would not relinquish.
The 31-year-old's outstanding form has led Hammers fans to crown him Ballon D'Orson, referring to the annual award presented to the world's best player, but behind the banter is a serious player.
However, when it was put to him after the game if a belated England call-up could be in the offing, his response was typical of a man who is fast becoming a West Ham United legend.
"I won't get picked because I'm nearly 32, I'm from Rochdale and I'm bald!"
3. Formidable Fornals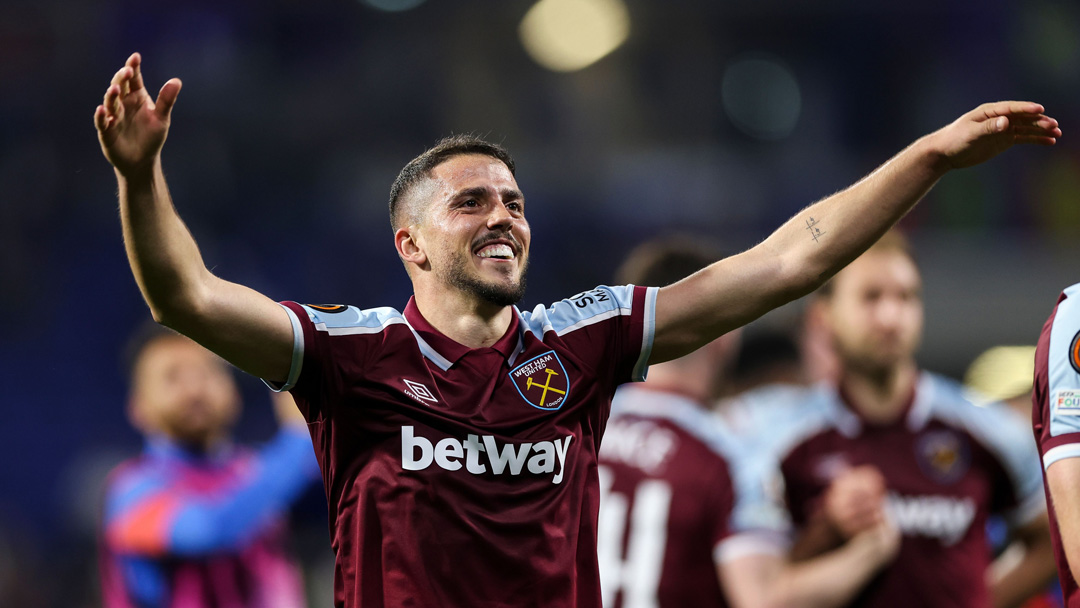 Pablo Fornals is a manager's dream.
A model professional and family man, the Spanish midfielder is almost always available for selection, has a relentlessly positive attitude and never stops running.
But that's not all – he's also a superb footballer.
The 25-year-old showed that at Parc Olympique Lyonnais, where his two assists played a huge part in West Ham United's historic victory.
The first came from a corner which he delivered perfectly to the near post, enabling Craig Dawson to get ahead of his man and power a header inside the post.
His second came from open play and illustrated his outstanding vision to release Jarrod Bowen with an instant first-time pass, enabling the forward to run through and score a clinching third goal for this team.
The first assist came with his right foot, the second with his left.
Make no mistake about it, our No8 is formidable.
4. Noble's dream is still alive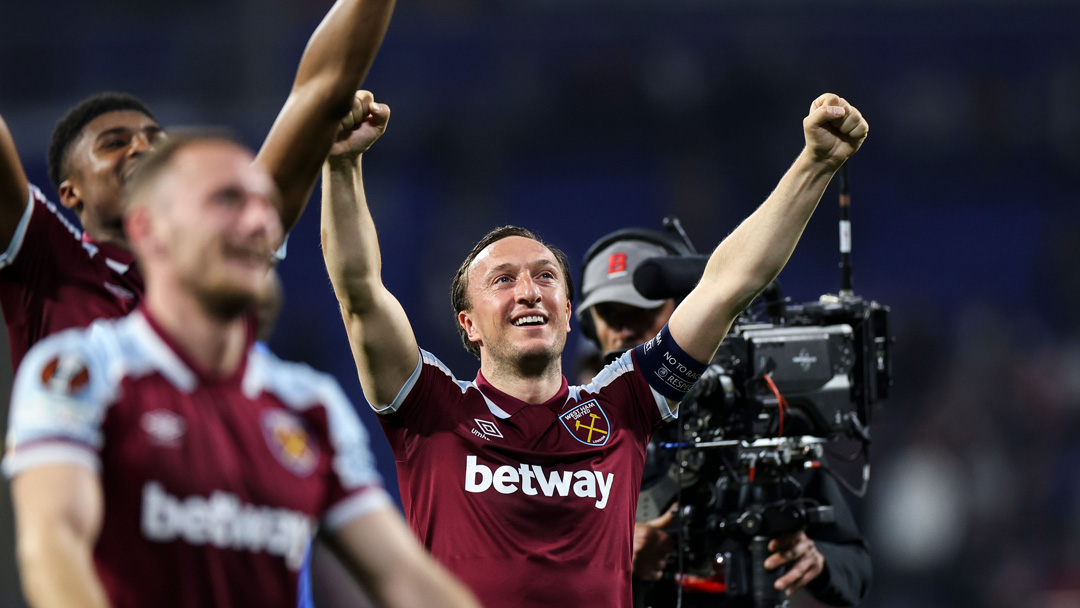 When West Ham United qualified for the UEFA Europa League just weeks after Mark Noble had revealed this season would be his last as a Hammers player, many fans remarked that it would be fitting to see the long-serving skipper go out in style by lifting the trophy in Seville – but few seriously believed it could happen.
But now that dream scenario is a potential reality, as West Ham United's 3-0 win in Lyon saw Noble and his teammates through to the semi-finals. After the game, the 34-year-old could hardly contain his emotions on the pitch, hugging his protégé Declan Rice and anyone else he could get his hands on before video-calling his wife Carly and children back home.
On returning to the dressing room, he sat quietly for a moment, head in hands, taking it all in, before joining in the celebrations with his jubilant teammates. He then does what he always does after an away game, taking a broom and sweeping the floor. A mark of the man whose dream is still alive.
Sure, Eintracht Frankfurt have beaten Barcelona and Real Betis and are unbeaten in this season's competition, and the Germans will present a stern test to the Hammers, but they can be overcome, just as they were when Noble's heroes Sir Trevor Brooking and Billy Bonds were knocking them out of the European Cup Winners' Cup at the same stage back in 1976.
Back then, Brooking and Bonds reached the final, only to be denied the trophy by Belgian side Anderlecht. Forty-six years on, Noble has a chance to go one better and end his West Ham career in fairytale style.