Riko Ueki is a Hammer!
The 24-year-old forward was announced as West Ham United women's team's fifth signing of the summer transfer window on Tuesday 12 September, and becomes the fourth Japanese player to play for the Club after Honoka Hayashi, Risa Shimizu and Yui Hasegawa. 
Ueki is a regular for her country on the international stage, and has amassed 25 caps so far for Nadeshiko, scoring ten times. 
Ueki helped Japan reach the quarter-final of this summer's 2023 FIFA Women's World Cup, finding the net against Zambia and eventual winners Spain in the group stage. 
Ueki broke into the Beleza senior team in June 2016, marking her debut with a goal in a League Cup match against Speranza Osaka. Since then, Ueki has been a regular for the side, making over 130 appearances and helping them to successive league titles between 2016 and 2019. 
Last season, the forward scooped the WE League golden boot, scoring 14 goals as Beleza finished third. 
Now, Ueki is excited to test herself in the Barclays Women's Super League…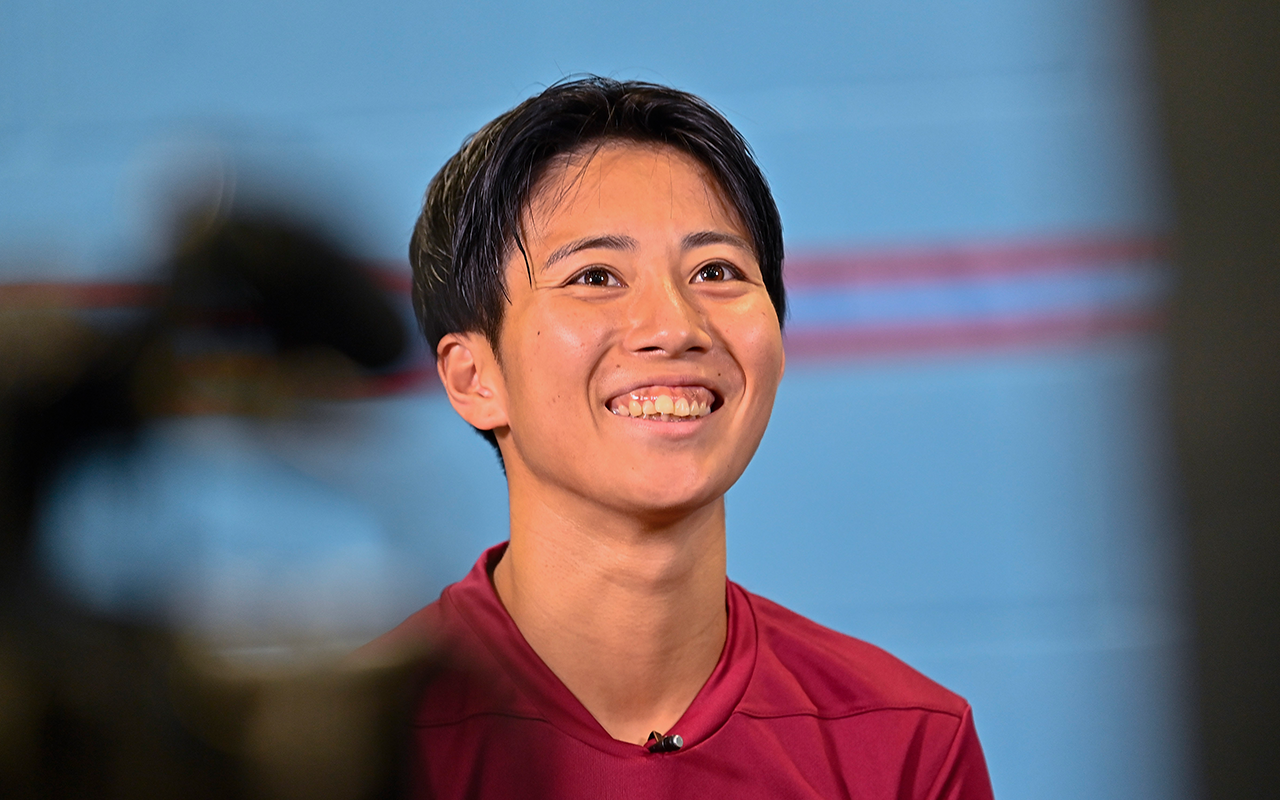 "[West Ham] is It's a team steeped in history and I'm really happy to be able to start my challenge in Europe with them, she told West Ham TV. 
"When I made the decision, I felt I needed to test myself in Europe. I also thought it would be great if I could grow as a footballer by playing here at West Ham and at the same time do my bit for the team as well."
Ueki played alongside Shimizu for six seasons at Beleza and is good friends with Hayashi from their time spent working their way through the different youth age groups in the National Team set-up, before both breaking into the Nadeshiko senior team at a similar time. 
And she admitted that she'd spoken to both before making the decision to make the move to east London. 
My strength is being on the front foot and providing a goal threat, so I hope that the fans get plenty of opportunity to see me doing that
"I have been in contact both Honoka [Hayashi] and Risa [Shimizu], they were happy for my move and gave me encouragement and support which was so reassuring as I made my decision.
"I'm excited to be here and have the opportunity to play alongside them in the world's top league. I'm so happy to have now got the chance to represent West Ham by playing in it, and I'm really looking forward to starting my journey in European football from this moment on."
Ueki featured in every single match for her country at the World Cup, helping Japan to finish top of a tough group that contained the aforementioned Spain, Zambia, as well as Costa Rica. 
As they advanced, they beat Norway in the round of 16, before falling short in a narrow defeat to Sweden in Auckland, New Zealand. 
"It was [my] first time playing at the World Cup final stages, so, it was such a valuable experience. However, my overriding feeling about this tournament experience was one of frustration. It was, however, a great experience overall.
"I believe that scoring goals is my job really.  I'm glad that as a result of me getting on the scoresheet it helped us to pick up more points, but I also realised there was so much more myself and the team could have achieved."
Finally, Ueki concluded her first interview with the Club by stating about how important she believes it to be to work hard when she is wearing the famous Claret & Blue shirt. 
"My strength is being on the front foot and providing a goal threat, so I hope that the fans get plenty of opportunity to see me doing that.  
"Also, I personally believe it's so important to run hard and give everything I have for the team, so it'd be great if I could contribute to the team that way."
 
Watch Riko Ueki in the women's team's opening Barclays Women's Super League match of the season! Purchase your ticket by clicking on the graphic below!