The ePremier League is returning for 2021/22, it has been announced, with registrations now open for UK residents - and the first qualification tournament kicking off on Tuesday!
Players of all abilities can register now for the tournament and will compete for a place in the Club Playoffs by participating in a series of online open qualification tournaments between November and January. 
The first qualifier takes place on Tuesday and Wednesday - 16 and 17 November - so this is your final chance to enter in time to participate in qualification from the very first kick.
Other qualifying events will take place on 23-24 November; 30 November-1 December; 14-15 December; 21-22 December; 4-5 January 2022; 11-12 January 2022; and a final qualifying play-off on 18-19 January 2022.
Now into its fourth season, the competition – which sees representatives from all 20 Premier League teams come together to compete for the biggest domestic prize in footballing gaming – has once again opened up registrations.
The prize pool for the tournament has increased to £100,000, with three seats on offer for top-ranking players at the EA SPORTS FIFA 22 Global Series Playoffs.
This season, the ePremier League will be played on next-generation consoles in the PlayStation5 and Xbox Series X|S. The competition is open to UK residents aged 16 and over.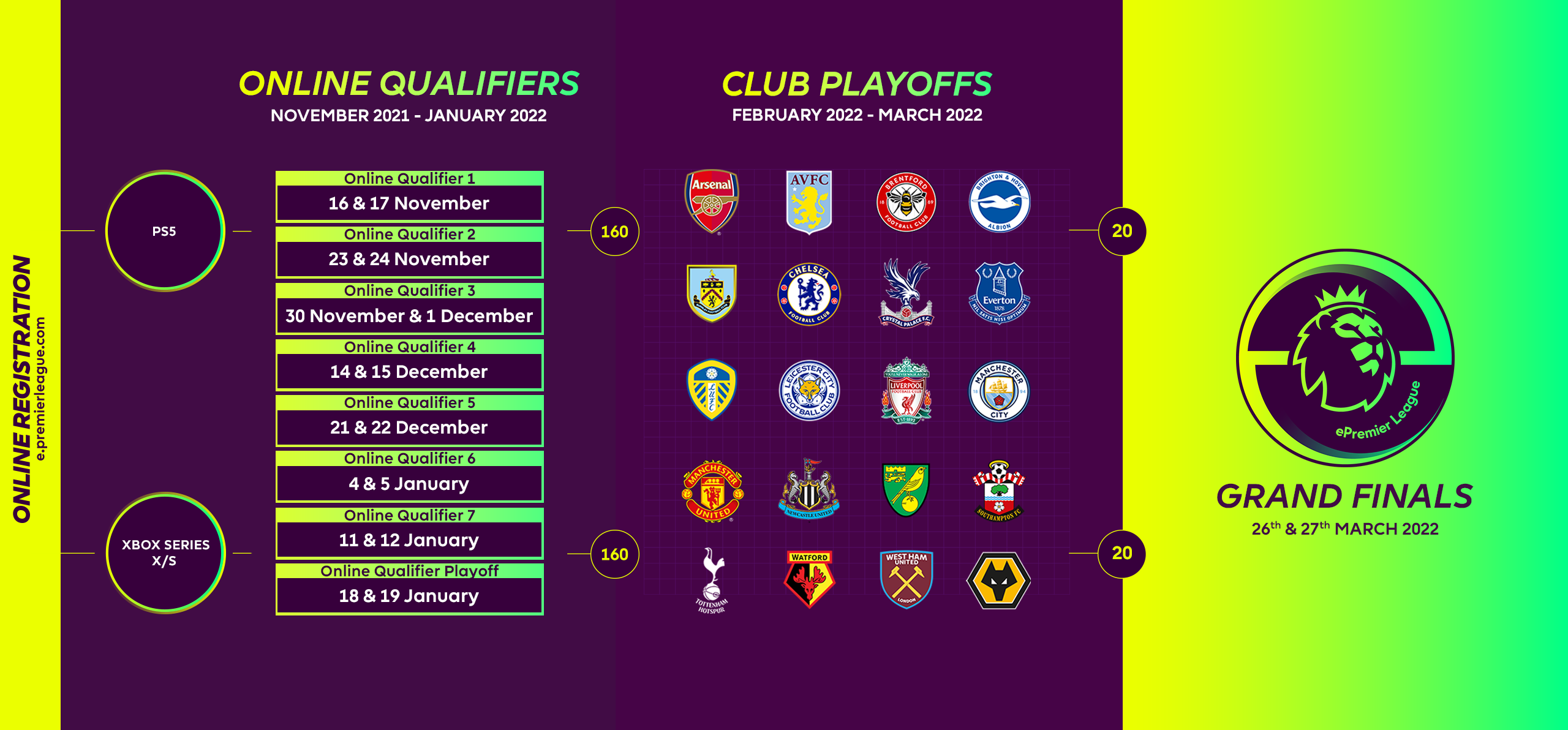 This year's competition sees the return of a live ePremier League Grand Final in a venue to be revealed soon, where the two best players from all 20 Premier League clubs will battle it out on 26 and 27 March 2022.
There will also be a change to the Grand Finals format this season. Players will work collaboratively as a team for the first time by taking part in a series of 1v1 matches against pairings from other clubs, with one player competing per console. 
Two seasons ago, West Ham's Jamie 'Jamboo' Rigden went all the way to the live televised Xbox semi-finals of the competition.
There, he mounted a dramatic comeback from 4-1 down in the first leg against defending champion Donovan 'Tekkz' Hunt of Liverpool, pulling the tie level back to 4-4 in the second – only to miss out on a golden goal in extra-time. Tom Leese of Watford went on to secure the trophy.
Last year, Manchester City's professional FIFA player Shaun 'Shellzz' Springette claimed the 2020/21 ePremier League title, triumphing in a penalty shootout victory over Leeds United representative Olle 'Ollelito' Arbin. 
West Ham's representatives Alfie 'AC RedLac' Calder and Curtis 'Papsity' Poole both departed the competition in the group stages.
For more exciting FIFA 22 and gaming content this season, follow the official @WestHamEsports accounts on Twitter, Instagram and Twitch.