Mark Noble and Robert Snodgrass were thick as thieves together at West Ham United.
Scotland international Snodgrass joined the Hammers from Hull City in January 2017 and, following a spell on loan at Aston Villa in the 2017/18 campaign, would be a key feature in the squad - scoring eleven goals and assisting a further 17 in 86 games - before his departure to West Bromwich Albion in January 2021.
It was during his time in east London that Snodgrass struck up a close friendship with Noble. Stories of the two plotting pranks can still be heard at Rush Green Training Ground to this day. 
And ahead of Noble signing off his illustrious 18-year career with the Hammers - the 35-year-old's final home game came against Manchester City on Sunday - current Luton Town winger Snodgrass reminisced about his time playing alongside the Club captain...
What can you remember about playing against Mark Noble? 
"I remember playing against him twice in the Championship, after West Ham had gone down [in the 2012/13 season]. This was when I was at Leeds; I think we drew at Elland Road [1-1] and then there was a draw [2-2] at Boleyn Ground as well. I'm sure I played against him at Norwich City as well.
"I also think we played against each other for England against Scotland at either U16s or U18s level. I can't remember all the details that far back, but you just always knew he was a top quality player. It was only once you played with him that you realised just how good he was."
What were your impressions of Mark as a player? 
"Ability-wise, I knew he was a good player. When I played with him, I realised just why he had been at the top for so long. He's an incredible talent. His passing ability…people didn't realise how good he was.
"He was the best of anyone I ever played with in terms of, when it was time to work, he was on it and very vocal, but vocal in the right way. He kept the beat of the changing room up. If the lads weren't at it, he'd be the first to put his opinion out there and get people on it. He's one of the best captains I've ever seen up close and in person."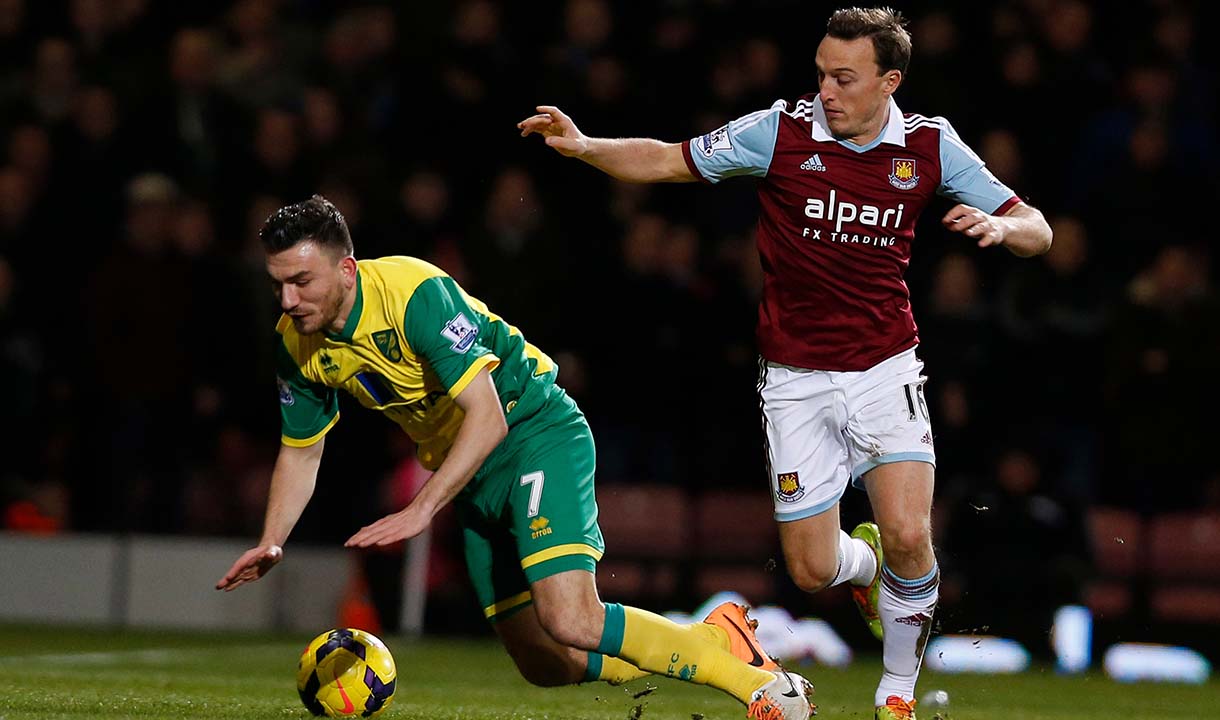 How welcoming was Mark when you joined West Ham? 
"He was unbelievable. I can't tell you exactly what he said!
"He was on me from the very first minute I walked in and I knew we would have that instant connection. It was great because I was playing with somebody who had a bigger nose than me, so it was perfect! 
"I knew I would have a good relationship with him. He was always up for a laugh and a joke but it was the little things, the things people wouldn't notice. He understood what it meant to play for West Ham, being a fan himself and coming through the Academy. He knows the Club from top to bottom."
How supportive was Mark during what were a difficult first couple of months for you at West Ham?
"I wasn't playing well and I came in at a time when the Club was making changes, and I think the Club was suffering a bit from losing Dimitri Payet. I think a lot of the lads were struggling for a bit of consistency, and I was in amongst that for four or five months. 
"I went out on loan, came back, and the Club started to see the best of me in a new position. I loved every second at West Ham. When I left on loan, I was still in touch with seven or eight players in the squad, including Mark, who would be very supportive. I had a great connection with a lot of people at West Ham."
You and Mark had a close friendship with some of the other lads – can you tell us a bit about that?
"Mark and I are tight. He's a good friend of mine. He's got a lovely family. We're similar ages and we could see what a good professional he is.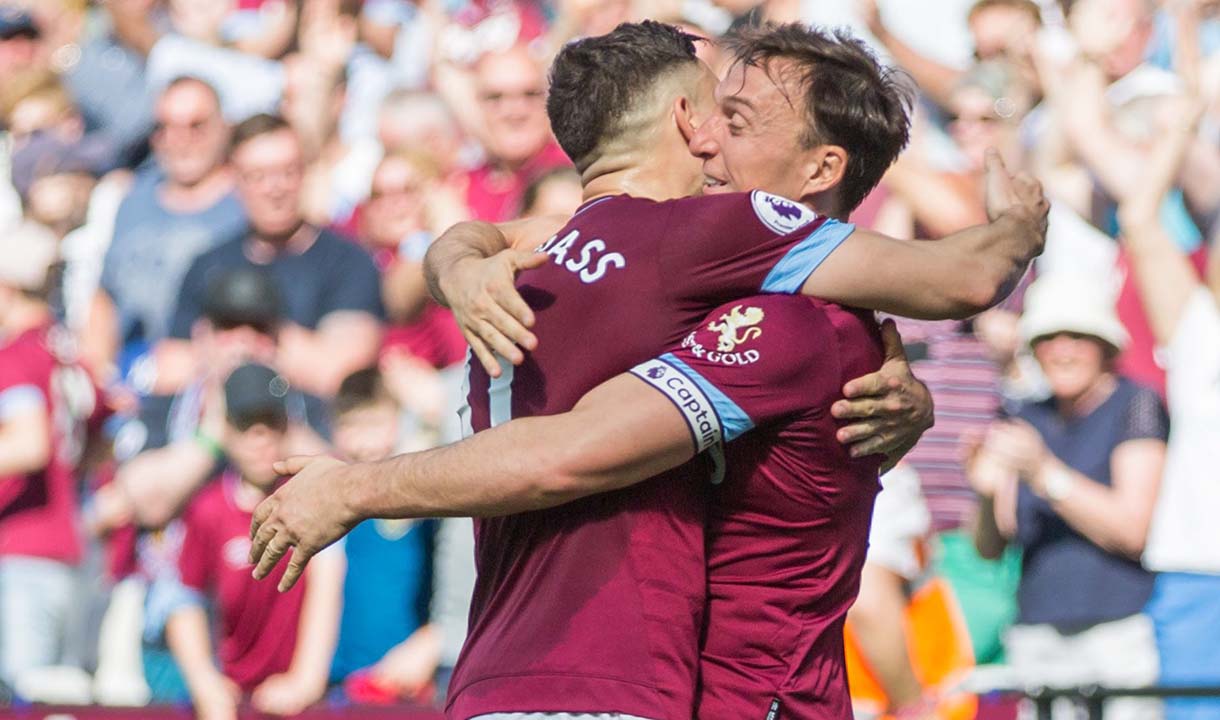 "We had an experienced bunch of lads in terms of Andy Carroll, Winston Reid, Aaron Cresswell, James Collins. Then we had younger lads like Declan Rice and Ben Johnson come into it, as well as Ryan Fredericks and Jack Wilshere too.
"We were just up to mischief, and Mark Noble was right at the front of that. He was often the instigator! He was like Colombo, trying to piece things together, setting traps for others.
"He loves a laugh. Mark was always involved. He is such a great lad. He took time for everybody."

There are stories about a prank Nobes got you with during a team meeting…
"He done me good! He had me hook, line and sinker.
"He had lined up the staff for this one, and got all the lads on a table at an away game. The lads are talking about going into a meeting. So I go into the meeting and I think 'there's going to be ten or more lads late for this'. 
"Then Nobes says 'oh no, I've left my phone behind' and leaves. So I'm rubbing my hands together thinking our captain is going to be late too, and we've got a bunch of lads owing fines.
"I'm sitting there happy, thinking 'here we go'. We've got nine or ten lads in this meeting room, with 15 to 18 lads set to be fined, and money straight into the kitty for the Christmas party. 
"All of a sudden Stuart Pearce and Alan Irvine – two of the most honest, straight-up guys you can meet – they start laughing. They're crying with laughter. Nobes had lined it up with all the staff and the players - they'd sucked me into going to this meeting, when it was only a meeting for the starting XI for the game the next day! 
"Not one of the other 18 lads, who are just now chilling in their rooms, are in this meeting! Meanwhile, I'm in there trying to get them all fined and these guys are now laughing: 'Snods, this is for the starting XI, get out mate!' 
"That's how much pull Nobes had! It was incredible fun."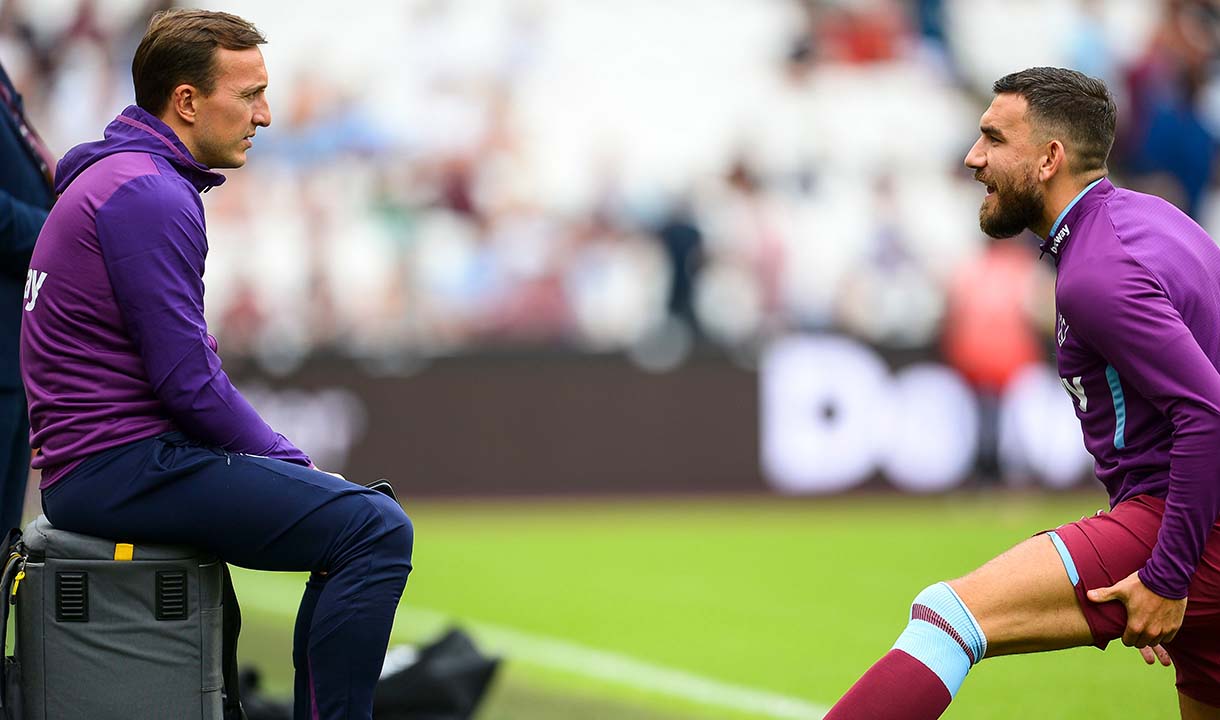 What was Mark like, as a captain, during the first COVID-19 pandemic lockdown?
"He was exceptional.
"He came together with the board and bridged the gap between the staff, the board and the players. He was terrific during a difficult time. It was the sign of a top captain.
"He got in there and eased the situation. He was a big help. It was no surprise though because that's what he does. He does it with great care for the people at the Club."
What is Mark Noble's legacy at West Ham? 
"First and foremost, he should be remembered for what he's done for West Ham on the pitch.
"He's created some great moments. The most difficult thing is perhaps that he never had the chance to represent England – for me, that's the biggest tragedy. He had way more than enough ability to do so.
"His legacy should be remembered for being a fan that has lived the dream. That's his legacy and he has done it so well. He is also a people person, a family man, and the Club came first for him always. 
"For me, I'm just lucky and privileged to have been a part of his journey with West Ham."