Łukasz Fabiański believes West Ham United are learning how to dominate their Premier League opponents following Sunday's 1-0 win at Everton.
The Irons were in control for long periods at Goodison Park, maintaining possession and repeatedly pushing their opponents back deep into their own half for extended periods of time.
While that possession did not lead to as many clear-cut chances and goals as the Hammers might have liked, it did play its part in frustrating Rafael Benitez's team and quieting the normally vociferous Everton supporters.
And it was not just in open play that West Ham outshone the Blues, who had won all three home games in the Premier League prior to Sunday's game, as the visitors' elaborately planned set pieces also caused havoc for Jordan Pickford and his teammates in the Everton penalty area.
One such routine led to West Ham's winning goal, as Jarrod Bowen's wickedly inswinging corner was met by Angelo Ogbonna's near-post run and the Italian's header flew past the stranded England goalkeeper.
At the other end of the pitch, Fabiański celebrated and, speaking to West Ham TV after the game, the Polish stopper said the goal and the victory was no more than his team deserved.
Łukasz, Everton is a difficult place to come and win, but that's two seasons in a row now where we've come to Goodison Park and put in a really professional all-round performance and won 1-0…
"I think we really deserved the win. From the kick-off we looked like the team who wanted to dominate the game and dominate the opposition and we were the team who were on the front foot.
"We got what we deserved from this game and it's always nice to win away from home, especially against a team who was on a good run and in a good moment, so that's very pleasing for us."
We look like a team which is taking the next step, dominating games with our quality on the ball?
"What we have done last year is to probably build some sort of aura around us that we are a team to be aware of, and probably this season we are seeing the difference that teams maybe back off a little bit and give us more possession of the ball, and that's a bit of a change from the previous seasons.
"That's where we need to continue to work to try to keep that possession of the ball and create good opportunities. That's a bit of a change for us, but obviously that's a very positive sign for us that teams basically see us as a difficult one.
"So we will continue to work on that and try to improve on that aspect because that's something that we're really working hard on at the training ground."
It also looked like we had been working hard on our set pieces, too?
"With the set pieces, you have to keep it quiet always to surprise the teams. That's a very important aspect of the game and if you prepare well and surprise the opponent, it can benefit you.
"Since the gaffer took over, he's been really keen on set pieces defensively and offensively and, again, that's one of the aspects where we have improved.
"We have big guys there and guys who are very aggressive as well when it comes to set pieces. I heard a stat that 30% of goals come from set pieces, so that's a big part of it, you know."
We have started another busy run of seven games in 22 days with a win, which gives everyone a big boost and extra energy going into it?
"Yeah, it's a big challenge and that amount of games is something new for us, but I think we're all really looking forward to competing in every single competition.
"The Europa League on Thursday is something that we really want to do well in, to continue to do well in the Premier League, and we have another very interesting game against Manchester City at home in the League Cup.
"It's nice to have that amount of games because we know we need to be constantly on it. We experience different teams and ways of playing football and that's always what you want as a professional, to be playing so often and against such tough opponents."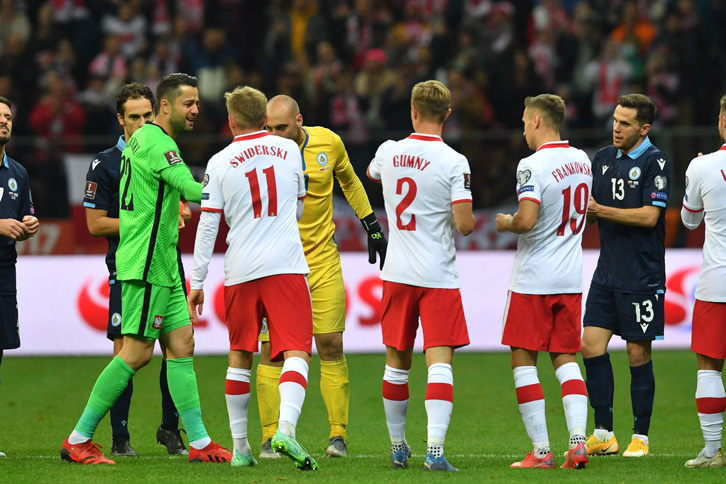 Finally, we were all so proud to see you be given an emotional send-off in your farewell international appearance for Poland during the recent international break?
"It was special, it was very special for me and for my family as well. I'm really proud of that moment and really proud of the way I've been shown the respect by the fans and all the people. That was very special.
"That's one chapter for me closed, but I believe I still have a few years left at club level and I'll continue to push, that's for sure."