By signing for West Ham United, Flynn Downes has achieved a lifelong dream.
The former Swansea City and Ipswich Town midfielder grew up as a die-hard Hammers fan as a regular in the stands at the Boleyn Ground and he admitted making that transition from supporter to player is a 'surreal feeling'.
At the same time, he is sure this is his moment to make the step from from star EFL Championship performer to the Premier League, and the 23-year-old could not be happier than to do that in east London.
Born and raised in Brentwood, his transfer to the Hammers represents a move home too, and now he has set his sights on emulating the likes of Jarrod Bowen, Michail Antonio and Aaron Cresswell in successfully taking his career to the next level after arriving in the top flight at West Ham.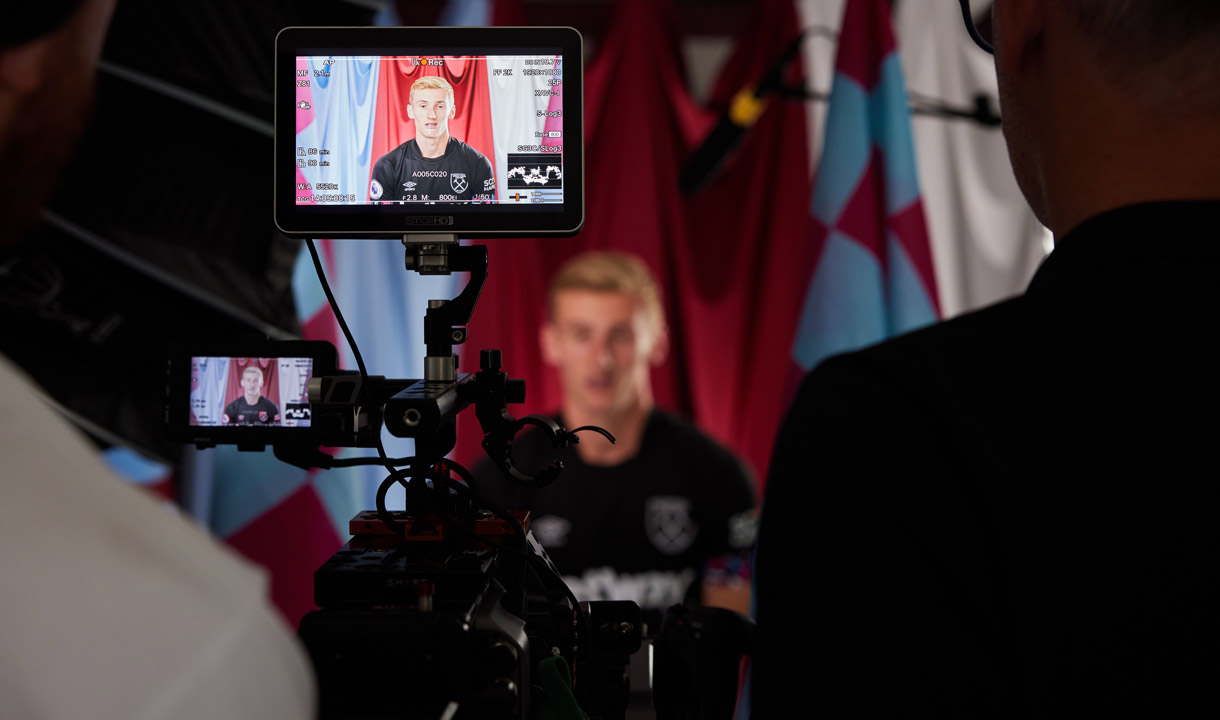 It feels like I'm dreaming. I have to be honest, it hasn't sunk in yet.
I feel like I haven't slept in three days, but it's unbelievable. It doesn't feel real. It's just surreal really, really surreal.
It's been my dream since I was a little boy to represent this Club, so I've finally got the opportunity to do it and I'm over the moon.
My family are all big fans, my mates, my best mates, pretty much everyone I know is a West Ham fan, so it's unbelievable. Like I said, I feel like I'm dreaming. It's just crazy, absolutely crazy.
It's a massive Club that has done unbelievably well in the last few seasons and is clearly going in the right direction. Look, this is my Club. If Real Madrid had come in for me, I was still coming here. That's as simple as it is really.
The move happened very quickly.
The first I heard about the move was a couple of days ago. I went into training and I was told 'West Ham have put an offer in' and I was like 'Woah'. It didn't feel real to be honest, but I'm just glad to be here and I can't wait.
it didn't take too much thinking to come here. Like I said it's been my boyhood dream to come here since I was a kid so it was a no brainer. My phone has blown up with all this going on, so it's been crazy.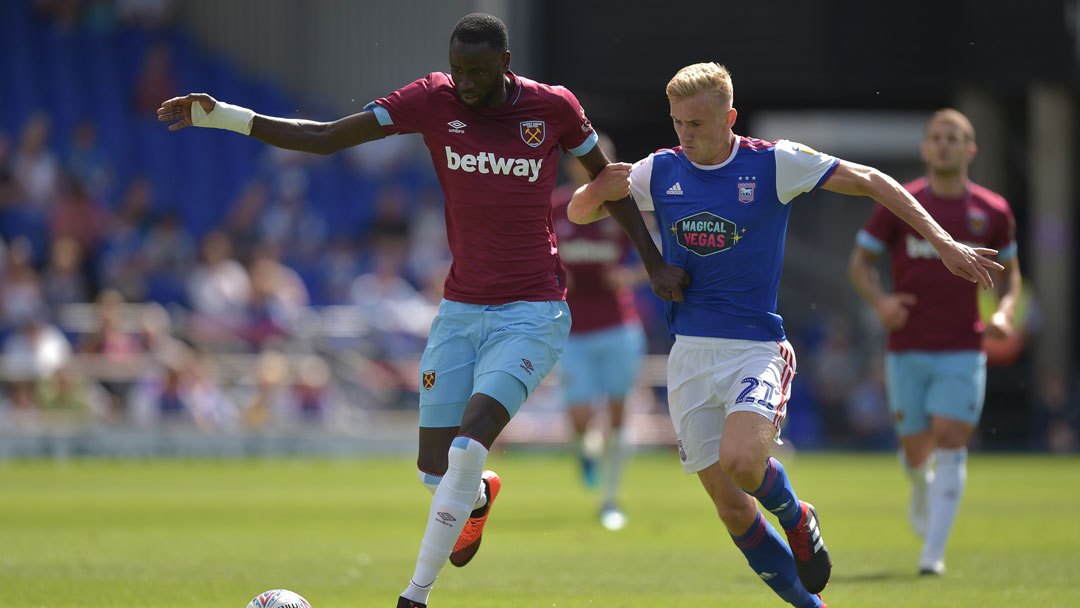 I started at Ipswich when I was seven, worked my way up and I loved it there.
The academy was unbelievable, everyone there was so good to me and it was a mad moment captaining the team as that was something I had dreamt about as a kid as well. Obviously I played for Ipswich so I wanted to do my best for them. Fifteen years I was there and then I want to Swansea.
It was an up-and-down year there, but a really good year for myself and I'm just happy to be here really.
It feels like the right time to step up to the Premier League.
I want to test myself. I want to be the best, it's as simple as that really. I can't sleep if I haven't done enough. That's how I work and I want to test myself against the best. It's the Premier League and this is my dream so let's get it.
It's proven that players can come here from the Championship and make the step up.
Players have come here like Jarrod, come from the Championship, gone to West Ham and gone on and on. He's now playing for England and that's what I want to do. I want to follow in those footsteps.
That's another thing that drew me to this Club – I love it anyway but that pushed me even more. I just want to get out there, play games and show what I can do.
It's been my dream since I was a little boy to represent this Club, so I've finally got the opportunity to do it and I'm over the moon
The track record of the Gaffer is unbelievable.
He's proven in brining people though and making them ten times better. That's what I want to do, I want to get better, I want to learn, I want to help the team. I spoke to him and he's in France with the team so I had a brief chat with him and he got me really excited. I'm so happy to be here.
The thought of stepping out in front of 62,500 people, that'll give me goosebumps.
I've been a fan since I was a kid, I know what it's like to be in those stands watching the boys, hoping for the three points. I've felt that passion that every fan has felt. Honestly, I'm speechless. It's a crazy feeling but I can't wait to step out.
Everyone who's there has the dream of being out there on the pitch and I'm nearly there. I'm so grateful for that. I'm grateful for the opportunity the Gaffer has given me, so hopefully I can repay him.
Over the last two seasons the whole squad, the whole team has been unbelievable.
Sixth, seventh in the league, European nights. That's what I believe this Club is made for. I want to help push it on hopefiully because I believe it's made for more than that. We've got a massive stadium now and the Club is in a really good position so hopefully I can add to that.
And the thought of European football, a year a ago I was training with the U23s at Ipswich. Yeah, I'm not going to sleep tonight thinking about that. It's crazy. It's my dream, that's all I need to say.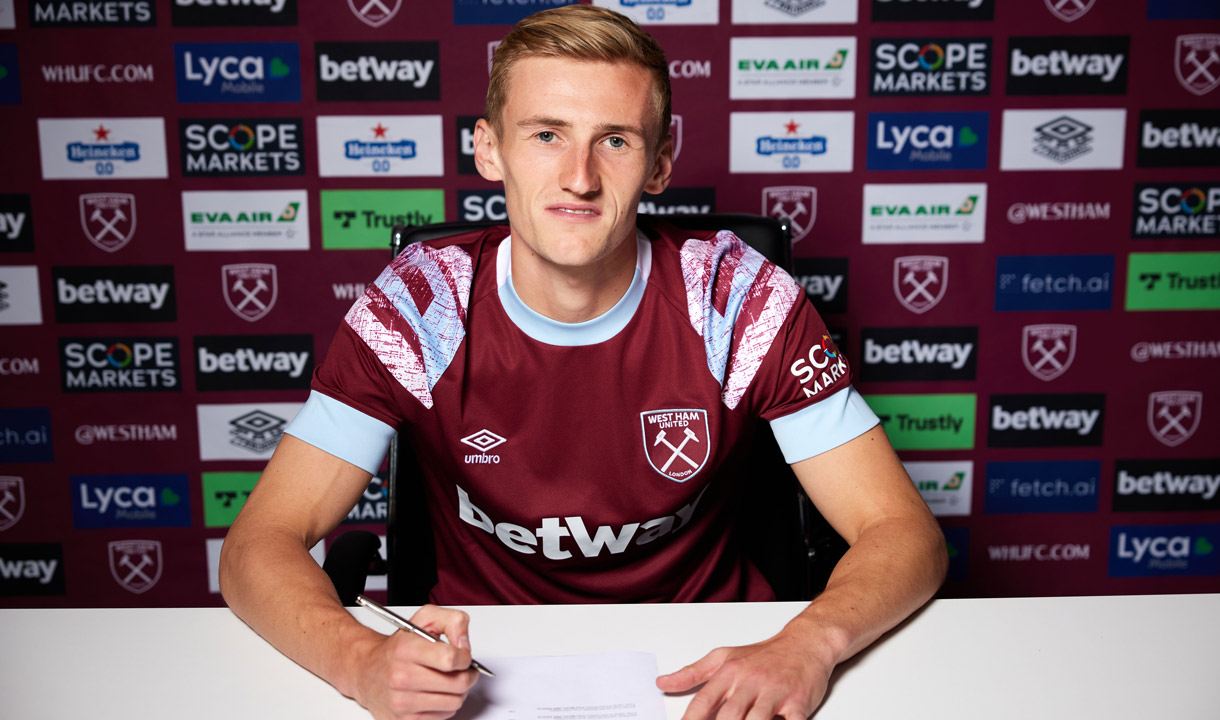 I had a whole list of West Ham heroes growing up.
Obviously you've got the big names like the Di Canios, an unbelievable player to watch,you've got the older generation like the Bobby Moores. I suppose for me, growing up, it was Mark Noble. He's a legend in my eyes, he's been here for that many years. He's done it, so I'd probably say players like that, Michael Carrick too. There's so many players that I could list the whole team.
Obviously Nobes is an unbelievable player, he's done it all here. So he's a big player I liked to watch.
In terms of my game, I'll give everything.
I'd sy my strengths are my energy, I'm alright on the ball, I like to tackle and get stuck in. The West Ham fans like that – I've been there, so I know what everyone likes. At the end of the day I'm a fan, I'm just playing the game and I'll give everything to this team. That's the passion I'll bring, hopefully, to the team. I can't wait.
My family helped me pick my new squad number, 12.
My whole family's number has always been 21. That's taken here, so 12 is 21 reversed. I messaged my old man when I knew about the shirt numbers and he literally came back with 12. That's it. You know when you walk about and you see a number everywhere – it's been 21 for me and my family, so that's why we've picked 12, because it's kind of 21.