Upon his departure from West Ham United, Dmitri Halajko is looking forward to watching young players at the Academy of Football continue to prosper and progress in Claret and Blue.
The experienced coach, who is set to take on a new opportunity in youth and coaching development at the Premier League, first joined the Academy in June 2019, and has since helped nine young players make their senior debuts for the Club's first team.
Halajko has also overseen a period of continuous progression for the U23s group, who went unbeaten and achieved promotion from Premier League Division 2 in the curtailed 2019/20 season, before consolidating their standing in Division 1 the following year.
With Halajko now moving onto a new challenge, the 41-year-old explained that – with the U23s currently sat second in the table, just a point off leaders Arsenal – he expects to see many of his young charges continue to grow as young footballing professionals.
"I think it's time to move my career onto a different direction," Halajko told West Ham TV. 
"The U23s, the first team and the Club are doing extremely well, so in some ways it's not the best time to move on, but you don't know when these kinds of opportunities are going to come up. 
"It's a really good opportunity for me to go to the Premier League and hopefully have a wider impact on youth development and coach development and an impact on the whole game over the country. It's a big role that I'm really looking forward to, but at a time when, in another way, I'm gutted to be leaving, because things are going so well.
"From a personal point, my time at West Ham has been really enjoyable. I've been fortunate enough to work with some great staff and some great people and we've had some good outcomes in that time.
"It's been a journey where we've got better year-on-year. The players have got better year-on-year and the team has got better year-on-year, and there's all the other staff wrapped around it, whether that's the Academy Manager Ricky Martin, or Steve Potts and the coaches, or the support staff – there's a lot more that goes into it than just me. 
"There's been great progression over the last two-and-a-half years and I expect that to continue. I'm leaving it in a really good place and I'm leaving it with really good people, and I'll be watching, cheering them on at every moment, hoping they continue that progress."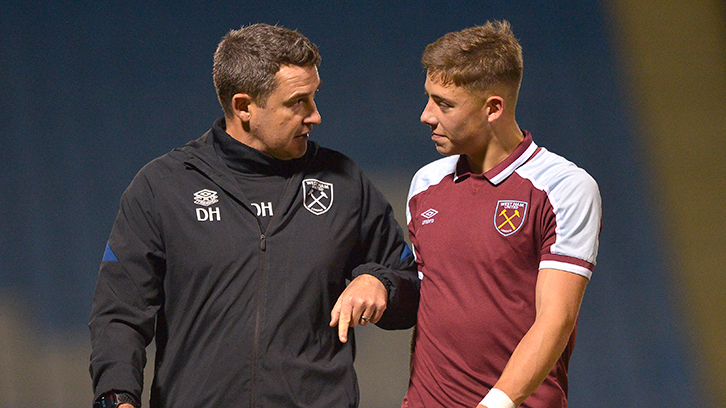 Having worked with Ben Johnson and Nathan Holland on their transition from the U23s to the first-team squad, and helped nine further Academy talents progress towards their senior bows, Halajko has already handed four U18s players their U23s debuts this season alone.
Indeed, numerous West Ham U16s players now featuring regularly for the U18s, and Halajko's final U23s line-up featured three players who would otherwise be classified as U18s in terms of age group.
Added to the fact that first-team management and staff can be sighted at every U23s game, and a clear internal pathway for West Ham's stars of the future is salient under new U23s lead coach Mark Robson.
"There's definitely that pathway," Halajko confirmed. "Every U23s team we've put out has always had youth team players in it – two, three or four – so there's that pathway where, if you're good enough, you'll always play up an age group and really stretch yourself. 
"We want to stretch our players. That's probably more important to us than winning games, because we want to push players. That's the way to get them towards the first team. It's something we strongly believe in, and I know it's something which will continue at the Club.
"It's something really unique at West Ham, the closeness with the first team, in terms of their staff know all our players' names, strengths, weaknesses. They watch every game at home and even travel to away games. Kevin Nolan will come into the dressing room before, during and after games. 
"They know the players personally and the manager will watch the games, and we share a training ground so there are always conversations. That daily connection has only helped the lads in terms of their development, because they're around it at the top end – they see it and they feel it and they hear it, and they know there's a pathway."
Halajko also spoke positively of the potential of the group, whose careers he looks forward to following in the years to come.
He smiled: "I think this group of players can progress onto whatever they want to progress onto. They need to keep developing, which they will, and strive for the highest heights. 
"They've got a great opportunity to progress their own careers. They're in a really good place individually and collectively and I'm sure they're going to carry it on – I've no doubt about that. I'd thank them for allowing me to coach them and allowing me to be part of their journey, because it's been an absolute pleasure.
"I can only thank the staff so much for their hard work and the support they've given me from minute one. People talk about the West Ham family and that being the West Ham Way, and from day one, I've felt it here. 
"People here have made me feel at home and made me feel part of it. There are people at the Academy who have been part of it for years and years, like Steve Potts and Mark Phillips and Kevin Keen and Tom Smith, and straight away they let you know what it's all about and they look after you.
"It's a really warm Football Club and it's a Football Club that looks after people and wants you to do well, so I can only thank people for that really. It's something very special."