Declan Rice, Carlton Cole, West Ham United and the Club's Foundation joined forces to help the Premier League celebrate 15 years of its flagship community programme, Premier League Kicks.
PL Kicks has supported hundreds of thousands of young people to achieve their potential and improve their wellbeing through free weekly football sessions and educational workshops.
PL Kicks began in the 2006/07 season in partnership with the Metropolitan Police, with the aim of involving and supporting young people in regular, positive and fun activity while helping to create stronger, safer and more inclusive communities.
To date, the Premier League has invested almost £66million in PL Kicks and in the year ahead an estimated 80,000 young people will take part in the programme.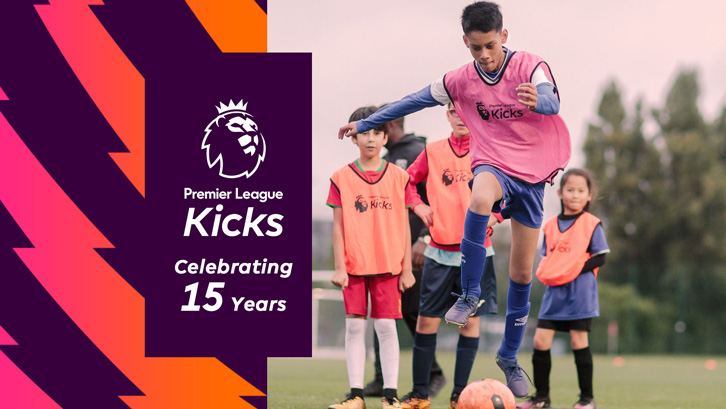 Since it began, more than 440,000 young people have participated in PL Kicks football and multi-sport sessions held at community venues across England and Wales, including those hosted by West Ham United Foundation across east London and Essex.
The programme started with four pilot clubs and is now run across 936 venues by 90 Premier League, English Football League and National League sides – all funded by the Premier League.
As part of the 15-year celebrations, clubs have nominated a PL Kicks 'Local Legend' - somebody who has taken part in, volunteered or worked on the programme and has inspired others through their dedication, work ethic and own personal development.
Each nominee will receive a bespoke 'Local Legend' football card, which has been created with support from Premier League partner Panini.
West Ham and England midfielder Rice, a former PL Kicks participant, and former Hammers striker and current Academy of Football coach Cole feature on the Premier League's celebration video.
"We are proud of the incredible impact Kicks has had on communities up and down the country over the past 15 years," said Premier League Chief Executive Richard Masters.
"As we mark the anniversary, this is an opportunity to celebrate the local legends who have helped make Premier League Kicks what it is."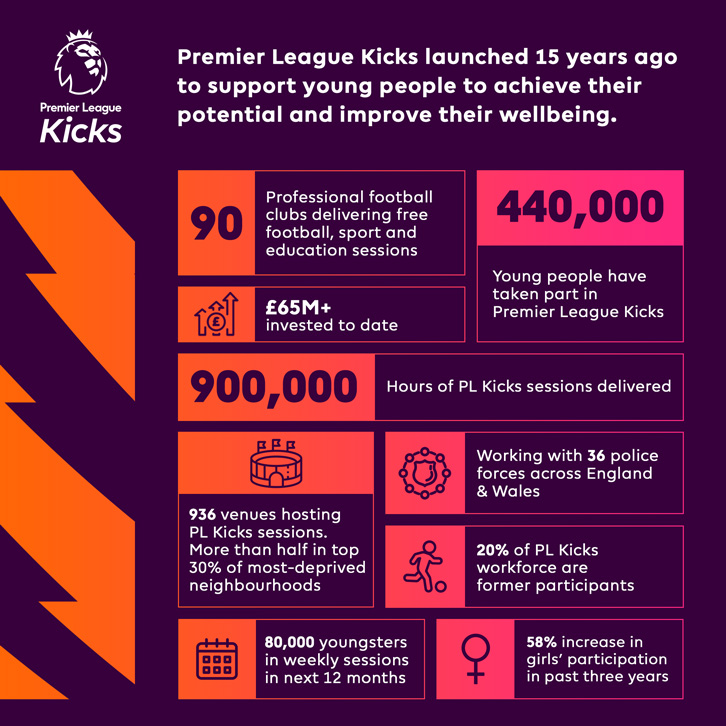 Clubs also run workshops on a variety of social issues, enabling young people to openly discuss topics that affect them, like equality, diversity and inclusion and combatting youth violence and knife crime.
The programme also sees clubs work with 36 territorial police forces throughout the country, with regular sessions taking place in disadvantaged areas. The League funds PL Kicks and other community programmes through its £100million investment per season in community facilities and community and education programmes.
This is the biggest voluntary contribution to communities and other good causes of any football league in the world.
As part of the PL Kicks anniversary celebrations, representative teams from all 90 PL Kicks clubs have been invited to attend one of six regional tournaments during the February half-term holiday between 14-25 February 2022, bringing together more than 1,000 young people.