David Moyes hailed the professional job completed by his players as a 2-0 win at Rapid Vienna secured top spot in UEFA Europa League Group H and progress direct to the round of 16.
West Ham United were value for their victory in Austria, where they overcame stubborn opponents, a bitterly cold night and playing without supporters present to make it four wins out of five, including a pair of 2-0 successes against Rapid.
After a goalless opening 40 minutes, Andriy Yarmolenko headed the Hammers in front before being fouled for a penalty which was successfully converted by captain Mark Noble on the stroke of half-time.
There could and probably should have been more goals for the Londoners in the second half but, as it was, Moyes' men comfortably saw the game out to reach the knockout stages, which will not be played until mid-March 2022.
And, as an added bonus, the manager was able rest many of his Premier League regulars and hand a first-team debut to 17-year-old forward Sonny Perkins, who was only denied a fairytale goal by Rapid goalkeeper Paul Gartler.
Speaking to West Ham TV, here is what Moyes had to say…
We did a good job, a professional job in the end.
I think it's not just this game, when I think how well we've done in all the other games, we've come away from now for three games and won two and drawn one.
That's a good start and I'm looking forward the last game now at home to Dinamo Zagreb and seeing the group out.
I'd have taken our record of four wins out of five with four clean sheets at the start.
It's a great credit to the players because sort of we've chopped and changed the team and taken a few risks with our team selections.
But I think we felt it was the right thing to do and the players have not let us down at all. The players have been fantastic, they've all contributed and I think it's really good for the squad and really good for the players.
I don't think we were at our best tonight, but as I said it was a professional performance.
We could have scored more goals and we didn't take our chances to finish the game off but, overall, there was some really good things to take from it as well.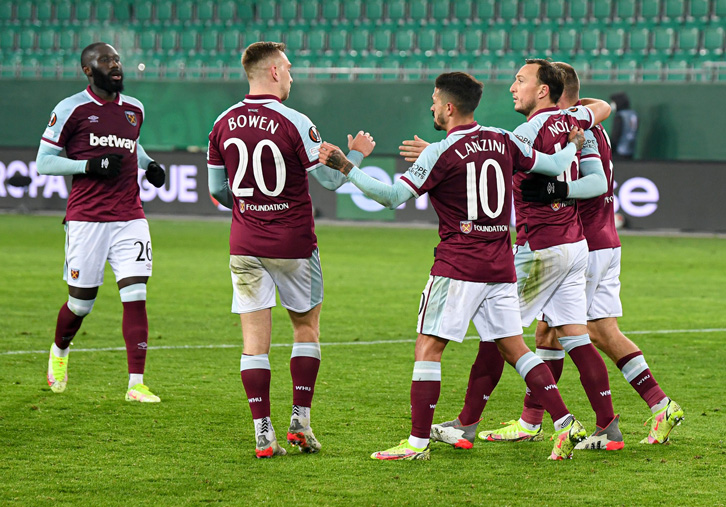 Mark Noble will be delighted to have scored his first UEFA Europa League group-stage goal and rightly so.
When you think back, we talked about him missing a penalty earlier in the season [against Manchester United], but he's stepped up twice already since and scored good penalties.
It was a great penalty and it changed the game because we went in two goals up at half-time.
We should have been more goals up and more in front and in the second half we probably should have scored four or five, but we didn't, so hopefully we're keeping them for the weekend.
Nobes is a great leader and he's been a great player for the Club, a great ambassador and all the things you would say about him.
I'm really pleased that he's contributing and he's really important to us.
I always thought in the first half of the season that we'd need him and he has been.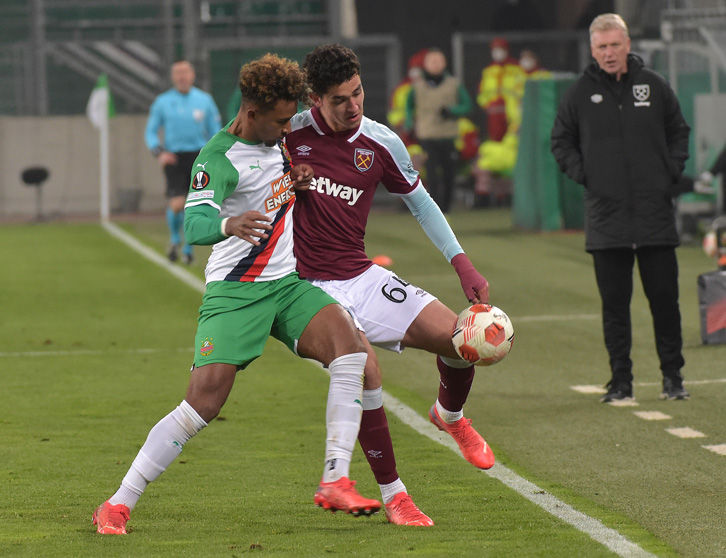 It should have been a fairy tale start for Sonny Perkins as he gets one right on the money and he should have finished it off and I just told him that!
I think he's really disappointed he didn't score but, look, the Under-23s are doing very well.
Their young players have improved greatly and they're working hard, so if we can reward them we will try and we will do. Dan Chesters was there and one or two others.
Sonny has been doing really well and we're a little bit short of forward players and his attitude and effort were tremendous.
It would have been good if he'd got the goal, but nevertheless I am really pleased for him.
I've just said to the players it's a great effort and they should be really pleased with how they've performed.
It was all new in Europe for us and I wasn't sure how we'd do. We were all excited and I remember the scenes when we qualified at the end of last season were great as it meant a lot to us.
We've treated the competition that way. We've tried to use our squad the best we can and I think everyone has enjoyed it.