Manager David Moyes believes a win over Tottenham Hotspur in the Carabao Cup quarter-finals on Wednesday would represent a stride forwards for his ever-burgeoning West Ham United side. 
Having seen off Manchester United and Manchester City in rounds gone by, the Irons travel to the Tottenham Hotspur Stadium in midweek seeking to secure a first semi-final berth since 2013/14.
Moyes, speaking at his pre-match press conference, feels such an achievement is within their grasp…
 
We're fit healthy in the main
At the training ground, it's been really, really good. We have got one or two people with the [COVID-19] virus, but I've got to say, mostly, we're all very good here, and long may that continue.
Most of us are all double jabbed or boosted. We've got some staff members who've got the virus, some of them with no symptoms. We just have to live with it and do everything we possibly can to keep everybody's health right and everybody safe.
We've got a few injuries, as people know. Every other club has got some people who have contracted COVID, but as I said, in the main, we're pretty good that way. I probably wouldn't give out much more information than that at this time. 
 
The Premier League will continue over Christmas – and so will we
I don't make those decisions. I've got big decisions to make here at West Ham.
We move on. I don't really know if there's any more I can add to what everybody else is already talking about. I don't really have any different point of view to what I've heard from other managers or the Premier League themselves.
The Christmas programme is so important to people who live in this country and it's part of our culture, and because of that we're used to playing over a really hectic Christmas period.
I can say from a personal point of view, from our Football Club, we've played an awful lot of games and it would have been nice to have had a little bit of a break, but it's not what we've got. Some other clubs have had that, we've not, and we've also had extra games. 
We play in this country and that's what we do. From that point of view, if the League has decided we go ahead, we'll play.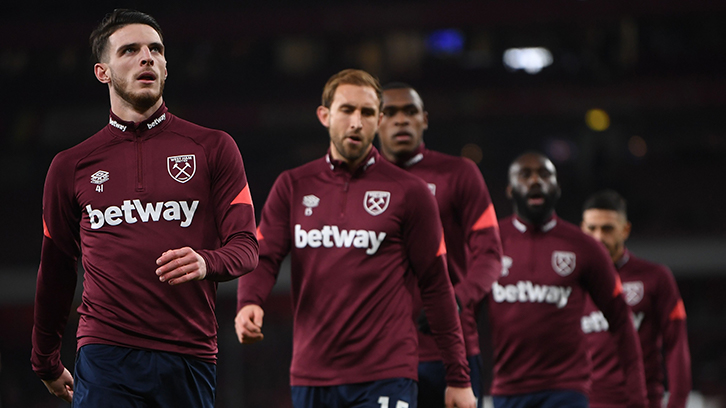 We're still going strong in every competition
The good thing is we're still in every competition going into Christmas time. It's great that we've got ourselves in a position where we're in Europe, we're in the quarter-finals of the Carabao Cup and we're in a strong position in the Premier League at the moment. 
There are a lot of things going into Christmas where we're in a good place, but like everybody else at this time of the season, we've all got injuries. We're no different from any other club, and that plays its part. 
We'll go into every game with the intention of trying to win it and get a result, and we'll do that against Tottenham.
You want to keep winning. You want to keep a level of momentum going. If we could get ourselves through this round of the Cup, it would be a big step for us again. 
I think that we're more than capable, but we're also up against a good side at the moment as well, so we understand that.
 
Antonio Conte has done a good job at Tottenham
I think he [Conte] has done a really good job. Tottenham always had a good team and a good squad of players, I don't think that was ever in question. 
They've got a manager who's been proven in this country and Italy as well, and has got a really good record, so you would expect all of those things, if they work together, would get a positive outcome. 
We've got to try and make sure we work against it and do everything we can to stop them.
Declan Rice continues to improve greatly
He [Rice] has not only just been improving recently. Certainly, over the two years I've been here, he's improved greatly. 
I think we've also seen him improving and playing for England as well. Probably two years ago, people questioned if he'd be in the team, but I think now… 
I wouldn't say he's a stick-on, because nobody's a stick-on for any team or county, but I certainly do think Dec's done a brilliant job, and long may that continue.
 
I'd love to win a trophy with West Ham United
West Ham has had a history of trophies in years gone by – maybe not in more modern times – so it would be a great achievement. 
We have to build and grow into it. I think there's a growing process to winning trophies and you have to try and build your team and Club up to get to a level where you can be competitive in all the competitions. For example, I wouldn't like to win the Carabao Cup, but find myself struggling at the bottom end of the league. 
I think that being a good league side is really, really important for any Club, partly because of your placement and partly because of the money that's at stake for your league position, and I think for your supporters who come to all the games and pay for your season tickets, the cup competitions are hugely important, but I still see league football as your main job.
We've been prioritising the whole way through. We've been doing it from the first game; with the teams we picked against Manchester United, Manchester City and in Europe, we've tried to prioritise. The league is always really important. 
I would love to be a trophy-winner at West Ham and I'll do everything I can, but we're in all the competitions at the moment and we've got to try and stay in them, and prioritise our players for the games to which we think our players are best suited.