West Ham United manager David Moyes believes his team is relishing the different kind of challenge that has faced them over the past year or so.
Having finished sixth in the Premier League last season, they have secured top spot in UEFA Europa League Group H with a game to spare, alongside sitting in the Premier League's top four with nearly a third of the campaign played.
With a trip to champions Manchester City awaiting them on Sunday, the boss has said the task now is to maintain the incredibly high standards they have set and make sure there is no dropping from that peak.
And while acknowledging that the Citizens will provide the sternest of tests at Etihad Stadium, he is confident the Hammers can stand up to it.
It's a real challenge for us to keep ourselves up there, but the team has the mentality for it.
The spirit and the mentality of the players is huge, it really is, and they've changed dramatically. We've got a lot of players who have played at a really high level, who have played for their countries, we've got young players on the up, we've got senior players who are experiencing some of the best moments in their career.
So there's a whole group of us, and I include myself and my staff in that, who are seeing it as a real challenge and something we went to hang on to. We're enjoying it,. But I've got to be honest, I wish [we were saying this] after 35 games of the season and with only one or two games to go, because it would mean we were much closer to being at the top end of the league or maybe qualifying for a final of a cup.
I have to give great credit to the players, they've been terrific.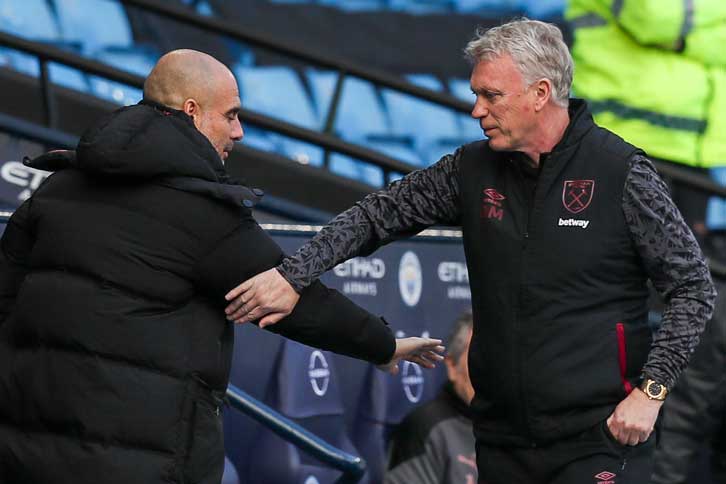 I watched Manchester City's game against Paris St Germain on Wednesday and it was an incredible game of football, probably one of the best I've seen in a long time. The standards, the levels were up there with anything we've seen.
Mick will probably cause them different problems than Messi would do, but I think Manchester City have shown exactly what they are.
Everyone is trying to aspire to be at the level of Manchester City, but that takes time and I don't think you can do it immediately. I don't think Manchester City have done it immediately. 
They've taken a long period [to build] and they've got a great team and a great manager as well.
We did get the result against them in the Carabao Cup and it shows how we're building.
We did knock them out – we didn't beat them [in 90 minutes], we knocked them out on penalties, we have to be right with that, but I do think we've shown signs against them.
We went up there last year and made it a tough game for them. We're trying to get closer to them, but as you can see, even with the players and the levels of Paris St Germain it's very hard to stop Manchester City. We know how difficult the game is going to be.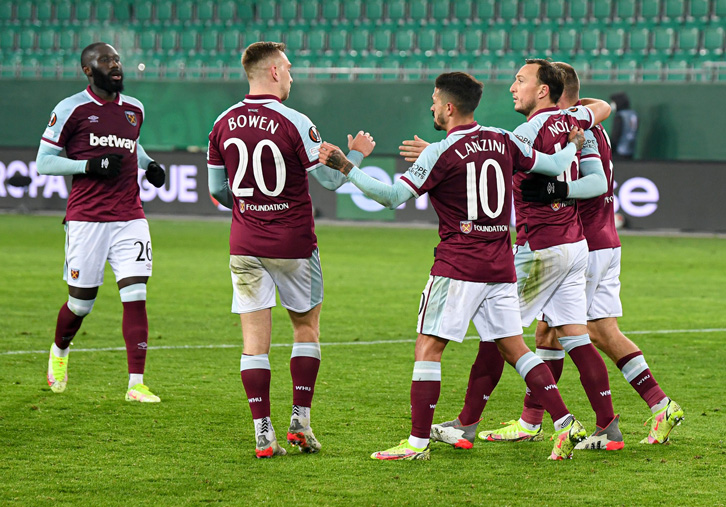 Our task now is to be relentlessly consistent.
We've tried to make sure we don't get ahead of ourselves in any way, but on the other side we're not going to sit about and be miserable. We're doing really well so I'm not going to hide that.
There's been a huge transformation at West Ham, the players are hugely instrumental in that because of how they've performed.
I think there's a great feeling around the Club, I think the supporters are seeing a West Ham team which are maybe a bit closer to the way they'd like it and that thrills me because that's the job as a manager to do that.
The job now is to keep that going and be consistent and reliable in how we perform and I'm hoping the players can continue that.
I don't know if we'd take it as any more than a one-off result [if we were to beat City], but I think Manchester City and Liverpool, along with Chelsea, are the teams who are consistent. 
Finally I was delighted to give a debut to young Sonny Perkins at Rapid Vienna on Thursday night.
You know the thrill for the boy and you can see how much it means to them. I've given a few boys – 17-year-olds, 16-year-olds in some cases – their debuts and possibly if we hadn't conceded the own goal against Genk in the last few minutes when we drew 2-2, I might have started Sonny at Rapid Vienna.
He's been doing great for the U23s and in general our U23s have started the season very well so if I can I'd like to reward some of the young players.