West Ham United manager David Moyes hopes his team's FA Cup fifth-round tie can see them build on strong efforts in the Premier League, UEFA Europa League and Carabao Cup so far this term.
The Hammers travel to Southampton on Wednesday evening with a place in the quarter-finals of English football's illustrious knockout competition at stake.
Having reached the quarter-finals of the Carabao Cup and the Europa League round of 16 already this season, as well as sitting fifth in the Premier League table, Moyes spoke in his pre-match press conference of the importance of reaching the latter stages of every competition on a consistent basis.
With that in mind, a trip to St Mary's Stadium to face Ralph Hasenhüttl's in-form Southampton side will prove a testing examination of the Irons' trophy-winning aspirations.
At a wide-ranging pre-match press conference, Moyes spoke about his targets, the Saints and West Ham's Club-wide support for Andriy Yarmolenko, who was granted compassionate leave last week in response to the ongoing crisis engulfing his home country of Ukraine. 
 
Let's be fair, every manager wants to win a trophy. We're no different from everybody else.
I look more at how we're going to continue to try and build the Club, and I think we're going to have to keep getting closer to winning trophies. 
We're on a good track at the moment, but I think the next couple of years will be an important time because we're trying to build a side which is getting stronger. 
If we can do it sooner, great. We've made a really swift move from a team round the bottom of the Premier League to a team closer to top end, which is terrific. 
We're involved in Europe, had a decent run in the Carabao Cup, and we're trying to get a good run in the FA Cup if we can as well.
 
I think Southampton's form recently has been very good. 
They played excellent at Tottenham the other week there. They're in a good vein of form, they really are. The Premier League, at different times of the season, does that – you have teams who are in-form and maybe teams not quite so good.
We've had interesting games against them over the years. Southampton came out on top in the last Premier League game against us here, so we know it's going to be a really difficult game.
A good run of form keeps you in there all the time. You keep your momentum going. Southampton have been on a very good run of form. They've recovered from a bit of a difficult start and I think they're doing very well at the moment.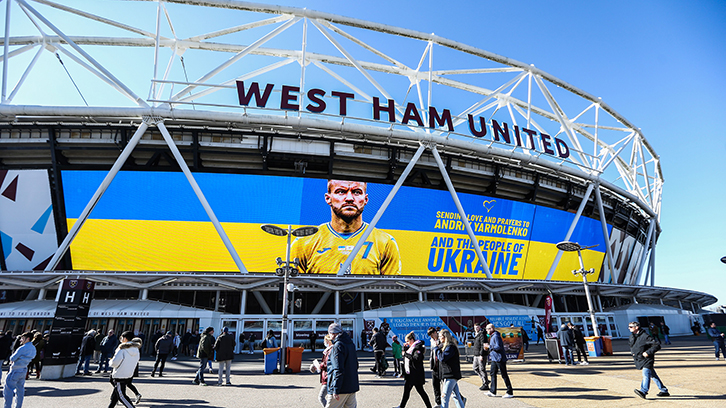 Andriy Yarmolenko came back in and did a bit of light training yesterday. I had a good chat with him.
Obviously, he's really, really upset with the whole situation, which many people are, especially people from Ukraine, so we won't rush him. I've asked him to come in today and see how he feels. If he feels fine and up to it, he'll travel with the team. If he doesn't, we'll give him some more days off.
It's a daily ongoing thing. Things can change very quickly, but we'll give him the chance to go with his own feelings.
He's got lots of family members and friends in Ukraine, and he's worried for everybody. He realises the difficulty that's going on and he's a long way away and can't do a lot about it. He's upset, the boy, and quite rightly so.
It's a really difficult situation for us as well, because we'd like to offer him more help or more support if we can. 
I think it's the same with the world. I think the world's trying to give Ukraine as much support as they can. All we can hope is that the sanctions, somewhere along the line, start to take their toll on Russia, because none of us want to go to war with any country.
Us personally, with Yarmolenko, we're trying to deal with him. We're speaking to him most days. 
I have to say the players at the Club were great with him yesterday. They were trying to get him back in and integrate him, and make sure he felt really welcome and that we were thinking about him and his family. We just have to try and support him the best we can.
Football is such a powerful tool all around the world. Every country and every continent watches the Premier League and the UEFA Champions League, and because of that I think it's really important that we take action and make sure they [Russian teams] are isolated completely. I'm not a politician but that's how I feel about the football side.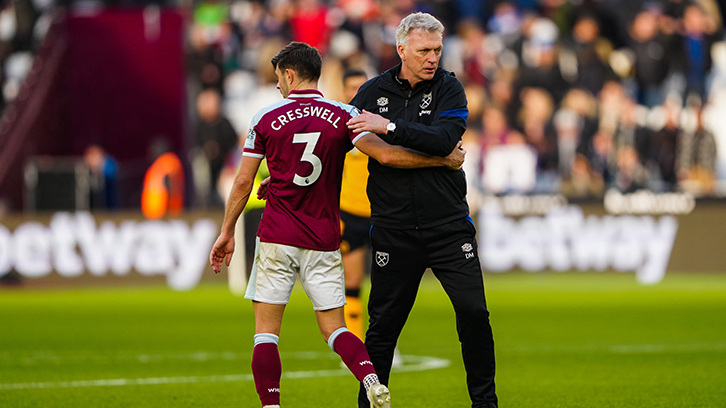 A lot of clubs didn't buy players in January for different reasons. 
We were very serious in trying to bring players into the Club in January, but for different reasons it didn't happen.
We know we're a little bit shorter than we'd like to be. The squad I've had at the moment has done a brilliant job in the last two years and I have no reason to think they wouldn't do a brilliant job in the next three months between now and the end of the season.
 
Every Football Club wants to reach those heights [of competing for trophies regularly] – not just West Ham. 
A lot of clubs have had big falls from grace, really big clubs who dropped down to lower levels.
Here, since we've come in, we've had a really good year. We've been involved in the quarter-finals of the Carabao Cup, we've now got to a good stage of the FA Cup, and we're in Europe again. We're trying to fight on all fronts here.
The Club's doing a great job. We hope to strengthen. We hope to be able to do even better in years to come.
We want to be more around the Cup competitions, but even through history, you tend to find it's been the top teams who have tended to win the competitions – but not always.
We have to try and get ourselves in a position where we've got more of a chance of getting to semi-finals and finals and hopefully winning them as well.