His first-team debut might have only been slightly longer than four minutes – but for 19-year-old Dan Chesters, Thursday night marked the culmination of an eleven-year journey.
With his team 3-0 up against KRC Genk in the UEFA Europa League on Thursday evening, the attacking midfielder received the call that he has dreamt about since starting out at the Academy of Football as an eight-year-old.
Given a roaring welcome off the bench by the Claret and Blue Army, Chesters, who is more accustomed to development football's more modest attendances, suddenly found himself playing the game he loves in front of tens of thousands of supporters on a European night.
A softly-spoken, but determined, character, Chesters immediately demonstrated his calibre of character by endearing himself to the West Ham faithful, chasing back and winning the ball on two occasions to their acclaim.
It was the perfect end to a day he will never forget – a day that started with an unexpected message on his phone on Thursday morning!
"I'm speechless – I'm lost for words," Chesters beamed, speaking to West Ham TV.
"I was training [with the U23s], and I got a text to come over to the hotel in Stratford. I thought I was just going to be in the squad, but I got on and… it's amazing!
"To be fair, the crowd was hyping me up and giving me lots of encouragement. I was excited to get on the pitch. 
"When we went to 3-0 up, I was like 'I think I might have a chance of coming on' – and then the manager gave me the shout, and I'm just thankful for the opportunity. He said 'just try and create an impact – and have fun.'
"I had to show what I'm good at, but I only had four minutes, so I just tried to run around and do my job for the team."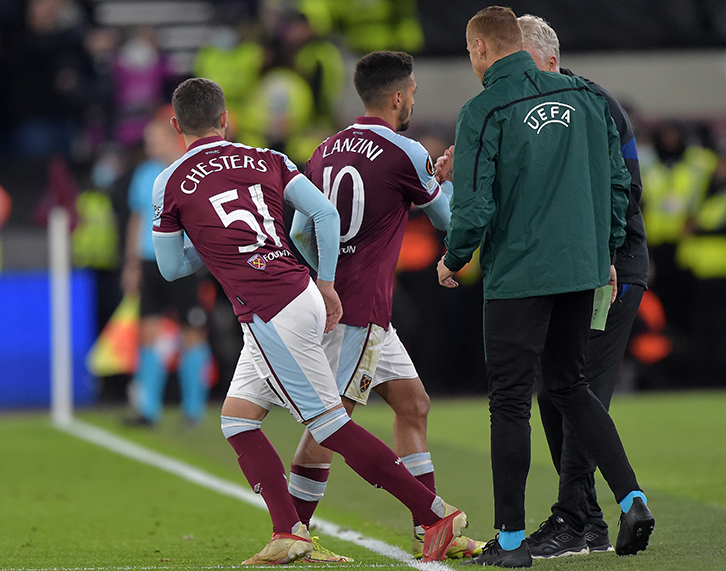 A versatile midfielder who grafts to regain possession, Chesters also has the movement and quality needed to retain it and then pop up to create something – talents that have stood out from an early age.
The Hertfordshire-born playmaker started out at West Ham at the age of eight and, by 15, had impressed sufficiently to make his debut at U23s level against Liverpool in February 2018 in front of one of the on-looking Steven Gerrard.
Continuing to make a significant impact at U18 level over the next two seasons, Chesters had more than earned his first professional contract in the summer of 2020.
A more challenging season ensued last year as the teenager adapted to the rigours of regular U23s-level football, but Chesters, having ended his season with an injury, put in extra time at Chadwell Heath during the off-season in a bid to be fit and firing again in the new campaign.
After recording three assists and a goal in his first ten Academy games this season, that hard work has clearly paid off and helped him to make an impression on the first-team coaches and manager.
The result was certainly a pleasing one for a youngster who said, in pre-season, his goal for the 2021/22 campaign was to "see if I can make the first-team bench before the end of the season"!
"I think Nobes kept trying to go down the right-hand side to try and get me on the ball as much as he could!" Chesters laughed. "I'd like to thank him as well. 
"I'd like to thank all my family for helping me get here. My Mum and Dad have always taken me to training, and I'd like to thank my girlfriend, because she looks after me a lot.
"I'm just over the moon – I'm lost for words."
As for immediate future, Chesters is hoping to showcase more of his exciting potential when West Ham United U23s play host to Manchester United U23s in Premier League 2 at the weekend.
He smiled: "I just can't wait to play on Saturday and hopefully score a goal or make an impact, and hopefully I'll get the call-up and be on the [first-team] bench again soon."