Boy of '86 Alan Dickens tells long-serving Evening Standard correspondent Ken Dyer this season has a similar feel to that which he experienced on the way to finishing third all those years ago...
The general consensus is that this marvellous West Ham United team is the best for well over 30 years.
Back in 1985/86, I was lucky enough to be covering the Club for a provincial evening newspaper and watched every minute of a season which finished with the Hammers finishing third in the old First Division, just four points behind eventual winners Liverpool.
Someone who played all but one of those enthralling games was midfield player Alan Dickens, who made more than 200 appearances for West Ham between 1982-89.
Alan is now a Season Ticket Holder, along with his two sons, Luke and Sam and we had a talk before he and other former favourites performed their ambassadorial duties at a recent home match.
"I only missed one game in that 1985/86 season and that was Aston Villa at home," recalled Alan. "I was badly concussed the week before against Arsenal and felt really ill, so I missed that match.
"The team beat Villa 4-1 and I thought I might not play in the next game against Ipswich but luckily for me John Lyall brought me back so that was the only game I missed during that memorable season.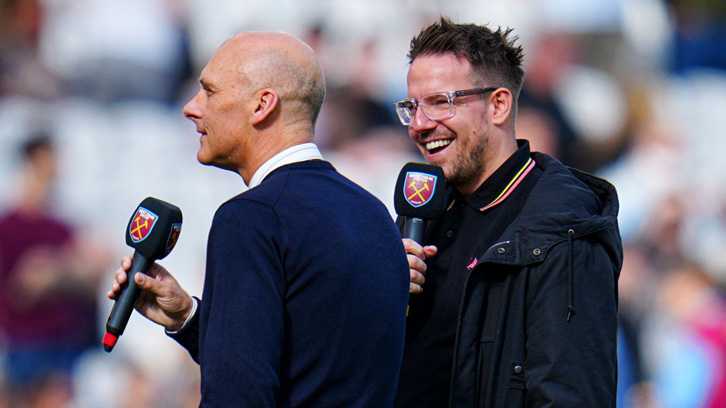 Alan was not exaggerating. Nine successive wins in the space of two months propelled them up the table and raised hopes of the ultimate title triumph.
"Everyone got on well, Alan Devonshire was outstanding and a big part was the mentality of our two signings, Wardy and Frank," said Alan. "Before they came maybe we were a bit fragile and sometimes, if things were not going well, you could feel the anxiety spreading.
"Those two dragged us along though, a bit like when Carlos Tevez joined West Ham.
"It's similar to this current West Ham team. I'm a Season Ticket Holder and I've been watching this team develop for 18 months now. As a long-time Hammers' fan, you're sort of waiting for it to go wrong – but it hasn't!
"If Declan Rice and Michail Antonio hadn't been injured for a few weeks last season, the team would have made the Champions League, but we've pushed on since then and it's pretty amazing at the moment.
"It's interesting watching this team. Against Spurs a couple of weeks ago, we dropped off sometimes and you looked at the way we were set up and I thought 'Best of luck trying to get through that defence.'
"Then, all of a sudden something happens and West Ham will go and press the ball, they'll nick it and then there are three or four going forward and looking likely to score.
"Declan Rice is outstanding. Midfield players now are different to when I played. We'd have one sitting and one breaking a little. With Declan though, it's like having two players in one.
"When he passes, the ball pings off his foot and when he breaks, he looks majestic.
"He's already one of the best and he's still only 22!"
So, where does Alan believe this current West Ham team can finish? Can they replicate the achievements of the Boys of '86 and secure a place in the UEFA Champions League in the process?
"I thought maybe we would finish around fifth or sixth, as we did last season but now? Let's aim higher!" he told me.
"As a West Ham fan I'm frightened to say it in case it all goes wrong but – whisper it quietly – I do think we have a chance of making the Champions League!
"It's a tough schedule of matches but we seem to be managing it well so far.
"It's exciting and one of my sons reckons we're going to win the quadruple! He may be getting carried away but whatever happens, we're all looking forward to every game."
Alan though, stops just short of comparing that exceptional team of the mid-1980s, to the present one.
"The football is so different now," he said. "This team don't play a front two, Alan Devonshire and Mark Ward would be a little wider rather than tucking in, our full-backs never really went – Ray Stewart and George Parris would stay – we didn't play out from the back as much, so I think to compare is really difficult.
"They are good memories, though. That season was the longest run I had in the team and when it's going well, you just want to keep going."