Jarrod Bowen hailed West Ham United's UEFA Europa League quarter-final second-leg triumph at Olympique Lyonnais as the best night of his footballing life.
The forward capped a sensational evening in France with another outstanding goal – his 15th of a phenomenal season – to complete a 3-0 victory that sent the Hammers soaring into the Club's first major European semi-final in 46 years.
Speaking to West Ham TV with a beaming smile on his face at the Parc Olympique Lyonnais, the No20 hailed his team, his Club and its supporters and looked forward to a last-four clash with German side Eintracht Frankfurt – the same opponents the Irons defeated at the quarter-final stage on their way to the European Cup Winners' Cup final in 1976.
Jarrod, we won't bore you with the 'how does it feel to go from non-league to Premier League to Europa League' question again, but just how good does it feel after that?
"It's just getting better and better. I wouldn't have dreamt it eight years ago or whatever it was [when I was playing non-league football]. It's just madness. My old man was here and it's just one hell of a journey."
Was that one of the best games you've ever played in?
"Ah, it's the best night of my life, for sure! Like I said before about missing the Sevilla game, when I was there but I wasn't there if that makes sense, to do it again tonight away from home, seeing the fans, seeing the way we got their crowd rocked, it was unbelievable."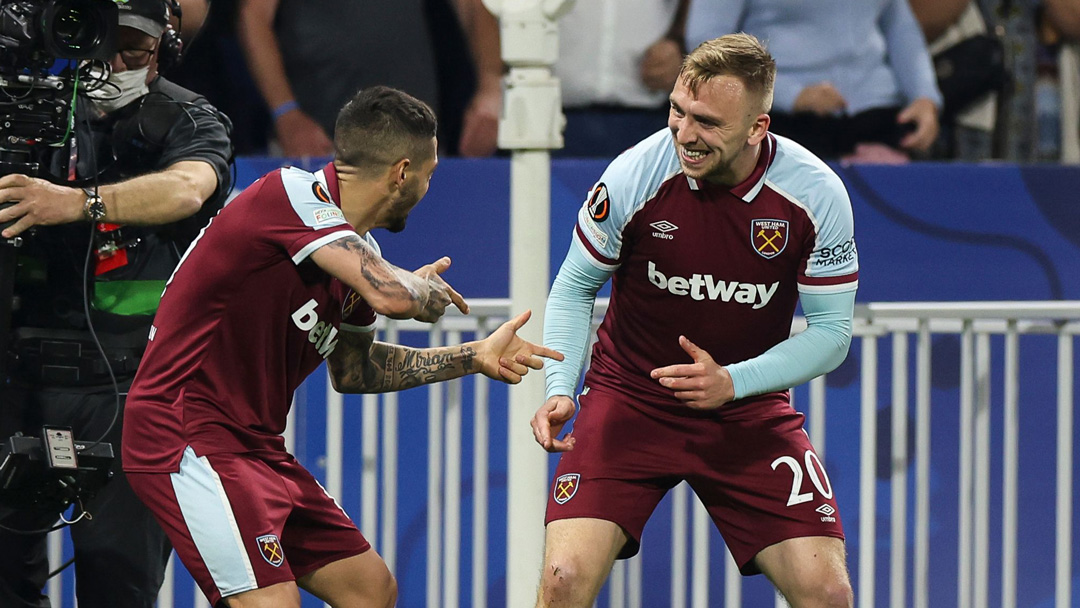 What a goal from you again, and a goal that sums up West Ham, devastating on the counter and a clinical finish from yourself?
"We knew the way they defended and we knew they left a lot of space and I was there. It was on my right foot and credit to the coaches and everyone who puts the work in because there are a lot of people who think it's easy, but on your weaker foot it's hard, but I knew when I struck it, it was in the back of the net."
It's credit to you as well, because you have to have the belief and ability you can do it, and we're seeing more and more that you can do so many more things on the pitch?
"I think that's it. For me, playing off the right and being left footed, everybody thinks 'he just wants to come in off the wing on his left foot', so to put that work to be able to do it on my weaker side, I'm reaping the benefits like I did tonight."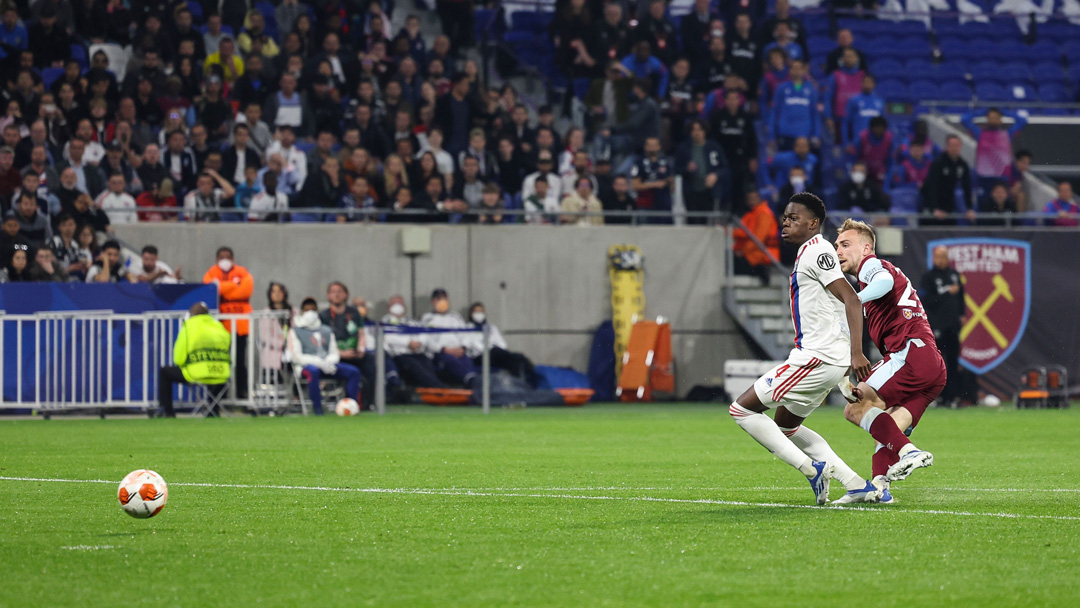 Those scenes on the pitch afterwards show the unbelievable togetherness in this group?
"It's just pure joy, pure passion, pure emotion. The fans were so high up but we could still hear them when we came out, so to do it for them away from home and win 3-0, what a special night."
So, we're in the last four. There is a saying that 'no-one remembers the losing semi-finalists' and we don't want to be losing semi-finalists, do we?
"No, we don't want to be losing semi-finalists. We respect the opposition that we've got. We've beaten two great teams so far [in Sevilla and Lyon], but Frankfurt are a great team as well, as to beat Barcelona who were probably favourites to win the whole thing, we're going to respect them. But we've got to be respected as well, with the teams we've knocked out and the manner in which we've done it as well. We've got a lot of Premier League games coming up now that we want to focus on because we want to finish in the European places again, and what an opportunity for us!"