On another special night at London Stadium, Jarrod Bowen was the man for the massive Hammers moment. 
The 25-year-old was back in the West Ham United side in Europe after missing the round of 16 match against Sevilla due to injury. 
And he found the net yet again, dragging the Hammers forward after Aaron Cresswell had been given his marching orders for a challenge on Moussa Dembélé just before half-time. 
The forward, who was lively throughout, found the net after Jérôme Boateng made an error that allowed Bowen to pounce, with his effort hitting the defender and looping over the stranded Anthony Lopes. 
And Bowen was delighted with the fight that his team showed to make sure everything is all to play for in the second leg at Parc Olympique Lyonnais next Thursday night.
"We weren't at our best this evening, but it's all still to play for," Bowen told BT Sport. 
"The manager said at half-time to keep our heads because we weren't happy with the decision obviously. It was a case of staying in the game. We did, went 1-0 up and it was then just about defending the lead. It was always going to be difficult. It is still all to play for."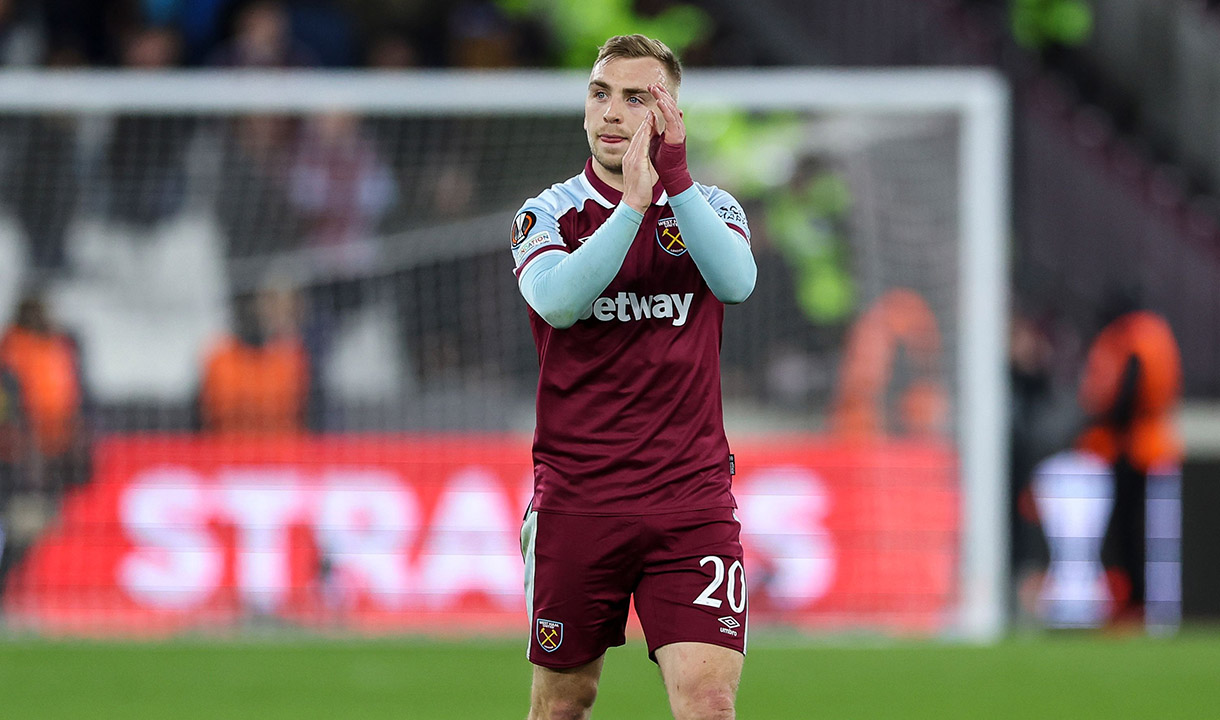 The decision of referee Felix Zwayer to send Cresswell off threatened to throw the Irons off their scent but, as we've seen many times with this West Ham United team, they have a never say die attitude – and Bowen's goal got them off to a flyer at the start of the second half. 
"I was just trying to get in and around the box [for the goal]," he added. "Luckily it fell to me and got a nick off the defender and went in. To come back and get two goals is for the team, which is what I want to do. We weren't at our best but created chances. We step up another level next week and we will be dangerous.
"I thought it [the red card] was cheap, if I'm really honest. I only saw it in real time, I haven't seen it back. It looked like he [Dembélé] was going away from goal and it is a tiny touch on the arm. The referee has made his decision and we had to think quickly with ten men. I thought we did well and yes we've conceded a goal, but with the quality they have. It is all to play for next week."
Tonight, again, the atmosphere was unbelievable
Bowen has had to watch in from the sidelines as the Hammers advanced beyond Sevilla to reach the quarter-finals, but he got his chance this time around after recovering a heel injury that kept him out for four matches in total. 
And having felt the special European atmosphere from his seat against Sevilla, he was pleased to be able to feel it from out on the turf at London Stadium. 
"I said before the Sevilla game when I was here watching, it was an unbelievable night," he said. "But as a player, you want to be on the pitch, you want to be having these moments. The boys did superbly to get through the round before.
"Tonight, again, the atmosphere was unbelievable. It was killed a little bit with the red card, which we knew was always going to be difficult. I'm sure we'll take a lot of away support on next week and try and get into the semi-finals."
A draw on home soil means it's a winner-takes-all affair out in Lyon next week, and Bowen believes that the Hammers can feel confident after their showing in difficult circumstances this evening. 
"We're definitely going into the game with confidence. We weren't at our best tonight, nowhere near it in my opinion, but we still created chances – so I think if we step it up another level again next week, we'll be dangerous," he concluded.