What have Manchester United, Manchester City, Tottenham Hotspur, Sevilla, Olympique Lyonnais, Rapid Vienna, KRC Genk, RSC Anderlecht, Viborg FF, FCSB, Silkeborg IF, Leeds United, Wolverhampton Wanderers, Everton, Brentford, AFC Bournemouth, Nottingham Forest, Charlton Athletic, Stockport County, Doncaster Rovers and Aston Villa all got in common?
Ben Johnson has helped West Ham United keep a clean sheet against them all.
In the 81 games the versatile defender has appeared in, the Hammers have conceded just 64 goals and kept 26 clean sheets.
In his 51 Premier League games, West Ham have conceded just 40 goals when Johnson has been on the pitch, kept ten clean sheets and not conceded on 14 more occasions after the No2 has been introduced as a substitute.
That means, in virtually half of the 23-year-old's appearances, the Irons have not conceded a goal.
On average, West Ham only concede a goal every 87 minutes when Johnson is on the pitch.
For a player who has been a Hammer since the age of seven, graduated from the Academy of Football at 18, made his senior debut a month after turning 19 and has become an established member of the first-team squad, those statistics make impressive reading.
Before heading off on international duty with England U21s this week, he sat down to look back on the milestones he has passed in his 16 years in Claret and Blue...
My first footballing memory is of playing in my back garden.
I had one of those Samba Goals, a portable goal, and used to just shoot the ball at that all the time!
I remember one of our close family friends used to come round and their son, Simon, who was a teenager and a bit older than me, used to go in goal.
I was just a young kid and I'd pretend to be Ronaldinho and try doing no-look stuff or to recreate his toe-poke goal against Chelsea, all of that!
I'm still friends with Simon now, and he comes to games, but he must have thought 'what is this kid doing?!' at the time!
My first team was called Develop FC, who were based in Loughton.
My Dad was the assistant manager and I started playing for them at the age of five or six. We used to play all over the area, in Romford, in Ilford, in Newbury Park, I remember.
I didn't play too much after I started training at West Ham, but I used to enjoy the competitive side of it.
I played all over the pitch – centre-back, midfield, up front – and I am still in touch with quite a few of the boys I played with back then at Develop. A lot of us went to school together or played against each other, so we still speak every now and then.
My first memories of West Ham United FC, I remember being at Chadwell Heath and training, when I must have been seven.
Jimmy Hampsheir used to take the sessions with Ian Yuill and I remember we'd play games on the indoor pitch against all sorts of teams on Sundays and in the evenings.
Those were my earliest memories of West Ham and they didn't really sink in as I was on trial until the age of nine, so I was there for a good few years before it all came together.
Jimmy had spotted me playing at the Chigwell Met Police ground. West Ham had one of their Community courses and I went there for the whole week and I was invited to come and train at Chadwell.
Jimmy taught me a lot of things that I still do now. What he said and what he coached still come into it and what you learn between the ages of seven and ten are so important to take it all in. He'd make it fun and understandable for us, so that was really good.
Trevor Lewin was my coach at Under-9s and he's still at the Academy. Mark Newson was Under-13s, then Danny Searle helped me when I was in the Under-15s and Under-16s, and then Mark Phillips and Steve Potts in the Under-18s, then Liam Manning and Dmitri Halajko in the Under-21s.
My first training session with the first-team squad was in 2017, when I was a first-year scholar, so that's six years ago! I remember it was the first season at Rush Green, too.
I'm still young, but I've been around for time!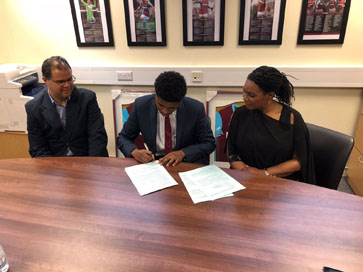 My first friends at the Club have remained my friends.
The likes of Mason Barrett, who is at Wealdstone now, Alfie Lewis, who is with Dundalk in Ireland, and Ben Wells who is with Crawley, I've known them since the age of seven.
Our Dads are all still in contact and go out together.
I've known Conor Coventry since I was ten, so we've been together for 12 years and have a really strong bond. We literally get on so well, we know what each other is thinking, what each other is going to do and how we're going to play.
I'd obviously love to continue playing with him, hopefully at West Ham. That would be cool.
Now, obviously, Flynn Downes has become a good friend, and I've known Declan Rice for a long time.
Dec was so ahead of us, although he was only a year older, he used to play-up all the time, so I hardly saw him for five or six years! Then I got to the first team and we've become good mates over the last few seasons.
A European trophy would be a great way to finish the season
My first game for West Ham United was at Manchester City in February 2019.
It's a mad memory. I was only just turned 19 and Manuel Pellegrini told me two days before the game that I'd be playing in the game.
I didn't really feel nervous. It was weird. I was just so excited to play, so happy and joyful to be part of the first team and thought: 'Wow, this is sort of where it starts!'.
Getting that experience of being in the first-team dressing room and playing was such a weird feeling for me and then to play against Man City I didn't really think about it and I wasn't daunted. I just saw it as a football match and I was playing in it.
I was up against Rihad Mahrez and I did my best. The intensity of the game meant I got cramp and went off after about an hour.
I'll never forget that night!
My first home game against Watford in July 2020 could not have been any different.
I'd had two hamstring injuries and not played for the first team again since my debut. It had been a long, hard road to fitness and to get my form and earn another chance, and then it arrived.
There were no fans at London Stadium due to the COVID pandemic, and there was a lot of pressure on the game as we were down the bottom of the table and needed points to try and stay in the Premier League.
The pressure was very different from the Man City game. Again, I wasn't really nervous. I was just happy to be involved and to get an opportunity to show what I could do, then I was so relieved when we got the win we needed.
Those are the games you want to play in because they mean so much. It was one of our biggest games in our recent history.
My first goal was against Brighton at home in December 2020, and again there weren't any fans present at London Stadium due to lockdown restrictions.
I actually didn't play particularly well in the first half and we conceded just before half-time, so I thought I was coming off to change the shape, but the manager kept me on.
About 15 minutes after half-time, I scored and it was a mad feeling. When the ball came to me, everything just went into slow motion and I just concentrated on hitting the target and it went in.
Manu Lanzini did so well to slide and set me up and the finish itself wasn't hard, but obviously I don't get many chances to score goals, so it was a big moment for me and I had to focus!
The lads were buzzing for me and they came across and celebrated, and it was great to have lads like Cress and Fredo (Ryan Fredericks) there, as they know the journey I've been on.
I scored my first away goal at Aston Villa in October 2021.
I cut in on my left foot and a lot of times in training I scuff it, so I just made sure I connected well and it went in the bottom corner.
Obviously it was a great moment and everyone remembers the celebration. The boys urged me to do it and it was just a bit of fun.
We went on and won that game emphatically, which was great, too.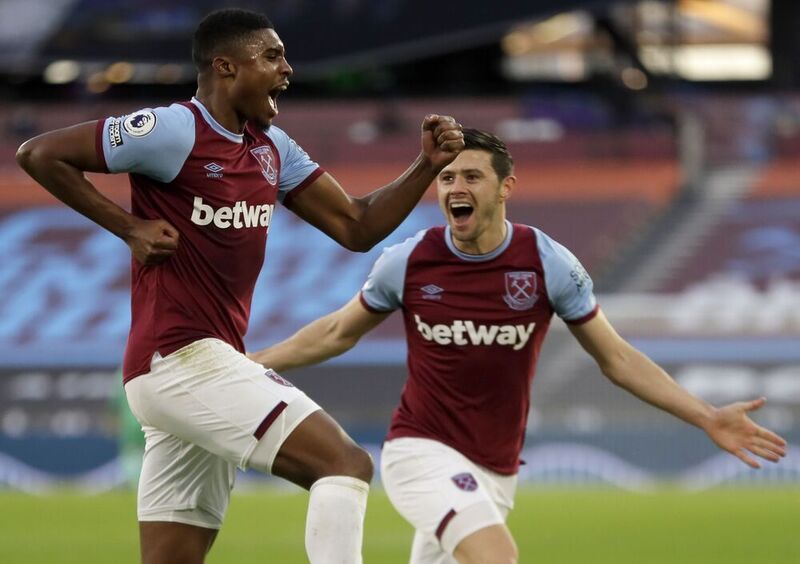 My first European game was against Rapid Vienna at home last season.
It was our first tie in Europe for a long time and it was just mad. It felt so different to a Premier League game or Cup game, with the fireworks and light show and music and the fans had just come back to fill the stadium again.
Europe has given us lots of different experiences over the last two seasons, with the traveling and the different challenges posed by the styles of teams we've played against, with their structures and the way they keep the ball.
That night was special, with Dec scoring and Nobes celebrating with him.
I was fortunate enough to go on and start a lot of games, including both legs against Sevilla and matches against Lyon and Frankfurt.
I was gutted when we didn't go all the way, because I felt we had the quality to win it. We're in Europe again this season, though, and I hope we can win this one.
A first European trophy would be a great way to finish the season.