Łukasz Fabiański celebrates his 37th birthday today.
The Poland goalkeeper has become a mainstay of the West Ham United side since first arriving in east London from Swansea City in the summer of 2018.
Now, approaching 150 appearances in Claret & Blue and with the 2019 Hammer of the Year under his belt, he has cemented his place as one of the Club's most outstanding goalkeepers of the modern era.
Here we take a look at his journey to the top in our Backstory series.
My hometown is Słubice in Poland, which is where I started.
It's a small town that's actually right on the border with Germany. It's on a river called the Oder and on the other side of it you have a German town called Frankfurt – not the city, but another town with the same name –and it basically looks like one big city that is split by the river.
Obviously in the early 1990s the relationships between the two countries weren't as good as they are now, but some people called the whole area 'Słubfurt' by taking one part of the name of the Polish town and the other part of the name of the Germany town and they are working to try to build that relationship. Business-wise, everything was focused on making it work as one big city.
I can remember as a kid waiting in lines at the border to get to Germany as some of the products you could get there, you couldn't get in Poland.
We then started to become more independent as a country after the Berlin Wall came down and really started to grow and become a free country in the early 1990s, so those were really interesting moments.
If you look at Poland now, we are a relatively young country living under our own rules.
As a kid, Słubice was really good for me when I was growing up because I felt free, I was always able to do everything, always outside, always playing football.
It was a time when the rebuilding of the country started, so there were things like building sites where we used to go to play. We used to cycle to the lakes, too, so it was a free-spirited childhood and I really enjoyed it.
My family allowed me to do this, but they also played a massive part in helping me to grow up and to decide to follow my career in football.
I can remember by Dad, who was a taxi driver at the time and he still is, and he really supported me and took me to play for the regional team. He was always there for me.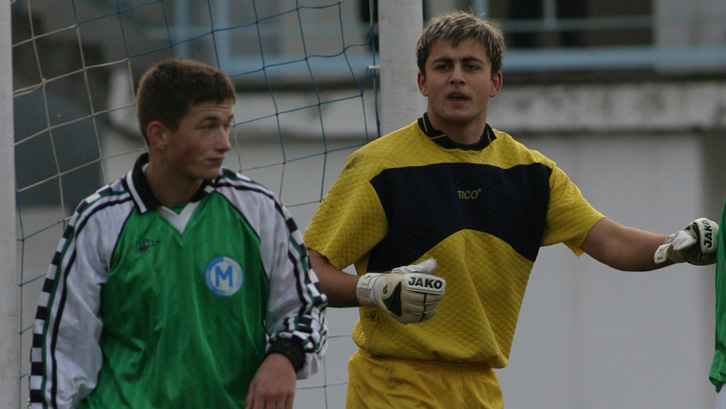 My Mum would never stop me, apart from one time she stopped me going to training because my grades at school were not so good!
I remember I had one important conversation with them when I was about to finish my primary school at the age of 15 and we had a chat about whether I would try to follow a career in football or whether I should follow other aspects.
I said to them I would like to give football a go and see if I could make it and they were very supportive, so we started to travel and look for more professional clubs who would maybe give a better future in football.
Almost from the start I played as a goalkeeper and I joined my local club Polonia Słubice and I was there from the age of ten until I was 15. They helped me to develop some basic things when it came to becoming a goalkeeper.
From there, I went to three different places for a trial and I moved to a football academy called MSP Szamotuły, which was the one I liked the best.
In my first few days there, I watched the goalkeepers doing their warm-ups and I was amazed by their technique and I remember saying to my parents that was the place I wanted to be.
So, at the age of 15, I left home and it was more than two hours drive by car and I was basically living in a room with three other players.
At that time, this was normal for young players, but now every top club has their own academy. Back then, there were some independent academies who were well-known and young players looked at joining them more than joining bigger clubs.
I was there for four years, during which I finished my high school education. I spent the first two years playing for the academy then, while I lived there for another two years, I went on loan and played games for clubs in the Polish Fourth and Third Divisions – Lubuszanin Drezdenko, Sparta Brodnica and Mieszko Gniezno.
I would train for the week at the academy, then I'd travel on the train on Saturdays to play games, sometimes up to four or five hours. I was young, 17 or 18, and it was a crazy experience, but I really enjoyed it!
I don't think it would happen now, but luckily enough for me there was an understanding between the academy and the club who loaned me, so they understood the situation.
My parents were also on top of me and very demanding when it came to my education, so I continued to go to a normal school around my training and matches and I finished that.
We came up with the best solution possible for my education and to help me get experience playing senior football. 
The first big, big influence on me was the goalkeeper I watched playing for Italy when I was a kid, Gianluca Pagliuca. After watching him, I thought I would like to try being a goalkeeper.
Then, in my local environment, my neighbour in my hometown was older than me and he played as a goalkeeper for Polonia and he was the one who basically told me that the coach from the club was organising a little tournament between all the schools in Słubice to choose the next group of Under-11s for the club.
He asked me to organise a team from my school and play in the tournament and the coach chose the players who, in his eyes, should follow football, including me. He also organised my first goalkeeping training sessions.
My older brother also played in goal in a five-a-side tournament when I was a kid, so I think that had an influence on me.
There was also a goalkeeper playing for the senior team at Polonia called Dariusz Biały and I really liked him. I was a ball boy when they played in the Third Division in Poland and I remember once the goalkeeper from the away team gave me some gloves and I went in goal at half-time and I was very excited about it.
Little things like that made me want to be a goalkeeper!
At the age of 19, I finished my schooling and I signed for Lech Poznań.
I was there for a few months, but I remember playing one game for the first team in the League Cup, with the rest in the reserves, so I don't have much of a history there.
It's funny as the reason I signed there was because I had been on trial at Bolton Wanderers for two weeks when Sam Allardyce was the manager and Kevin Nolan was also there!
After Bolton, I went to Nürnberg for a few days for a trial, but neither worked out, so I was upset in the moment because I was really hoping on getting a chance abroad straight away.
I signed for Lech Poznań and, ultimately, I think things turned out in a good way!
Bolton was not my first trial in England – I also went to Southampton and Arsenal as well!
Southampton was crazy. Four of us from our academy in Poland went there for a week and on the very first day there was a situation in training when one of the first-team goalkeepers got injured.
Gordon Strachan was the manager and we had just walked out from the changing room and he said: 'We need a goalkeeper!' and someone said: 'There's one!' and pointed at me.
I remember I did really well in the small-sided games and afterwards Gordon Strachan said he would never say anything bad about Polish players, then of course he went to Celtic and signed Artur Boruc as his goalkeeper! That was a nice experience, but ultimately my parents said 'No' because they wanted me to finish my education, but I'll never forget it.
I also went to Arsenal after I had done really well for Poland in qualification for the Under-17 Euros. I was there for a few days and I remember training with some big players like Dennis Bergkamp and Robert Pires, so it was a massive moment for me.
I also had a funny misunderstanding with Arsène Wenger. He asked me how tall I was and I thought he had asked me how old I was and I said '85', meaning I was born 1985 and he looked at me funny and then left. I was wondering what he asked me and then I realised and I ran after him and told I was '88, meaning I was 1.88 metres and he laughed!
From that moment, I think they kept an eye on what would happen with me and a few years later they came back for me.
I was 20 when I joined Legia Warsaw, which is the biggest club in Poland.
I hadn't had the best feeling at Lech Poznań, but Legia put a lot of belief in me and they told me their plan from day one, which I liked.
I joined them in the winter time, Artur Boruc was their No1 and they told me Artur would probably leave that summer, I would play for the reserves and if I did well they would give me a chance, then it was up to me to take it.
They were very straightforward with me and I knew their expectations and that if I did well, the chance would come and it happened like that, Artur left for Celtic after six months and I got my chance.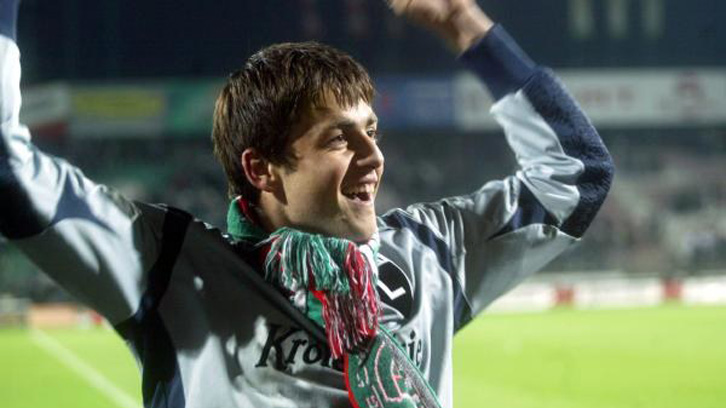 In my first year playing in the top division, I won the Championship, I kept a record 19 clean sheets in 30 games and got called up to the national team.
The second year wasn't as good. We finished third in the league, but towards the end of the season Arsenal came back.
I spent two-and-a-half years with Legia and really loved playing for them.
It was a big surprise when I first got called-up to the national team in 2006.
I had only been called-up twice and came on for two short substitute appearances, and I travelled with the Under-21 squad in Switzerland and when I got there I switched on my phone and it was going mad. I had been included in the squad for the World Cup in Germany and it all began!
Fifteen years on, it is all over, but I can say it has always been a massive honour every time I have been called-up.
I may not have always been the No1 goalkeeper, but I have always pushed and always been competitive, really pushing for the jersey and I've had some amazing times.
Obviously the most memorable moment for me was Euro 2016 when I played a big part as we achieved a massive thing by winning a penalty shootout against Switzerland and getting to the quarter-finals.
I loved every minute of it with the national team. It was something special.
I spent seven years with Arsenal, having joined at the age of 22, and the first thing I noticed was the massive step up in quality.
Maybe I wasn't really ready mentally or physically. I had some really good moments and some really bad moments and I struggled with some injuries and then some of bad performances which I found hard to recover from.
Put all those things together and it was a tough learning curve for me, but a great experience in all honesty because there was a point when it clicked in my head and I realised there were certain things I needed to look at and work on.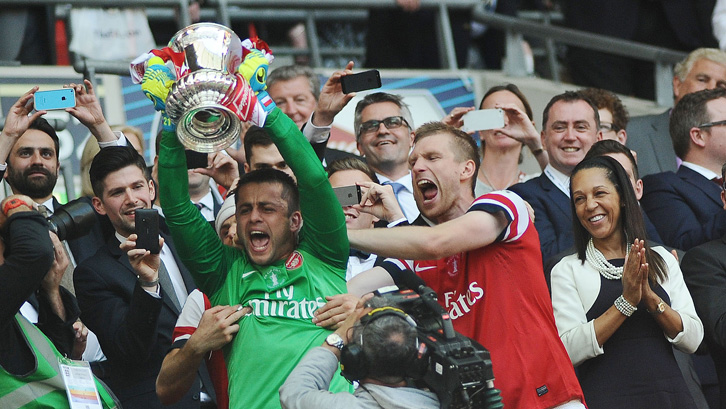 I felt people gave up on me a little bit, but there was one person at Arsenal, a physiotherapist called Declan Lynch, who really pushed on me and helped me to prepare, so that was probably the most important time for me as that relationship really helped me out.
So, even if I didn't play as much as I wanted in my last two years there, I felt I had reached the standard and of course I finished my time at Arsenal by playing a really important part in the club winning the FA Cup for the first time in nine years, which I really enjoyed.
Arsenal wanted me to stay with them in 2014, but I had made my mind up I wanted to try something else.
I joined Swansea City and until the end of my life I will be indebted to them for giving a chance to a goalkeeper who had been a No2 for a lot of the time and really doubted at his previous club.
For the club, their Chairman and their manager, I'll appreciate the opportunity they gave me until the end of my days.
I met some quality people and great goalkeeping coaches in Javi Garcia and Tony Roberts who really helped me to improve my game after leaving Arsenal and to develop myself as a goalkeeper.
The place itself is special and different. The people are more relaxed and Swansea is a very chilled place, so I loved every minute of playing for them, for sure.
After leaving Arsenal on a real high, I left Swansea after we were relegated in 2017. It's never nice to be relegated and I never want to experience anything like that again. I knew it would affect the club and a lot of people would lose their jobs, and we were responsible for something more than just results, so I tried to give something extra and really do my best and not let the people working for the club or the fans down, so it was a really emotional moment when we were relegated.
From what I can remember, when I signed for West Ham United, it was questioned by some, but I like proving people wrong because I've been questioned many times.
As a professional, you always have to challenge yourself and if you approach criticism in a good way it can really push you on.
I am calm and quiet about it on the outside, but I am determined to show people what I can do on the inside, and that's what always drives me and pushes me.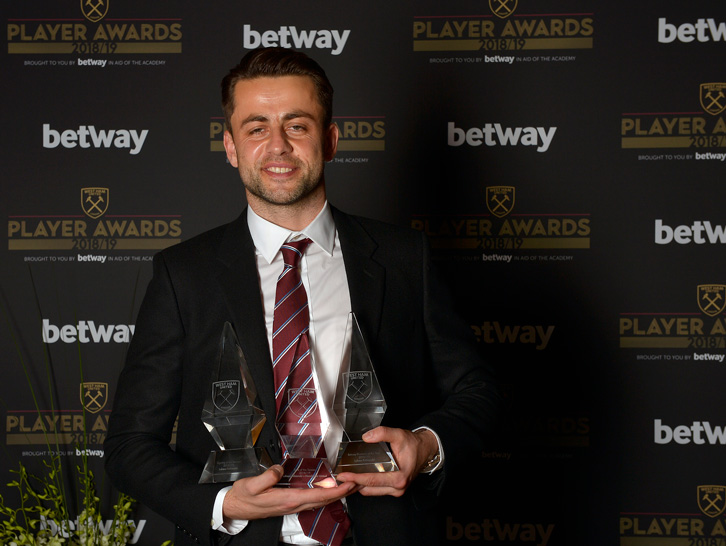 Since I joined West Ham, I've really loved the place and I've again been really luck to meet some great people, play with some great players and work with a great goalkeeping coach in Xavi Valero who has helped me develop my game to another level.
I have had some great times over the three seasons I have been here, winning Hammer of the Year, overcoming the big struggle against relegation and my hip injury, then enjoying a special season and qualifying for Europe. 
Now we have another challenge and as a professional footballer I thrive on these challenges and am pushing myself and the team to try and achieve something better.