From Zagreb to London to Manchester, West Ham United and Club captain Mark Noble have been backed vociferously all the way by the outstanding Claret and Blue Army.
And as his side prepare to face Manchester United for the second time in four days on Wednesday evening - on this occasion at Old Trafford in the Carabao Cup third round - Noble sat down with West Ham TV to reflect on seven days which have demonstrated just how far his Club has progressed...
 
Going to Dinamo Zagreb in our first UEFA Europa League game was fantastic. 
I thought the boys played great and it was lovely to get on for the last ten or 15 minutes and be a part of that, but the whole experience of travelling away and being in different cities… 
I thought it was a really nice way to start off our European campaign against a really good team, and to come away with a 2-0 win was very impressive.

We had a great following out there. 
A lot of my friends went to watch the game and it was fantastic. The boys went over and clapped and said thank you after, because we know how much money it costs and the travel involved in getting to places like that. 
 
I did say in my pre-match press conference that I didn't expect anything else because we knew we'd have our fans there. It was a great occasion, not just for the fans and the players but also for the Football Club that in my belief is playing football where it belongs.
Dinamo Zagreb a tough team and they've got a great record in Europe, and to go there – the manager made two or three changes – and play the way we did, have some new players playing who have just come into the Club, and to get a clean sheet, I thought was great for the lads. 
We handled the situation really well. Obviously Michy [Antonio] got a nice goal for him, a lovely little tap-in, and then Dec [Rice] scored a wonderful goal. That topped off a great night.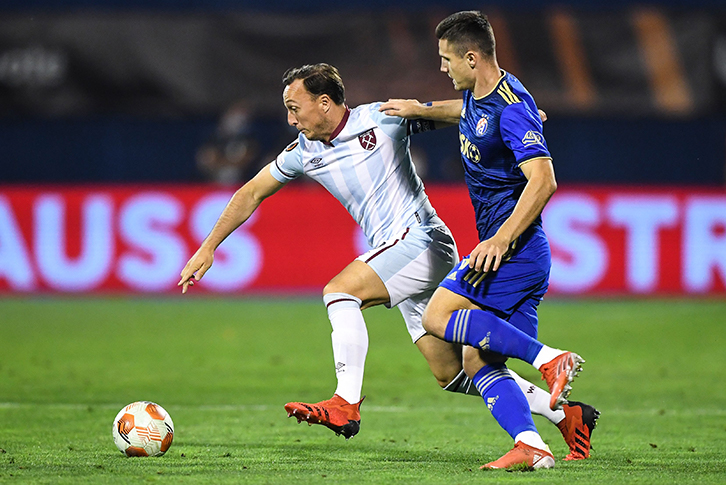 It was a quick turnaround to Sunday. 
We came straight back from Zagreb and stayed in a hotel together and trained on the Friday morning knowing that we were playing on the Sunday. The manager did what he thought was best to recover and I thought the boys were brilliant against a top, top [Manchester] United team. 
Obviously for myself it was a little bit unfortunate at the end, but looking back on it, when the manager asked me whether I wanted to take the penalty, I didn't even feel nervous – I was just so excited to do that. 
Obviously, missing hurt – but I said many years ago that when you put yourself in that situation and you take penalties, at some point, it is going to go wrong.
The thing I take out of it was that if the manager had asked me and I'd had said 'no', that I didn't want to take it… I can live with missing a penalty and having the sick feeling I had after, I can live with that, that's fine, but I don't think I could have lived with saying 'no' and regretting for the rest of my life that I didn't put myself in that situation. 
It would have been lovely in my last season to have scored, but as I said, I can live with missing – that's not a problem with me – but would I have been able to live with saying no and sitting there and watching somebody else take it, not knowing 'What if'? That would have haunted me for the rest of my life, so I take a bit of strength out of that.

I thought the lads were brilliant in the game. 
I thought they were great. We scored a really good goal and obviously we were playing against a top team with now one of the greatest players of all time, and that brings that added pressure.
The way that the crowd were was incredible. Obviously it would have been topped off with a point but I think the way the boys played, we can take a lot of strength from that.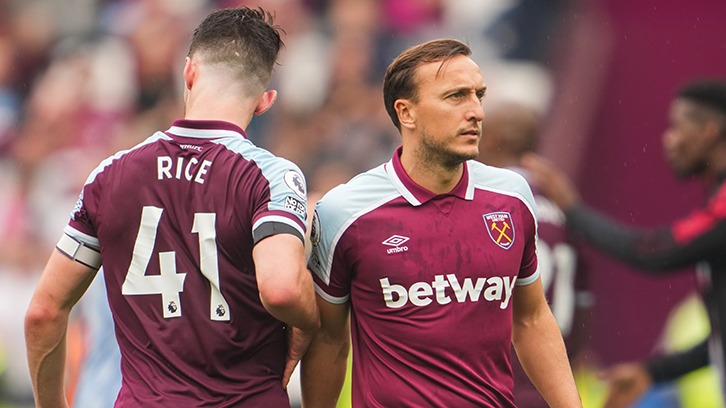 Kurt Zouma's first performances for West Ham don't really surprise me. 
He's played at a top level, he's a top, top player, he's a French international, and a fantastic addition to the squad with the likes of Issa Diop and Angelo Ogbonna and Craig Dawson who have all been fantastic for us.
We have strength in depth now and Kurt coming in, playing the way he has done in the last two games, has been great for us. For sure, the games we have, we're going to need him this year, and we're going to need all of our players, especially the boys at the back because playing week-in, week-out, nearly 60 games I think we'll have this season if we progress, it's going to be tough.

We obviously didn't have Mich on Sunday and there'll be times we haven't got him this season, but he's been so good for us over the years. 
For how much we bought him for, value for money, what he's given to the team and given to the Club, he's been phenomenal, and he deserves all the credit he's getting at the minute and we are going to need him for sure in a lot of games this year. 
We also have to be careful because you can't just play him every week and in midweek games in Europe and cup games because it's not fair to him. He needs to be fresh and bright and he needs to be the Mich we know. I'm pretty sure the manager will judge when to put him in and take him out, and he's a really valuable asset to our team at the moment.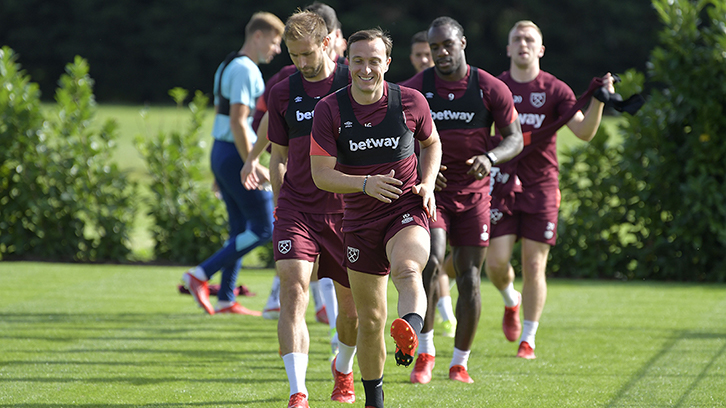 Obviously we play Manchester United again in the Carabao Cup on Wednesday night and then have a tough, tough away day at Leeds on Saturday, with their fans now. 
I've played there before and it's a fantastic place to play, but to be honest at the minute – I'm pretty sure the gaffer will say the same – we're concentrating on Manchester United. 
I'm sure that the boss will make some changes because of the games coming up and the amount of games the international boys have played already, so we'll see what team he picks. It's a great away day at Old Trafford for the fans to come and enjoy it.

Our first Europa League home game next week against Rapid Vienna is going to be special. 
It's going to be really entertaining. I hope we can carry on our form into that game. 
We've got a bigger squad to be able to cope with it, but just for the fans to have a game under the lights at London Stadium in Europe will be special, and it'll be something that we're all looking forward to – not just the players and the staff, but for everyone at the Club, it'll be a special day.