Declan Rice has already packed so much into his young professional career.
Now, on his 150th appearance in Claret & Blue, the 22-year-old West Ham United midfielder added to his lengthy list of achievements with his first European goal on his debut on that stage.
The Hammers skipper notched his team's second goal at Dinamo Zagreb on Thursday night, helping wrap up the 2-0 victory which got their UEFA Europa League campaign off to the perfect start.
Michail Antonio had already opened the scoring on a fantastic night for the Hammers at the Stadion Maksimir, leaving Rice to sum up the feelings of a delighted dressing room at full-time.
"It feels amazing, incredible," he beamed. "Last year we worked so hard to achieve this and we didn't want to let the fans down tonight.
"We knew we had a tough game to come out here for the first one, and we had to get the three points for ourselves, but also for the travelling fans. They've been amazing. 
"We felt we were in control. In the first half they sat behind the ball and it was a case of keeping the ball moving. Mich pounced on a mistake and made a great finish.
"Then in the second half I read the pass and pounced on the mistake as well. Two mistakes and they get punished and we walk away very happy tonight."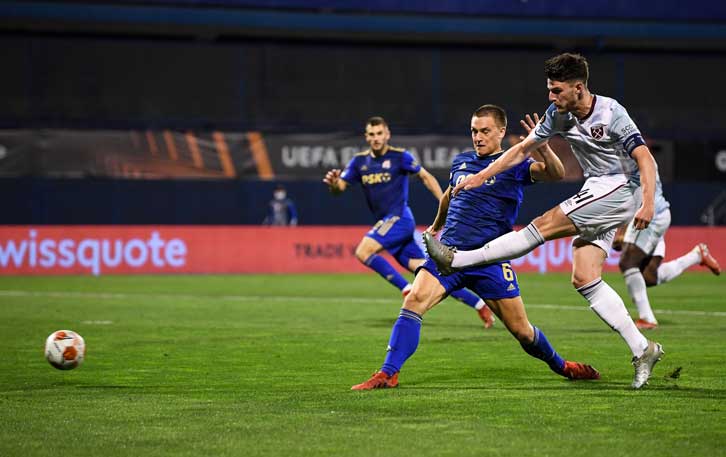 Rice has appeared for England at major tournaments, but never for the Hammers in Europe until Thursday night, and he was happy to confirm that the experience lived up to all his expectations.
"There has been a real buzz around the place, the lads have known for so long what's been coming and to come away in our first European night and get the win is very good," he continued. 
"For the Club and for the players too, it's a great experience for us and I'm really happy we could win tonight.
"We know how important it is to win these kind of games. We knew it would be tough to come out here tonight. We want to get as many points on the board as quickly as possible and wrap up qualification. We've got Rapid Vienna next, but Man United first, so focus turns to that now and then Europe after that."
The goal was the icing on the cake for Rice, who drove forwards with real purpose down the left before sliding through goalkeeper Dominik Livaković's legs to make it 2-0.
"It's a part of my game I've been speaking about for so long. I know I can do it and I know I've got it in myself," he explained. 
"I read the pass, beat the player to the 50-50 and just thought keep going, he's not going to catch me. It was a quick-thinking, instinctive process, because Mich pulled away and I was going to pass, but I thought if you don't shoot you don't score. So I shot and luckily enough it went in the back of the net."