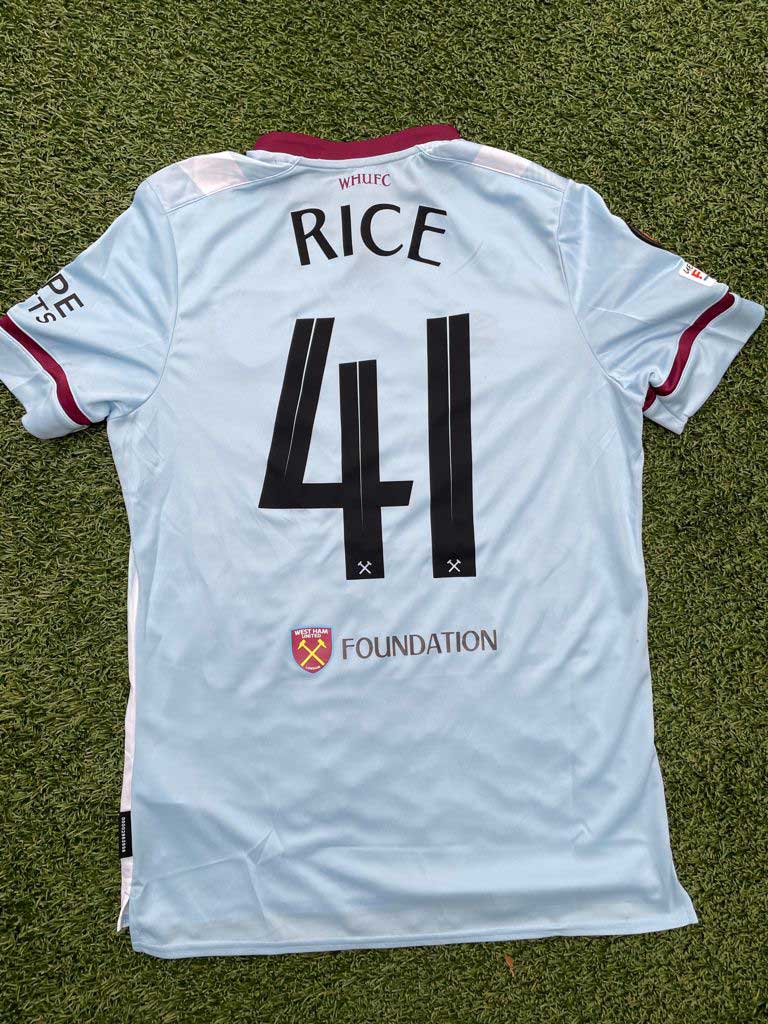 When West Ham United kick off their 2021/22 UEFA Europa League campaign on Thursday against Dinamo Zagreb, the players will be wearing shirts featuring the logo of the Club's charitable Foundation.
West Ham's first-ever participation in the group stages of the Europa League is a momentous occasion for the Club itself as well as its local community. 
The logo has been given prominence on the back of the Hammers home and away kit, situated underneath the players' shirt numbers, highlighting the Club and Foundation's work in supporting local charities, good causes and social support programmes. 
West Ham United Foundation CEO, Joseph Lyons, commented: "We're thrilled to be part of such a historic moment. The effects of the pandemic brought many challenges and has made our work in the community more important than ever. We've been working tirelessly to do everything we can to continue to make a positive difference and so to now be at a stage where we are driving forward, growing our presence and seeing fans back in the stadiums is fantastic. To now also have the Foundation recognised on the men's team's UEFA Europa League kit provides an extra boost and, for me, represents the togetherness we have at West Ham United. 
"Family and community is at the heart of our Club and the players have always played a big role in that, particularly through the Players' Project in the past three years, so for them to be wearing our logo on a global scale is not only a brilliant recognition for everybody involved with the Foundation and in the wider community but also symbolises how we are right behind them, just as they're behind us." 
The West Ham United Foundation delivers more than 30 initiatives across health, community, football development and learning and employability. They help individuals and communities to fulfil their potential on and off the pitch with activities catering for all ages and abilities, spanning east London, Essex and international sites. 
Throughout the pandemic, the charity has had a multi-layered response in order to provide crucial support to deal with heightened levels of need and inequalities brought to the surface. 
This has involved: assisting frontline services including local NHS Trusts, developing new schemes to support mental health and wellbeing among children and young adults, offering help to those most vulnerable, and delivering projects focused on equality, prevention and intervention of anti-social behaviour, and mentoring and employability opportunities. 
"Ultimately, this will hopefully help to raise more awareness of the West Ham United Foundation and encourages more people to find out more, get involved and support our efforts," said Lyons.