It's been a summer that would have been beyond Adriana Leon's wildest dreams. The Canadian forward arrived in Tokyo ahead of the 2020 Olympic Games thankful to even be a part of it all, having sustained an injury back in February that required surgery – subsequently throwing her chances of being selected for the competition into jeopardy.
But that didn't deter the 28-year-old, with Leon working hard with the medical staff here at West Ham United Women to get herself fit and in contention to be selected for an event that she would eventually help her country to go on and win.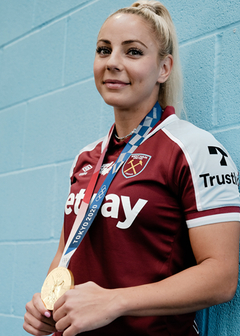 It was a tough ride for the Canadians, with Bev Priestman's side only claiming two victories in normal time in their Olympic campaign, but they remained unbeaten throughout and were victorious against their near neighbours, the USA before beating Sweden in a shootout to clinch gold.  
For Leon, who now has 76 caps for her country, the experience is one that she will never forget. 
"It's been a crazy journey," Leon told West Ham TV. "Having surgery back in March and doing my rehab here – it was a really tough and long journey to even make it to the Olympic Games, so being there was just amazing for me. 
"To get the gold was incredible and very surreal – it almost doesn't feel real even now with it around my neck." 
Leon certainly played her part in Canada's success, having scored in the group stages against Team GB, as well as scoring in the shootout win against Brazil. But it's the journey that the forward is most proud of, having worked incredibly hard with the medical team behind the scenes to be ready to help her country. 
"It definitely makes it all worth it, all the blood, sweat and tears that a lot of people didn't see behind the scenes – I'm just really pleased with how the summer went. 
"I just love winning and scoring, it's just such a great feeling and I'm hoping that I can continue to do that here at West Ham United this season and do well for the Hammers." 
The Hammers take on Brighton & Hove Albion at the Amex Stadium on Sunday afternoon in their WSL season opener, and the Ontario native is looking forward to playing in front of the West Ham United faithful once again. 
"I'm excited to see our fans again. I can remember back to when I first arrived here in England and having the fans behind us. You can hear them chanting for you out there and you can feel that support.
"I'm looking forward to playing at the Amex, it's been a while since I've been able to put on a West Ham shirt in a competitive fixture due to injuries and being away with Canada – so I'm really excited about being back out there and wearing the jersey again."

You can watch all the action from down on the South Coast live on the FA Player. 

Want to watch our Olympic gold medalist in action yourself? Grab a ticket for our opening home fixture against Aston Villa, which is taking place on Saturday 11 September – 11:30am kick-off.