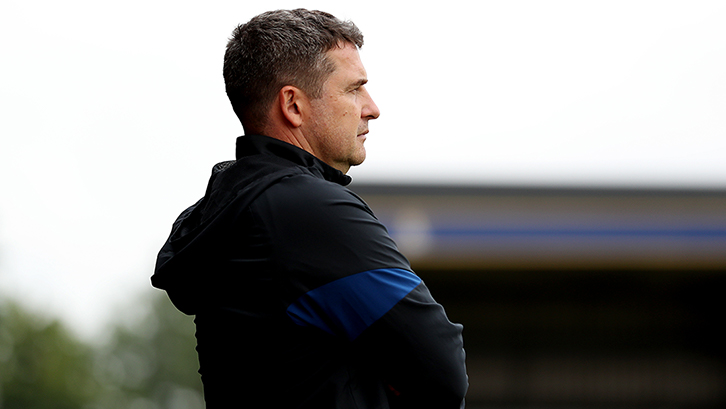 West Ham United U23s lead coach Dmitri Halajko admitted his side were frustrated with their failure to convert possession into chances in Friday's 1-0 defeat at Wolverhampton Wanderers in the Premier League Cup.
The young Hammers were riding high after an impressive 2-1 win over Chelsea U23s last weekend at Rush Green, but fell to a disappointing defeat at the Aggborough Stadium in Kidderminster in the opening game of Group F.
Struggling to break down a spirited Wolves outfit, who took an early lead through Harry Birtwistle's 12th-minute breakaway goal, West Ham toiled in the Midlands for long stretches, but struggled to manufacture enough opportunities to earn at least a point.
"It was a game where we had plenty of the ball – more than enough of the ball to win, without a shadow of the doubt – but we didn't really capitalise on that," Halajko admitted.
"In the second half, we had over 25 crosses, which shows how dominant we were in terms of territory. Most of the game was played in Wolves' half, and quite a lot of it in their third, so we were certainly the dominant team in terms of territory.
"In terms of quality, our quality wasn't there today. It wasn't at a high enough level to really break them down, really hurt them or win the game, so that's the disappointing part of it."
Having worked the ball well out wide on numerous occasions, West Ham's final ball often failed to match the usual high standards delivered by the Academy of Football's development squad.
Halajko explained: "I think the quality of our final ball was poor today – the quality of the cross. We did get down the sides a lot, and that was probably our main threat in the second half, but then when we got there or had an open cross, we made unforced errors and didn't manage to pick out our man. 
"A couple of times we did, and we worked it to someone, but the technical quality of the finish wasn't good enough. 
"We certainly had the bodies there, and we certainly had the ball in the right place, but then we didn't have the technical quality or the calm head needed in those key moments."
With players absent on international duty for Friday's tie, and others rotated out of his side, Halajko made eight changes to the team which won so impressively against Chelsea at the weekend.
Reflecting on his players' performances, he said: "I think it was a game where everyone had some good bits, but also some bits they were disappointed with. 
"I don't think we had many people who had an outstanding game because they didn't affect it enough, certainly from an attacking point of view. I think it's an opportunity missed for the team and as individuals as well.  
"Some of the lads who didn't start the last two games have been training a little bit better than what they showed today, which is a disappointment for them because that's not what they want or what we want, and some of the lads who played last week didn't manage to replicate that performance again. 
"Everyone was just a little bit below par from the expectation levels they would set themselves, and we would set them also."
Nevertheless, the Hammers have bounced back from a disappointing defeat in a constructive manner previously this season.
Halajko is hoping they will do so again as his side prepare to travel to newly-promoted Leeds United next weekend – a team who have also made a positive start to their 2021/22 Premier League 2 Division 1 campaign, sitting level with West Ham on six points.
"The players have got a weekend off first," Halajko noted. "That's not something they always get during the season, so hopefully that's a time to relax and recharge.
"Then, Monday will be the time to work hard, get on the training pitch and get ready for Leeds."