Earlier this month, West Ham United confirmed the appointment of Rob Newman as the Club's new Head of Recruitment.
The 57-year-old joins the Irons from Premier League champions Manchester City, where he spent more than 12 years as an International Scouting and Recruitment Manager.
As part of a restructuring of the Club's football recruitment department, Newman will bring extensive experience and expertise in the field to London Stadium, having played a key role in managing the team of City's scouts, scouring the globe for the best talent available.
Newman sat down with West Ham TV to discuss the calibre and quality of player he hopes to help bring to east London, the processes involved in cutting-edge recruitment, and the positive direction the Club is travelling in…

It's been a strong start to the season for West Ham United – what is it that attracted you to joining the Club at this time?
I'm really looking forward to coming in in what's been a fantastic start for the Club. Hopefully, I can assist the manager in terms of recruitment over the coming months and years.
The Club itself is steeped in history. That was a factor, but I think for me the major factor was the manager and how well he's done in the game. 
You're coming in to work for a manager that has proven success in the Premier League. We trust each other and hopefully that will continue over the coming months and years.
 
The manager has spoken about securing the right recruits at the right time to drive the Club forwards – how will you work with him to do so?
Very closely, because obviously we can find all of these players, but ultimately, it's down to the manager to really tick off the box. 
What is important, from a recruitment point of view, is that we give him as many options as possible. We find out what type of players he likes in each position, and we scour the world to find those players to put in front of him.
Then, we'll do our due diligence, firstly by the department, and then obviously bring the manager and staff in, as we progress further down the line. 
Hopefully, we'll come to a list of players who are good enough to come in and better the squad.
 

The Club continues to restructure its recruitment department – how important is that consistent progression in scouting?
Over the years, scouting has improved, and it's become a really integral part of Premier League clubs and all around football now. 
I'm not being detrimental to the old scouting system, but old scouts would come to a game with their notepad and pen, they'd take it out for the game, write a few notes, and put it back in their pocket, and then wouldn't get it out until the next game. 
It's massively evolved now. Not only do you have to go out and watch the games, you also have to come back and you have to work on software, making clips and making it easier for us as a department, and then ultimately for the manager, to look at certain clips, both positive and negative, pretty much straight away.
I want people in the department who are going to have the same work ethic as myself and the manager, and then hopefully, over a period of time, we will get that base of knowledge to start with, and as we go forward over the years, that base will just become bigger and bigger with information on players.
 
How impressed have you been with the success of our recent signings in Claret and Blue?
It's fantastic. In the last window, we brought in four international players, and that's a statement of players knowing where West Ham are in the pecking order now. 
We've got international players coming to West Ham because they see how well the team's doing, they see what a great Club it is and what an even greater Club it could become.
Jarrod Bowen came from Hull City. It just shows that you can get players lower down the pecking order, the Championship or even League One or League Two, so you have to look everywhere.
There are always players out there that could be that one, and as a scouting department, not only us, but all the other scouting departments, are looking for that real nugget who can become a really established player. You don't just focus on one area, like the international areas, you've got to look around and see where the players are. 
If they've got the potential to become a player of the level that the manager wants, then they become an option.
How can those kind of players help us reach the next level as a Football Club?
We just need to establish ourselves where we are, be a major threat and in the top echelons in the Premier League, and be competing in European competitions over a few years. 
The most important thing is you can't just bring players in who you think "he's a great player for that team, he's automatically going to make us a great team." 
That's not how it works, because there are different players, different teams play different ways, and different managers have different styles, so we've got to do it in a way that's the best for West Ham United. 
Again, that's down to the department's due diligence on players not only on the pitch, but off the pitch as well. You have to bring not only good footballers in, but also good people as well.

The manager's also spoken about our core ethos of bringing in young, hungry, ambitious players – what characteristics, to you, make a West Ham United player?
A good footballer, a good attitude, and a good character.
All of the players you look at who have been top, top players over the past ten years, in and around the Premier League and around European football, are not only great players, but they've also got a great character, a great attitude and they want to be successful. They have that hunger for success. 
What we've got is a manager who can make a young player with potential into a top, top player, who keeps progressing the young players who are coming in and, not only that, but is also able to deal with top international players.
When you get young players in with potential, you know you've got coaches here who can make them into an even better player.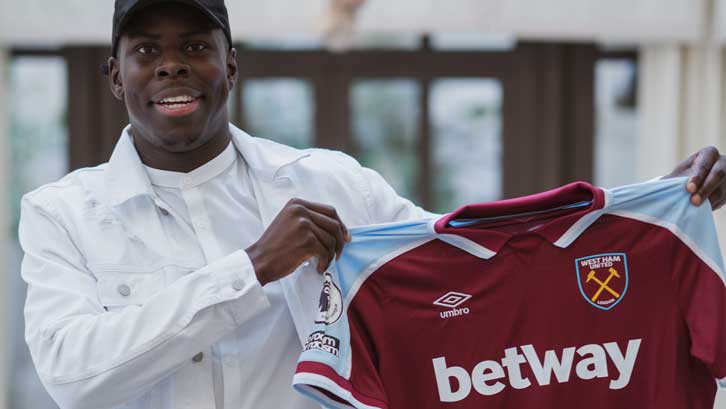 Finally, how excited are you by the challenges ahead of you here at West Ham?
There's a feelgood factor around the place. Immediately, when I walked in on my first day, there was a bounce about the place, and you feel the supporters have got that bounce as well, to be fair. 
Long may that continue! Hopefully I can be part of that process now in terms of going forward. I'm going to give it 100 per cent because that's the way I am as an individual. 
Fingers crossed, in a year's time, we'll be doing another interview like this and saying "we've progressed, we've sustained our position in the Premier League – and we're getting stronger."