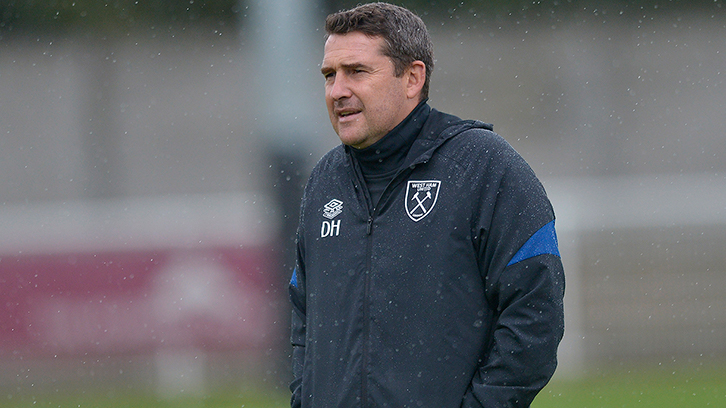 Attacking with verve and invention, defending with steel and determination, West Ham United U23s deserved the plaudits after a 3-1 win over Everton U23s on Saturday afternoon saw them rise to third in the table in Premier League 2 Division 1.
Amidst conditions approaching the torrential at Rush Green Stadium, the young Hammers were the sharper team on and off the ball and created plenty of openings in East London, taking the lead after 25 minutes when Kamarai Swyer nodded in Harrison Ashby's cross.
Five minutes later and that lead was doubled; Emmanuel Longelo's corner was headed against the bar by captain Aji Alese, his centre-back partner Jamal Baptiste poking home the rebound from close range.
The only blemish on the afternoon came when Everton's Stanley Mills volleyed in a response two minutes later, but the points were guaranteed to match the performance when Aji Alese stabbed home a loose ball from another set-piece on the hour mark.
 
We created plenty of chances; it finished 3-1, and it could have been more

Dmitri Halajko

"It was a really good performance, both in possession and out of possession," U23s lead coach Dmitri Halajko told whufc.com. 
"In possession, we controlled the game and that's what we've asked for from the lads. In the last couple of games, we just felt we turned the ball over a little bit cheaply and haven't been patient enough in possession, but today we really showed that we could do that.
"We dominated the majority of the ball with some cutting edge as well. We created plenty of chances; it finished 3-1, and it could have been more with the openings that we had. 
"Out of possession, we were hard to break down, we were hard-working and we pressed well, so we're really happy with what we did in and out of possession – it was almost a complete performance, really.
"We moved the ball quickly today – one and two-touch football is where we wanted to get to, and we thought if we moved it nice and quickly and brightly, we'd be able to break them down. We did on a number of occasions. 
"The only criticism really was that, for the amount of times we broke them down, we should've finished more chances off, but it's a really, really good performance from the lads."
Having gone down to a hard-fought 1-0 defeat at Colchester United in the Papa John's Trophy on Tuesday, Halajko saw fit to praise how his players reacted to that result.
"All of the things that we wanted to tidy up from that game, the lads put into action," he noted.
"They haven't had loads of days to do that on the training pitch – we've had two sessions to try and make a few improvements – so hats off to them that they managed to take those messages on board."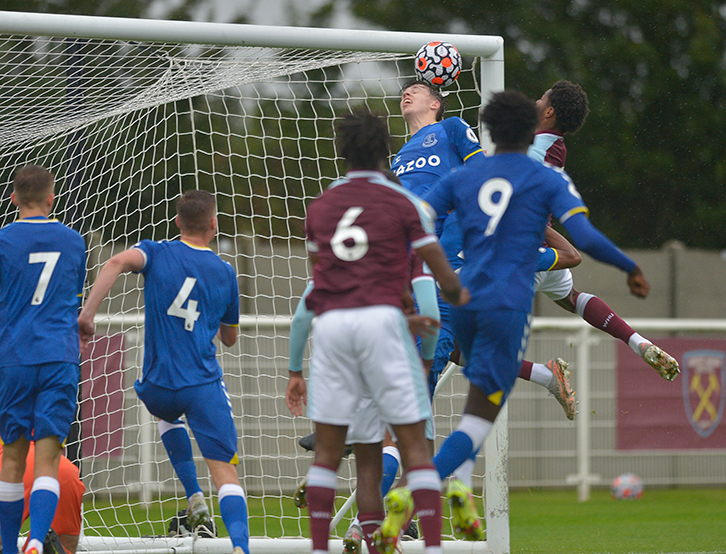 West Ham's second goal from Baptiste was a reverse of the match-winning combination against Crystal Palace just over a week ago: an Emmanuel Longelo corner-kick delivery, a centre-back (in this case Alese) heading against the bar with the first header, and their partner (Baptiste) tucking away the rebound.
"They're a real danger from set plays, those two," Halajko smiled. "They've had a couple of goals now when one of them's made first contact, and the other one follows in and gets the second contact. 
"They're a real threat for sure, but I thought their defending was even more impressive. Nothing could get past those two today. They were exceptional, as they have been in the last three or four games. 
"I haven't yet seen two better centre-halves in the league than those two, and hopefully they carry on that form."
Third place in development football's top league – with 13 points from seven games, just over a quarter of the season gone – marks a real feat for Halajko and his players.
Halajko surmised: "It's real progress from last season. To be third in the table at this stage is really impressive and something the lads should be proud of. 
"Hopefully they can kick on further and carry on at the right end of the table, because I think that's where we should be. 
"We've got the talent to do that and that's the kind of levels we should be setting ourselves. This year, so far, they've shown what a good group of players we've got and what a good Academy we are."