David Moyes says he and his players are relishing their European experiences ahead of West Ham United's fifth of six UEFA Europa League Group H ties at Rapid Vienna on Thursday evening.
After securing home wins over Rapid and Belgian Cup winners KRC Genk and a fine away victory over Dinamo Zagreb in Croatia, the Hammers know a win in Austria – without supporters present due to tight COVID restrictions in the Central European country – will secure top spot and direct progress to the round of 16 in March next year.
Those successes, and a thrilling 2-2 draw in Genk earlier in November, were secured despite Moyes rotating his squad and handing opportunities to players who have not featured regularly in the Club's fine start to the Premier League campaign.
That, he believes, is down to their outstanding characters and determination to prove to him that they deserve minutes on the pitch in every competition.
With eleven games to be played in three different competitions between now and the end of the year, Moyes knows he will need to call upon every member of his squad again, and therefore welcomed their willingness to give everything for the Claret and Blue cause.
I'm really enjoying being in Europe.
It was really important, after the effort the players put in last season, to get into this competition was incredible. We had a great year and I think we've done really well.
I think the start to the competition we've had is as good as anybody. We've played well in the games and we're up against really good teams as well, which we don't take for granted.
I think we're still growing in it. We're new to it and I think there will maybe be times when we're still learning on the job, but the games are really exciting and we're all looking forward to it.
The only disappointment is not having a crowd because the scouts who came out to watch out here said the crowd was fantastic and the atmosphere in the stadium was great. I genuinely mean it, I'm disappointed the crowd isn't here.
I'm also really disappointed that we've got no West Ham supporters here because all the supporters, even all my family, were really looking forward to coming to Vienna for a few days and unfortunately nobody has been able to do that.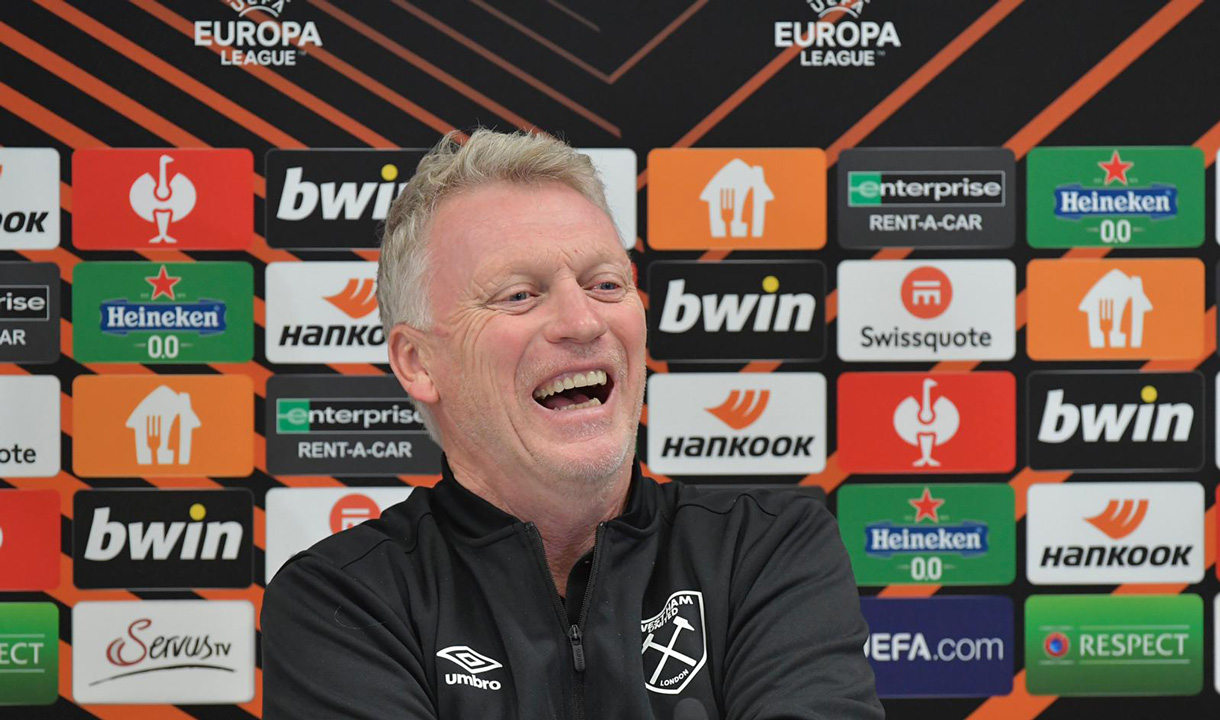 I think the Europa League is really exciting at the moment.
We couldn't wait for the draw and we were all waiting to see who we got in the competition, and I have to says the players have taken to it really well.
Everyone talks about us maybe being one of the favourites for it, but when you look at the Champions League and the teams who drop out of it. I watched those games on Tuesday night and I was looking at those games and those teams who could finish third and who could possibly drop into the Europa League.
It really becomes a completely different competition but if we could win the group it means we get to March before we play our next European game. If we finish runners-up, which I think is the worst it can be, we have another game in February, so I just wanted European football after Christmas time. I thought it would be progress for West Ham and we've done that and I'm really pleased.
We're mixing and matching the squad we're using, so I have to give credit to the whole squad for the way they've helped navigate the early games.
If you ask me if I've started to look ahead at who we could get in the next round, my response is 'Far from it'.
This is another game where we're learning. We're new in Europe. We found it difficult in Genk and we played very well in Zagreb, so this is our last away game in the group.
We were really looking forward to a big crowd here, we were really looking forward to seeing a full crowd here, because we've heard a lot about it, and we're disappointed our supporters couldn't come as well, but ultimately we're in lockdown [in Austria].
We're looking forward to it. I think that we've still got a bit of work to do, and if we need it, we've still got another game to play later on as well.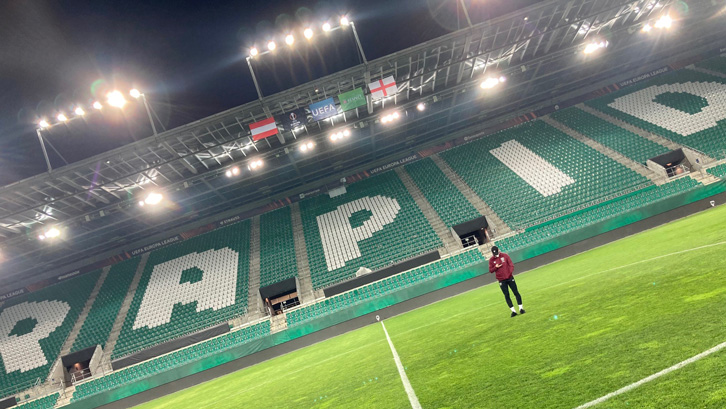 I'd like to secure top of the group on Thursday night.
I'd like to get the job done, but we've given ourselves a really good start and because of that we've got a little bit of room for manoeuvre. 
We've told the players we'd like to get ourselves topping the group if we can. At the start of it, it was just to say 'could we qualify?' We've got ourselves in a qualification position, it's just now if we can go a bit further.
It's going to be a tough game. We had a hard game [against Rapid Vienna] at London Stadium and we expect much the same tomorrow night.
I think playing behind closed doors again is a challenge.
I think it's something which we hoped we'd never see again. I think we all hoped that supporters would be back and we weren't going to be back in this situation again.
I hope we're able to deal with it. I think when it first happened, everybody felt very awkward - the voices, the shouts round the stadium, the screams quite often as well – so all those things which we've gone away from in the last six months or more, I hope we're not back to.
At the moment, in the short term, we are.
Qualifying for Europe in back-to-back seasons would be a mark of our progress.
Our challenge is to try and maintain our standards from last season and keep our levels up.
The challenge for the players is to improve on it and try and do better again, but I have to say the Premier League is so difficult, so tough, the level of the teams and the quality will make it a real challenge throughout the season.
But we've been involved in the games and we want to challenge all the big teams now. I'm looking forward to taking on the best and seeing how we do.
I see that being the best way forward now with the way the team is evolving and how we're doing.